We believe we can all agree: women are underrated for their contributions and achievements in the automotive industry. Historically, the field of automobiles has been known as a "man's arena," but that simply isn't the case anymore. More and more women are thriving in careers in cars, and we should applaud this as a mark of long-overdue progress.
In celebration of International Women's Month, we're highlighting ten pioneering women throughout history who have reshaped the auto industry into the one we know and love today. From one of the namesakes of Mercedes-Benz to Ford's first female designer, these women have carved their names into the pantheon of automotive greats.
June McCarroll
On one fateful day in 1917, June McCarroll drove her Ford Model T on a California road and, along the way, changed how we used our cars forever. McCarroll that day encountered an incident that almost resulted in a head-on truck collision.
After the close call, she thought of a way to separate the road into left and right lanes with a marking painted at the center. She then launched a letter-writing campaign that led to the painted road markings becoming law in California in 1924. More states quickly followed, and the rest is history.
My Model T Ford and I found ourselves face to face with a truck on the paved highway. It did not take me long to choose between a sandy berth to the right and a ten-ton truck to the left! Then I had my idea of a white line painted down the center of the highways of the country as a safety measure.
Bertha Benz
Yes, that Benz. Bertha Benz was the wife of Carl Benz, one of the founders of the German luxury automotive marque, Mercedes-Benz. Bertha supported Carl's endeavors, including the motorcar, when no one else would.
On August 5, 1888, Bertha took her two sons on the first recorded road trip ever aboard the Model III without permission from Carl or the authorities. The family traveled about 106 km, a record at the time, and in the process, Bertha encountered and solved numerous technical problems on the vehicle.
She is widely credited as the inventor of brake linings for automobiles, as she ingeniously used leather to replace the Model III's failing wooden brakes. Needless to say, Bertha Benz changed the game, and Mercedes wouldn't be what it is today without her.
Suzanne Vanderbilt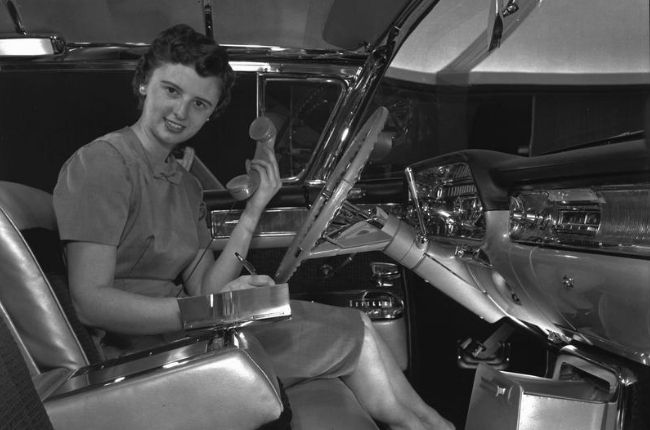 In the 1950s, General Motors saw a surge of interest from female customers. This spike led to the company hiring six women known as the "Damsels of Design." That hat wouldn't happen today, but women took what they could in that era.
The women served as part of GM's interior design team, and Suzanne Vanderbilt led the way by pioneering features like glove boxes and retractable seatbelts. She would stay at GM for over 23 years, reaching her peak as chief designer for Chevrolet.
Helene Rother
Helene Rother survived seemingly insurmountable circumstances to become one of the most iconic designers in the industry. She fled Germany during World War II, found her way to the US, and began earning a living as a jewelry and hatpin designer.
Later, she would become the first woman to become part of a design team in Detroit, which was then the country's motoring capital. She worked for General Motors for four years before founding a design studio that eventually collaborated with the likes of Nash Automobiles, Goodyear, and B.F. Goodrich.
Mary Anderson and Charlotte Bridgwood
This special entry involves two women who brought the windshield wiper into the world. Mary Anderson conceived of the idea during a New York City snowstorm in 1903. Back then, the car's driver had to wipe the windshield manually each time it got clouded by snow.
Disappointed that she couldn't enjoy the city's sights, Anderson got to work on a spring-loaded arm and rubber blade that activated from inside the car to wipe the windshield.
Several years later, in 1917, Charlotte Bridgwood improved upon Anderson's work by upgrading to an electronically operated system that used rollers instead of wiper blades.
Sadly, both women's patents expired without getting much recognition from auto manufacturers. Today, windshield wipers are a standard feature across all cars, big or small.
Hedy Lamarr
If the name sounds familiar to some of you, it's because Hedy Lamarr was a 1940s Hollywood movie star. She was way more than just an actress, though, as she also pioneered the technology that would become the basis for Wi-Fi, Bluetooth, and GPS systems.
At the height of World War II, Lamarr invented a system that could block opposing naval ships from intercepting torpedo signals. The technology made the signals jump from one frequency to another, and it became challenging for enemies to locate messages.
Lamarr sought help from her friend George Antheil and the two successfully obtained US Patent 2,292,387 in August 1942. However, at the time, the US military refused to accept inventions from outsiders, and it also found the technology difficult to implement.
Twenty years later, Lamarr's design finally appeared on US Navy ships during the Cuban Missile Crisis. The eventual fruits of her invention have become staples of modern cars. Hedy Lamarr and George Antheil are posthumous members of the National Inventors Hall of Fame.
Joan Newton Cuneo
Joan Newton Cuneo had the need for speed. She was the first female race car driver, after all. In her time, Cuneo faced much discrimination in the male-dominated sport. Despite that, she set numerous speed records for women and won three first-place finishes at three different events.
Cuneo even beat men at their own game, which may have led to women being banned outright from the tracks. When this happened, Cuneo retired, but we will forever remember her as the first woman to race a car.
Margaret A. Wilcox
We rarely use car heaters in a tropical climate, but they're indispensable in many parts of the world. We have Margaret A. Wilcox to thank for the ability to stay warm inside a car.
As one of the few female mechanical engineers in the 19th century, Wilcox invented a method of redirecting engine heat into the cabin, keeping the passengers' toes warm and toasty as a result. While she hit a few snags in her design, such as the uncontrollable heat, she eventually patented her idea in 1893. It is the basis for today's modern car heaters.
Gladys Mae West
Gladys Mae West pioneered the Global Positioning System or GPS. West was a mathematician who served as a project manager for SEASAT, the world's first earth-orbiting satellite to measure ocean depths.
The SEASAT project then led to GEOSAT, a satellite that created computer simulations of the earth's surfaces. If you use Waze or Google Maps on a daily basis, you have Ms. West to thank for those irreplaceable apps.
Katharine Blodgett
Imagine windshields without anti-glare technology—it would be a nightmare to drive, and accidents would occur left and right. Katharine Blodgett made sure that's not the case today, as her invention helped pave the way for modern non-reflective glass coating.
In 1926, at age 21, Blodgett became the first woman to receive a Ph.D. in Physics from Cambridge University. Twelve years later, in 1938, she invented a liquid soap that could allow 99 percent of light to pass through glass. Without her creation, we would not have the type of windshields we enjoy today.
Florence Lawrence
Another multi-talented actress on this list is Florence Lawrence. She was a silent film star who invented the Auto Signaling Arm. Speaking of her invention, Lawrence said, "When placed on the back of the fender, [it] can be raised or lowered by electrical push buttons."
The signaling arm would rise when the driver hit the brakes, helping other motorists see that the car was stopping. Lawrence's invention never received a patent, but it would become the precursor to modern brake lights and turn signals found in modern vehicles.
Alice Ramsey
At 22, Alice Ramsey became the first woman to drive from New York to San Francisco. What's stunning about it is that only around 244 kilometers of the over 6,000-kilometer trip consisted of paved roads.
Ramsey also made the trip with three of her friends, none of whom could drive. As the only person knowledgeable about cars, she had to change 11 flat tires, clean the spark plugs, use water to cool the radiator, and even replace a broken brake pedal. In 2000, Ramsey became the first woman to be inducted into the Automotive Hall of Fame.
Stephanie Kwolek
Stephanie Kwolek's achievements have reached further than the auto industry, but she deserves mention here nonetheless. Kwolek invented Kevlar, the high-strength material now used by militaries worldwide.
As a trained chemist, Kwolek in 1964 synthesized Kevlar to be lighter than fiberglass yet five times stronger than steel. It's an astounding invention, and it first saw action in the early 1970s as a replacement for steel in racing tires.
Mimi Vandermolen
1970 was a momentous year for the Ford Motor Company, as it welcomed one of its first full-time female auto designers into the fold. Vandermolen first worked on the 1974 Mustang II before leading the interior design team for the 1986 model of the iconic Ford Taurus.
The Taurus received ergonomic controls with dials for climate and air conditioning, raised buttons, and a curved dashboard that made it easier to access the controls. Vandermolen enjoyed a long career at Ford, even going on to head the design work for the company's small cars for the North American Market.
Latest Features
If you want to make sure that you have bumper-to-bumper protection from accidents and expensive repairs for your Volkswagen T-Cross then this is much you will need to set aside.

Both the Veloz and Xpander are formidable seven-seaters in their segment and price point. Which one is better?

It has evolved to be something that can be both a workhorse and a lifestyle vehicle.
View More Articles