Back in October, we tested the Chery Tiggo 7, while it did deliver in terms of practicality and comfort, the crossover did have a number of shortcomings that are in need to be addressed. Now, the Chinese automaker wants to gain attention and finally earn its rightful position in the compact crossover segment, therefore, Chery Auto Philippines is set to welcome 2020 with the release of an all-new Tiggo 7 Pro, and luckily, we were one of the few people to try out the model for ourselves.
That said, we shall give you guys a closer glimpse of this all-new model. Do take note that the unit on-hand we've acquired is actually an engineering unit, therefore, some features are still not included as based on its local specifications.
Elevated aesthetics
While the outgoing model was somewhat praised for its distinctive looks, the Chery Tiggo 7 Pro has elevated itself quite far over its predecessor. Notably, here are some familiar design cues carried over from the bigger Tiggo 8. Upfront is a striking fascia that's complemented by an all-LED lighting system, down below are the DRLs which should somewhat function as fog lights as well. In between its eyes is the intricately crafted grille which looks stunning and does appear like a piece of art, it is undoubtedly one of the most attractive highlights of its exterior.
Going over the side, you'll immediately notice the abundance of black cladding that is also infused with a few chrome trim pieces. Also, like most vehicles nowadays, the Tiggo 7 Pro also gets a blacked-out D-pillar for that floating roofline look, therefore giving this crossover that outdoorsy yet elegant look to it. Other notable appointments include the turn signal indicators on the side mirrors, roof rails, and its new set of 18-inch alloys that are then wrapped in 225/60 tires.
As for the rear, this is probably where it gets a bit familiar. You see, the unified LED taillights are somewhat reminiscent of the ones found on the larger Tiggo 8, and it's definitely no wonder given that the two crossovers are siblings after all. You also get a spoiler with a third brake light, and down below, are a pair of faux exhaust tips which is a bit of a let down as it does not function as to how it should. Instead, the real tailpipe is then situated underneath the bumper. Overall, its design takes quite a departure from the outgoing model, and we're honestly just digging it.
It looks and feels better than before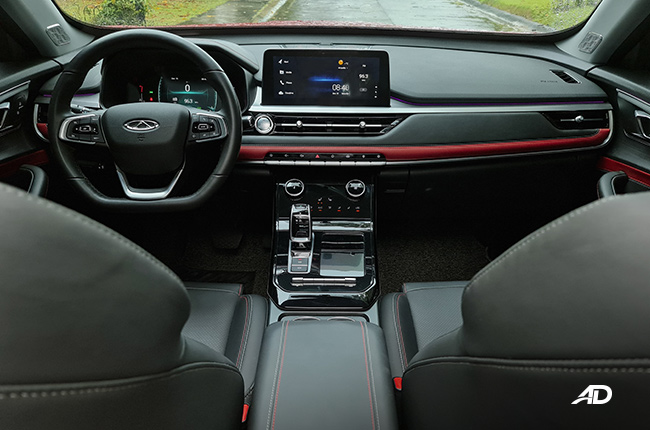 Like the exterior, the cabin also shares some familiar design cues from the larger Tiggo 8. However, there are some quirky touches to it, including the abundance of red accents found on the dash and door sidings, as well as its ambient lighting which also pops brightly at night. Notably, you can even tap on the settings via its infotainment system and activate the advanced lighting system which goes synchronized with the beat of your music.
While we did mention that this is an engineering unit, therefore, some features from its specification were not yet included. Despite that, the overall experience was still quite nice, apart from such amenities including the panoramic sunroof, its fully-digital gauges, and the 10.25-inch infotainment system which by the way comes with Apple CarPlay, space was also good and it can indeed carry up to five passengers comfortably. Plus, material quality, cabin noise insulation, and ride comfort has been significantly refined.
One minor concern would have to be its cargo area, while it does entail a large boot space, the second-row seats, however, do not fold flat which is somewhat a bit of a letdown. One feature that you may find very useful is the remote engine start which allows you to start the engine through your key fob.
As mentioned, the actual unit shall benefit from more features, such as a wireless charging pad, a power tailgate, a 360-degree camera system, and many more.
Same engine, new transmission
This all-new model is still run by the same 1.5-liter turbocharged 4-cylinder gasoline engine that produces identical numbers, respectively, 145 horses and 210 Nm of torque. What's changed though is the transmission, from previously having a DCT, the Tiggo 7 Pro now comes with a CVT.
Now, going over the driving experience, as expected power delivery was smooth, and the overall feel has been significantly improved all thanks to the new gearbox. I even took it on a stop and go traffic, and surprisingly, it didn't jerk or render any major delays like before, shifting was linear, as expected though. Plus, the steering is well-weighted, not too light or heavy, therefore giving the driver a good amount of feedback.
However, since I drove the outgoing model, the additional weight was slightly noticeable on this one, though it's not much of an issue. It kind of feels like I really am driving a heavier vehicle. It just feels bigger in general, though on paper, it really is not, as the outgoing model dominates the Pro in terms of length and width.
With the roads almost cleared up, the Tiggo 7 Pro does its job quite well given its sufficient amount of power and much-refined driving feel. There's no hint of fun though, but it is indeed nice to drive when comparing it from the outgoing model.
It shall also get a suite of advanced safety features
While our test unit didn't come with advanced safety features like Brake Override System, Emergency Signal System, and the aforementioned 360-degree camera. The following equipment shall make its way to the actual unit. Apart from that, other standard safety features also include ABS, EBD, ESP, EBA, TCS, HAC, HDC, ISOFIX child seat anchors, and airbags.
Verdict
With all that said, the Chery Tiggo 7 Pro is the brand's testament for change, an all-new model that shall craft better perceptions towards the Chinese automaker. The overall experience was already good despite having driven a slightly stripped off unit, what more if we are then able to try the fully-specced model?
This is quite a surprising package from the brand and confidently it will also help them attract more prospective customers in the near future. By then, we're just going to have to wait for its exact launch date, therefore allowing us to squeeze in more juicy details such as its additional features and more importantly, its price range.
Exterior Photo Gallery
Interior Photo Gallery
Latest Features
Both are within the same price range but are in many ways different from each other.

The Chevrolet Tracker presents tempting design details and features that should be given much more attention.

Choosing the right vehicle is hard so we created a list of 10 vehicles that could tick all the right boxes for your current and possibly your future needs as a young professional.
View More Articles