As a young professional, looking for and buying your first vehicle can be a daunting process. There will be a lot of research involved especially if you aren't in the know when it comes to all the available models in the local automotive market. That being said, we have created a list to help you find the right vehicle for you that comes with a price tag below the P1,500,000 mark. This opens the choices up to crossovers and MPVs that can be adapted to your current and possibly even your future needs as a family vehicle.
Kia Stonic (P835,000 – P990,000)
The Kia Stonic enters the list as an affordable yet feature-packed crossover that presents itself as an ideal vehicle for young professionals. It comes with a "style that's iconic" and even sports a frugal 1.4-liter gasoline engine. Its power plant produces a healthy 98 hp and 132 Nm of torque. While it may not seem like a lot on paper it's still enough to get around the city and to go on the highway. It also features an 8-inch infotainment system that has Apple CarPlay and Android Auto capabilities, a great feature to have especially for the tech integrated times.
Despite its compact nature, the vehicle comes with a good amount of ground clearance that lets it easily take on the uneven roads of the country and wade through light floods. Coming with a price tag well below the limit, this South Korean crossover is definitely worthy of a spot on your shortlist.
MG ZS (P848,888 – P1,048,888)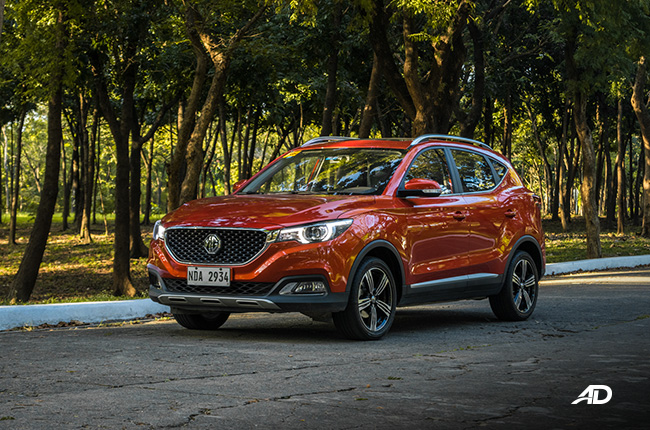 Crossovers have become a popular vehicle of choice in the Philippines as more and more models have entered the market all coming in with affordable pricing. The MG ZS is no different as it is a veteran of the segment. It offers interested customers a host of features normally seen in higher-tier vehicles but at a price that won't break the bank. It even comes with a frugal 1.5-liter gasoline engine that produces 114 hp and 140 Nm of torque for those who want to maximize their fuel economy. That said, if you want a vehicle in the subcompact crossover segment, then the MG ZS could be the choice for you.
Nissan Kicks e-POWER (P1,224,000 – P1,539,000)
The Nissan Kicks e-Power stands out as an ideal choice for young professionals in urban settings. Its unique e-Power system combines a gasoline engine with an electric motor, delivering remarkable fuel efficiency that helps young professionals save on fuel costs during their daily commutes or business trips. The Kicks boasts a compact and sleek design, making it exceptionally maneuverable in crowded city streets and effortless to park in tight spaces, catering to the practical needs of urban living. Inside, it offers advanced technology features like a user-friendly infotainment system and modern driver assistance systems, aligning perfectly with the tech-savvy preferences of young professionals. Moreover, the Kicks e-Power is often competitively priced, making it an appealing choice for those who desire a reliable and budget-friendly car for their professional endeavors. With a focus on safety and affordability, the Nissan Kicks e-Power is an excellent companion for young professionals looking to balance style and practicality.
Honda BR-V (P1,090,000 – P1,410,000)
The Honda BR-V brings to the table SUV-like looks with the versatility of an MPV. While still classified as the latter segment, it's a tried and tested model. Similar to the other entries on the list, it comes powered by a 1.5-liter gasoline engine that pushes out 118 hp and 145 Nm of torque making it one of the more powerful options that come with a naturally aspirated motor. As this is now the updated model, it now gains access to features such as Apple CarPlay and Android Auto. The BR-V is ideal for those who want a versatile platform that can be adapted to your needs and comes with a price tag that won't break the bank.
Mitsubishi Xpander / Xpander Cross (P1,328,000 – P1,353,000)
Another great choice for those looking to get a 7-seater vehicle is the Mitsubishi Xpander and its Xpander Cross variant. Together these two offer everything you need in an MPV along with the option of getting SUV-like ground clearance from the Cross model. It's a versatile platform that can be adapted to work or family use thanks to its folding seats and interior space. While it's powered by a 1.5-liter naturally aspirated gasoline engine that produces 103 hp and 141 Nm of torque, it's still enough to get the MPV up to highway speeds. The Xpander is an ideal choice for young professionals who want an adaptable vehicle that can also double as a family vehicle down the road.
Volkswagen T-Cross (P1,340,000)
Another crossover to make it on the list is the Volkswagen T-Cross. As a global model to come from the German automaker, it presents itself as a youthful vehicle that is ideal for young professionals. It even comes with a frugal engine to match in the form of a 1.5-liter naturally aspirated engine that pushes out 111 hp and 145 Nm of torque.
It sets itself apart from its competitors by having a bright interior and has a host of features that even new and veteran drivers will enjoy. It even has gesture control for its infotainment system that also comes with Apple CarPlay and Android Auto capabilities. This is definitely a vehicle worth considering if safety features are your concern as it comes with autonomous braking and a frugal gasoline engine.
Maxus D60 (P1,240,000 – P1,338,000)
For those who want a bigger crossover that can easily seat seven people, the Maxus D60 is here to answer that call. Not only does this crossover come with an affordable price tag well below the P1.5 million budget, but it also comes well equipped. It features an 8-inch infotainment system that has USB, Bluetooth, and AUX-IN connectivity. To match its large size, the D60 also comes powered by a 1.5-liter turbocharged gasoline engine that produces 167 hp and 250 Nm of torque that sends power to the front wheels via a 7-speed dual-clutch automatic transmission. The Maxus D60 is ideal for those who want a much larger vehicle that can also double as a family vehicle if needed.
GAC GS3 EMZOOM (P998,000 – P1,198,000)
The GAC GS3 EMZOOM combines style, space, and affordability, making it a compelling option for young professionals. Its sleek and modern design immediately catches the eye, reflecting its owners' personal style and professionalism. Inside, the GS3 EMZOOM offers a spacious, well-designed interior, ample legroom and cargo space. This is particularly advantageous for young professionals transporting colleagues, clients, or work-related materials. Fuel efficiency is often a hallmark of compact SUVs like the GS3 EMZOOM, contributing to cost savings during daily commutes and business travel. Furthermore, the vehicle typically comes equipped with advanced connectivity features, including smartphone integration and a touchscreen infotainment system, catering to the connectivity needs of young professionals who rely on their devices for work and entertainment. With competitive pricing and a blend of style, space, and technology, the GAC GS3 EMZOOM is the perfect choice for young professionals.
Ford Territory (P1,335,000 – P1,599,000)
A new entry from Ford Philippines into the competitive crossover segment in the country is the Ford Territory. As it stakes a claim in its local territory, the crossover comes well equipped with modern features needed for the young professional. The centerpiece of the cabin is the 12-inch touchscreen infotainment system that is capable of Android Auto and wireless Apple CarPlay functionality. The vehicle also comes with wireless charging capabilities and even comes with ambient lighting which can help set the mood inside the cabin. aside from this it also comes with a host of safety features that even veteran drivers will appreciate.
Powering the crossover is a 1.5-liter turbocharged motor that produces 158 hp and 248 Nm of torque. It sends power to the front wheels via a seven-speed automatic transmission that also helps it maximize its fuel economy. Overall the Ford Territory is a great vehicle to consider especially for the techies out there as it comes feature-packed and with an affordable price range.
Chevrolet Tracker (P1,218,888 – P1,292,888)
The Chevrolet Tracker is a standout choice for young professionals due to its practicality and value. Its compact size is a major advantage, allowing for easy navigation through city traffic and stress-free parking in tight spaces, which is especially valuable for those living in bustling urban areas. The Tracker is known for its fuel efficiency, delivering cost savings on fuel expenses during daily commutes and business trips. Chevrolet typically equips its vehicles with advanced infotainment systems and connectivity features, ensuring that young professionals can stay connected, make hands-free calls, and access their work-related apps while on the road. Safety is another key feature, with features like forward collision warning, automatic emergency braking, and lane departure warning providing added security for young professionals and their passengers. The affordability of Chevrolet vehicles is well-known, making the Tracker an attractive option for young professionals who want a dependable car without a significant financial burden.
Latest Features
Both are within the same price range but are in many ways different from each other.

The Chevrolet Tracker presents tempting design details and features that should be given much more attention.

These cars have all the qualities that will meet the needs of those with active lifestyles or long family vacations.
View More Articles