It is common knowledge that China has had limitations in entering the automotive industry in the past. It's because the general trust and confidence of the international market were quite focused on the long existing brands from Japan, Germany, and even, the United States. However, ten years ago, GAC Motor, a comparatively young company, took the bold steps and dreamed of upholding the name of China in the world of car making. With a commitment to quality and determination to succeed, the Guangzhou-born car company is now considered as the leading car brand in China, with a lineup of strong nameplates that have gained international recognition.
On its road to greatness after marking a decade of progress, GAC Motor has never stopped building internal capabilities and has remained committed to its 'high-end-focused, quality first, and innovation-driven' strategy. But what exactly did the company do to produce a world-class brand?
Set high quality standards
GAC Motor continues to dedicate huge efforts in improving its research and development (R&D), production, sales and after-sales processes. It has taken a diversified product development approach and tried to meet the ever-diversifying market demand with a comprehensive product portfolio. Customer-centered and based on quality culture, management approach and quality education, the Chinese marque manages and controls every detail in all processes including automobile design, production procedures, sales and after-sales service, and ultimately realize four qualities, involving all employees, processes and cycles, attractive quality of design, reassuring quality of auto parts, reliable quality of manufacturing, and heart-warming quality of service, symbolizing its pursuit of high-quality products that transcends customer expectations. As a result, GAC Motor has been consistently topping the J.D. Power Initial Quality Study (IQS) and J.D. Power Sales Satisfaction Index (SSI) since 2013, making it the no. 1 car brand in China.
Its flagship SUV, the GS8, passed frontal 100% collision test, frontal 40% collision test, side collision test and neck protection test with an excellent score of 57.7%, winning a five-star safety rating, becoming a midsize SUV entitled as "Safe Vehicle of Year 2018". GS8 was also included this year into the list of the first models recommended by China Automotive Consumer Research and Testing Center (CCRT), ranking No.1 among mid- and large-sized Chinese brand SUVs.
Produce globally recognized top sellers
While it carries the unique proposition of making luxury products affordable, GAC Motor did not scrimp on its nameplates. Because it values innovation and treats innovation as the primary driver of growth, the company has been able to create great products for consumers, great platforms for associates, and great value for the community. While doing so, it has actively expanded its overseas network and built a global marketing and service system, marking an important step in the face of international competition.
Till now, GAC Motor has established its presence in 15 countries worldwide in the Middle East, Southeast Asia, East Europe, Africa, and America, initially building its global sales network and service system and rated "Best Chinese Car Brand" in multiple overseas markets. It has set up Silicon Valley R&D center, and Los Angeles advanced design center in North American region, established GAC Motor Russian subsidiary and will set up Hong Kong trading center as well as North America sales company, steadily advancing the brand's internationalization.
Focus on a grand vision of excellence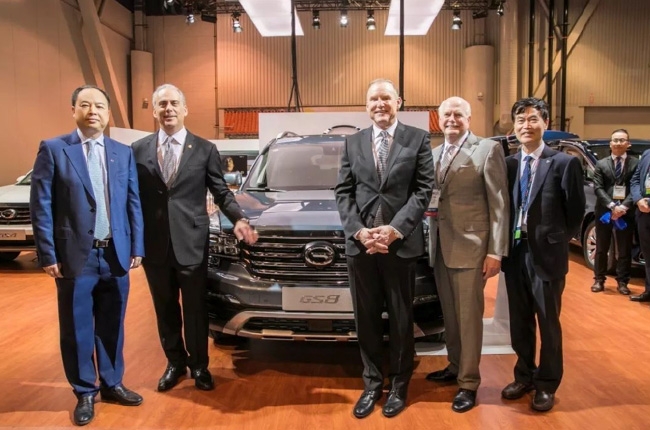 GAC Motor embarks into a new era of greatness with enterprising spirit of 'dare to dream and dare to achieve' which sets it on the path of greater accomplishments. It does not falter on fulfilling its dream to become the market leader for automobile manufacturing in China, and to make fellow Chinese people be proud of its intelligent manufacturing. With such bold courage and big dreams, the marque aims to China into the rank of top auto manufacturers of the world by relying on independent innovation and focusing on forwarding R&D, and by becoming a benchmark brand for Chinese vehicles.
As a new generation of Chinese automakers, GAC Motor has always undertaken a sense of industry and national mission in pushing forward the building of a strong automobile country and delivering wisdom and happiness to the world. Looking ahead, it will carry forward its legacy with care for the world, building a world-class brand and a global company, and shouldering the responsibility of an outstanding corporate citizen to create an enjoyable life of mobility for consumers worldwide with high-quality products and services.
*This article was written in collaboration with GAC Motor.
Latest Features
For those that want a little bit of everything, the Subaru Outback has the space, the features, and the powertrain for more than just family trips.

Here are five reasons why the eight-seater does better than some of the other seven-seaters in the market.

The Nissan LEAF presents the perfect price, technology, and practicality for your first EV purchase and experience.
View More Articles