The Toyota Corolla Cross has grown to be immensely popular over a short period of time. Barring the fact that it is a Toyota, the fact that it offers consumers the opportunity to own a hybrid car is also a nice value add that will allow you to go that extra mile.
Because there are two powertrain options for the Corolla Cross sitting at two different price points, we've included both hybrid and non-hybrid options, all at different price points. If you're willing to open up your horizons to choosing your next car, then consider this list.
Geely Azkarra (P1,438,000 to P1,598,000)
Perhaps the closest to the Corolla Cross in terms of its lineup, the Geely Azkarra presents a well-defined package that wows drivers and passengers the moment they enter. The model can be had with just a gasoline engine or with a mild-hybrid system. While the hybrid is more gas than electric, the Azkarra offers more power and torque thanks to its 1.5-liter three-cylinder engine that produces 175 hp and 255 Nm of torque without the electric motor, and 187 hp and 300 Nm of torque available in the top-of-the-line unit.
Toyota's engine is a far cry from that of Geely's and the interior is a class above the Corolla Cross. Buyers who will opt for this model will be rewarded with a refined ride, as claimed by Geely themselves. Plus, the gas-only variant is admittedly more expensive than the Toyota Corolla Cross, but the mild-hybrid variant is more affordable than the hybrid variant of the Corolla Cross.
Ford Territory (P1,277,000 to P1,310,000)
Now, Ford isn't one to rest when it comes to amenities, and we will admit that the Corolla Cross is a little lean on the features side of things. Ford solves that problem by fielding a compact crossover with a lot of tech and safety features, all at a lower price and with a more capable engine compared to the Toyota.
With its 1.5-liter EcoBoost engine, the Ford Territory produces 141 hp and 225 Nm of torque and is mated to a fuel-sipping continuously variable transmission (CVT). In our testing, we found it hard to fault the Ford as it gave us a pleasant driving experience. Its infotainment is bigger, it has a plethora of features that would probably turn this paragraph into an essay if we were to list all of them down, and it's also more affordable than the Cross coming in at P1,277,000 and topping out at P1,310,000. Not a bad deal.
Chery Tiggo 7 Pro (P1,198,000 to P1,223,000)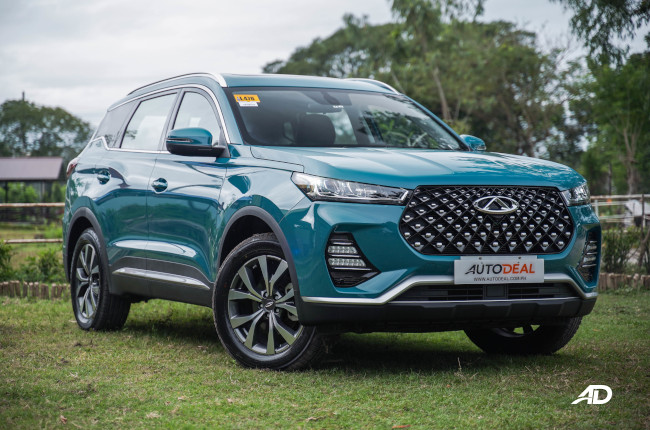 If you're on a budget and don't mind going for yet another alternative, then you can consider the Chery Tiggo 7 Pro. A compact crossover with features and a modern interior, the Tiggo 7 Pro ticks almost all of the boxes if you want a crossover that'll get the job done have a snazzy interior to boot.
It is the most affordable option of the bunch as well, coming well under the base price of the Toyota Corolla Cross. In return, you get more horsepower and torque than the Toyota, at 145 hp and 210 Nm of torque. You also get backed by an even longer and more comprehensive warranty, with up to 10 years on its power train, 5 years for the vehicle, and a 3-year service plan. All that in a package more affordable than the Cross is also tough to beat.
Kia Seltos (P1,153,000 to P1,525,000)
Perhaps one of the more underrated entries in the market will have to be the Kia Seltos. It made a splash in the market when it was first introduced, and it looked like a European crossover. In fact, some people actually told us that if you squint hard enough you might find that it has the face of a Land Rover, though we're not quite sure on that.
Anyway, the fact of the matter is that it is still quite an alternative to consider. The interior is well-built, and it comes with a 2.0-liter Atkinson Cycle engine. Even with a larger displacement, its fuel economy figures are quite impressive considering that it is gas-only. It's also fully featured on the tech side of things, and it sets the standard for most vehicles in the market in terms of its infotainment capabilities and as well as its interior build quality.
Mazda CX-30 (P1,490,000 to P2,005,000)
Perhaps the most recommended on this list will be a polar opposite to the Toyota. Mazda is known for its superb driving dynamics, and the Mazda CX-30 is no exception to the rule even if it is a crossover. The model may ride taller than a sedan, but believe us because pretty much every good trait about the Mazda3's platform can still be felt in the CX-30.
If you want a great driving car but need the extra practicality that a crossover can get you, then this is it. This is the antithesis to the rather plain and behaved driving dynamics of the Corolla Cross. The CX-30 features sharp handling and an engine that loves to be revved out. You will feel at one with the car and it will feel like a part of you whenever you're behind the wheel, at least in comparison to the Toyota Corolla Cross. The phrase "it gets the job done" doesn't really apply to the CX-30 because it'll get the job done, and put a smile on your face while it's at it.
Latest Features
The new Triton has shed its old name and donned a new face. It's no longer the Strada that we used to know.

Battery banks that can jump-start your car. Here are the top five best we've seen available online.

We list down the most fuel-efficient sedans for city drives in the Philippines, ranging from small to mid-size models.
View More Articles