It's the holiday season as the "ber" months are already in full swing. While Halloween is just a few days away, right after that is Christmas. You will see the decoration shift to a more festive mood with brighter colors on display. As a bit of a fun fact, the Philippines is one of only a few countries in the world to have one of the longest Christmas celebration periods, so before all the heavy traffic starts and the shopping sprees commence we have a couple of ways to get your car into the holiday spirit.
Dress up your car
One way to get your car into the holiday spirit is to accessorize it for the holiday season. You can add temporary modifications to your car such as the classic reindeer antlers and nose set to Christmas hats on the seats. You can even change the seat covers to something more festive if you'd like.
If you're one to celebrate Halloween you can even dress up your car to fit the festive mood by adding a few scary elements to it. However, just like all other decorations for your car, make sure that these do not break or obstruct your line of sight with the road. These decorations may look good but safety should always be your top priority.
Keeping it clean
For this holiday season, you can expect to be a busy bee and for traffic to slowly start to build up as people begin to shop. Despite this, you will still need to keep up with your car's needs by keeping it nice a clean. This doesn't just stop with the occasional car wash or wax this extends much further and into the cabin area as well.
When was the last time you had your car interior detailed? If your answer is, it's been a while or it's been too long, then why not head on over to your local car wash and give it a good cleaning?
You will be surprised to find all the dirt and grime that has accumulated over the past few years in your vehicle. All the small bits of food, dirt stuck in the carpet, and other unmentionable things. That's why not clean your car to help celebrate the new year or the holidays with a clean slate.
Keeping it safe and healthy
We all know that the pandemic has had an impact on our lives over the past few years. It has affected the economy and much more, that's why, as it is still technically ongoing with cases abundant, it's a good idea to invest in a disinfection kit for your car.
This kit doesn't have to be expensive you can just put in a couple of wet wipes, hand sanitizers, and a bit of alcohol in your vehicle to keep your hands clean and to clean any high-touch areas if need be. Aside from this, you can also opt to change the cabin filter in your car to something akin to the KN95 facemasks that you wear when you are out and about. Another thing you can do is invest in a portable air filter, the ones that you can plug into your 12-volt socket to help purify the air inside your vehicle. Remember to make sure to keep safe and stay healthy at all times to keep the festivities going.
The gift of giving
While this one is more for the Christmas season, you can always start spreading the gift of giving much earlier. You can do this by buying vouchers for your friends for car-related items, it can be a voucher or a coupon for a carwash service, or even a fuel card to help give them a couple of liters of fuel for trips out of town. It's never the wrong time to start giving, so why not start as early as now?
Maintaining what you have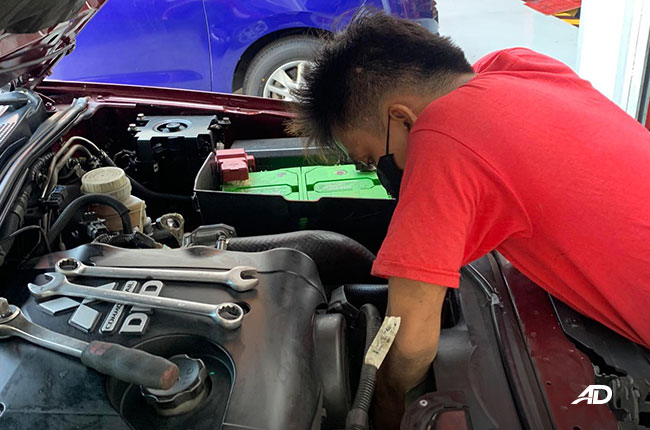 A final way to prepare and get your car into the holiday spirit is to keep up with its maintenance. While you can do this on the regular, the holiday season can be especially taxing on your vehicle with the increase in traffic. Sitting in traffic isn't a good thing for your car as the excess heat can cause parts to wear out faster. So, to save you from costly repairs later it's best to have your car have its preventive maintenance done before the holiday season goes into full swing saving you from bigger hassles later on. It's also a good idea to have your car serviced early as some mechanics may be taking a break over the holiday further reducing your dealership's workforce. Remember they are people who need to take breaks every once in a while.
Whether it be for the Christmas season or any other holiday for that matter, if you are dependent on your transportation then it's always a good idea to keep it in top condition, so no matter what it's ready for you when you need it the most.
Latest Features
Hyundai Stargazer is the brand's entry into the MPV segment, but does it have what it takes to stake a claim in the highly competitive market?

Want to insure your Lexus vehicle? Here are estimates for the yearly rates that you can expect.

The vehicles on this list are true SUVs in every sense of the word, and are at the top of their respective categories.
View More Articles