New year is right at the corner and we all know what's going to happen when it comes – excise tax on both cars and fuel. The price hike for both diesel and gasoline may reach up to P2.65 in 2018. This is a big deal, considering that most of us use our cars on a daily basis.
So if ever you're planning to get your own car next year, getting a fuel-efficient car would be a very wise decision. We happen to have driven some of them in 2017, and we've picked the top 5 for you.
Disclaimer: This list does not sum up all the models that are sold in the Philippine market. Rather, the cars you are about to see in the list are from AutoDeal's Review section, and ranked based on their fuel efficiency at a steady 90 km/h run on the highway.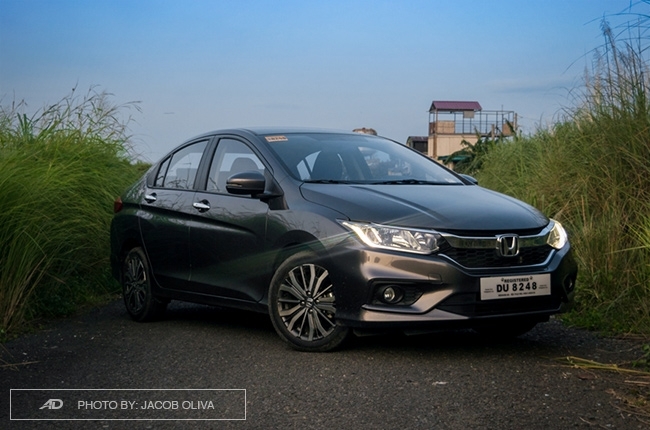 Top 5: 2017 Honda City 1.5 VX Navi CVT (18.9 km/l)
While the nameplate may suggest a certain stigma to some that it's to be driven purposely within the city alone, we found out that it's not. The Honda City isn't just for the urban jungle, as for the driving dynamics that it has, coupled to a positive power ratings and ride comfort. But, the thing that lifts it up more than the stigma is its superb fuel economy.
Having the ECON system engaged, the car registered 6.1 km/l fuel consumption at a speed of 15 km/h, which is consisted of stops and gos around city avenues. When we drove the car on the highway at an average speed of 90 km/h, the car only read 18.9 km/l. That's more than decent for a 120-hp sedan with CVT.
Top 4: 2017 Nissan Almera 1.5 VL AT (21.3 km/l)
This is Nissan's entry in the subcompact category and is among the largest in its class. It looks much like its bigger brother Sylphy with only slight differences on the headlamps and bumper design. The Almera may not be as powerful as the Honda City but the fuel economy in this underrated subcompact sedan is even more pleasing than the latter-mentioned.
On busy city streets, the Almera scored 7.1 km/l for an average 15 km/h drive. That's if you're constantly applying pressure on the brake and accelerator pedals alternately. On the highway, a reading of 21.3 km/l on the screen at an average speed of 90 km/h bested Honda's subcompact sedan.
Top 3: 2017 Toyota Wigo 1.0 G AT (22.0 km/l)
This little big shot from Toyota was one of the few models that celebrated the success of mini subcompact hatchbacks in the country. The Wigo proved to be an ideal car that fits the narrowest roads in the country. This small body is fitted with a capable 1.0L gasoline engine infused with Variable Timing Intelligence (VVT-I) technology.
What puts it on the 3rd spot is its fuel economy reading of 22 km/l on the highway. Combine this with its retail price and you get a happy-wallet, as its price doesn't go beyond P600,000.
Top 2: 2017 SsangYong Tivoli XLV 1.6 ELX 4x4 AT (22.6 km/l)
The only large vehicle to make it on the list, the Tivoli has proven itself to be a thrifty subcompact crossover. This Korean crossover even bested Toyota's mini subcompact hatch despite the 1.6-liter turbodiesel under the hood. Speaking of its turbo engine, it can spur out 115 hp and 300 Nm of torque, with the turbo kicking in between 60-70 km/h.
Driving the Tivoli on heavy traffic will give you a reading of 6.4 km/l of fuel consumption, while on the highway, it gave out a reading of 22.6 km/l. In addition, if you ever find yourself on a challenging road, don't fret; the 4x4 will engage if its needed. One thing that we find very convenient, more so when paired with its smooth handling.
Top 1: 2017 Hyundai Accent Hatchback 1.6 CRDi GL AT (22.7 km/l)
Emerging on the top of the list is another South Korean car, only this time, a smaller vehicle. Give the Hyundai Accent Hatchback some finger hearts as it is the thriftiest car that we've ever driven this year. What made this possible is its edge over its rivals in the subcompact segment – a diesel engine. It is blessed with a Euro 4-compliant 1.6-liter CRDi diesel engine with variable-geometry turbocharger (VGT).
Another best thing about this hatch is that it's fast. The engine generates 136 hp and 300 Nm of torque, which are very competitive numbers in its segment. But other than being fast, it's fuel-friendly as driving on the highway marked only 22.7 km/l on the instrument cluster. That ends the story if its fuel economy we are talking about.
To sum up the list, here's a quick chart of the top 5 most fuel-efficient cars that we have driven.
Yes, the excise tax affects cars that some may increase their retail value. However, if you go for the ones on this list, you could minimize your fuel budget and get more value from the purchase you'd make.
Latest Features
Priced right, engineered to be driven, and polished premium, the Mazda3 makes for a great daily driver for enthusiasts.

Cars come with the latest and greatest tech now with adaptive, automatic, and advanced systems, but is it worth it?

We created a quick list of cars you can buy today that will give you the most amount of horsepower for the lowest price.
View More Articles