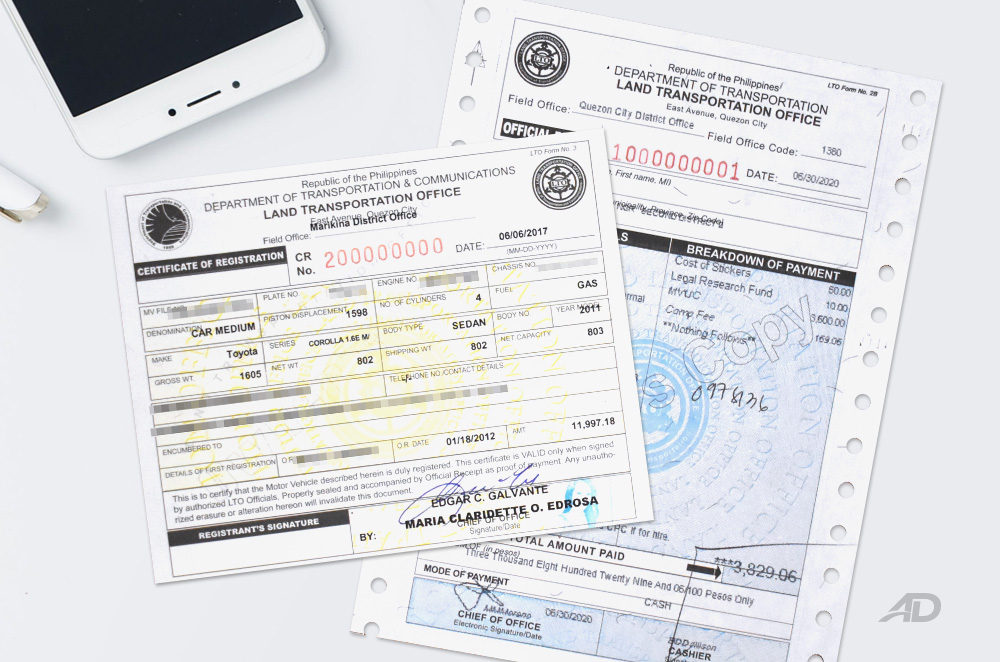 Part of car ownership is getting it inspected and registered every year after the first three years after rolling off the lot. There's a list of things that you need to take care of first before your vehicle is eligible for registration renewal in the Philippines. Here's a guide on how to get the job done.
Initial Registration of Motor Vehicle
This is the registration that comes with your brand new vehicle the moment it comes out of the dealership. For this type of registration only accredited importers and dealers are allowed to apply for it.
General requirements
Original Sales invoice

Original LTO copy or electronically transmitted insurance certificate of cover

Original copy of PNP and HPG clearance certificate plus the special bank receipt

Original certificate of stock reported

Payment reference number
The duration of this registration lasts up to 3 years from the first date of registration. When you purchase a car, the registration fee is indicated outside of the price of the vehicle, or it can be included in the package when you make the purchase. Either way, remember when you hit the 3-year mark, it's time to make your way to your local district office and have your car registered.
Additional requirements for more specific cases
New motorcycles with sidecar
Original affidavit of attachment for the sidecar that has been executed by the owner and mechanic on the date completion.
Used-Imported vehicles
These are vehicles that have been exempted from EO 156/877-A
Requirements:
1. One photocopy of a commercial invoice/certificate of title with English translation authenticated by the embassy.
2. Original duly accomplished motor vehicle inspection report with a certificate of compliance to emissions standards in the Philippines.
Requirements for rebuilt trucks and buses with a new or used imported engine and/or chassis
One photocopy of Commercial/ Sales invoice from the country of origin

Original Affidavit of Rebuilt executed by the accredited rebuilder, stating the date of completion

Original Certificate of Stock Reported of rebuilt truck/ bus

One Certified true copy of DTI- FTEB Endorsement

One photocopy of Certificate of Payment issued if parts/ components are imported
Requirements for Imported motor vehicles acquired through public bidding
One Certified true copy of Official Receipt evidencing payment of acquisition cost

One Certified true copy of the Notice of Award
For these kinds of vehicles are there certain steps that must be followed in order to legally register the vehicle in the Philippines. Some steps will differ depending on location but the general process remains the same.
Submit the required documents to the LTO

Proceed to the chosen LTO branch's cashier

Receive the OR

Present the OR at the next station in the LTO branch's process

Receive your OR again together with the new CR, plates, and RFID sticker.
*Plates may not yet be available yet for vehicles and as such a temporary one will be given.*
Renewal of Motor Vehicle Registration
After the initial 3-years of registration are up from a brand new vehicle it is now time to renew the registration. Any motor vehicle can do this and is an important part of car ownership.
General requirements:
LTO Copy and electronically transmitted appropriate Certificate of Cover (TPL)

Duly accomplished Original Motor Vehicle Inspection Report (MVIR)

Original Copy of Certificate of Emission Compliance

Original Copy of your vehicle's OR and CR
Steps for renewal of registration
Submit requirements to your preferred LTO office

Proceed to cashier for payment of fees and receive your OR

Present your OR at the next window in the LTO facility

Receive your new sticker
* As of writing this article new vehicle registration stickers are currently not yet available*
If your vehicle's registration is expired, you will be fined P200 per week passed for four-wheeled vehicles. A motorcycle, meanwhile, will incur P100 per week that the registration is passed.
Changing of ownership
When buying a second-hand vehicle it is important to have the ownership of the vehicle transferred to you once you have bought it. It will save you from having future issues when it comes to the vehicle.
Breakdown:
Legal Research fund P10
Transfer of ownership P50
Computer fee P159.06
Estimated total P229.06
The estimated total does not include your vehicle's MVIC and as such your total may change depending on that cost. Presented above is the cost of change of ownership if the vehicle still has a valid registration.
As with all ownership changes, there are corresponding documents that you will need to present when you get this done for your vehicle.
Requirements
Deed of sale (addressed to you or open)

3 signatures and 3 valid IDS of the original owner

Clearance from the HPG and PNP

TPL insurance for your vehicle
Latest Features
With a powerful 3.0-liter diesel under its hood, it could be advantageous for the Ford F-150 nameplate in the Philippine automotive market.

Filling up with a full tank of gas all the time can be expensive, so is a partial tank the answer? Let's explain.

Filipinos love the Alphard, but why not give the Kia Carnival a shot?
View More Articles