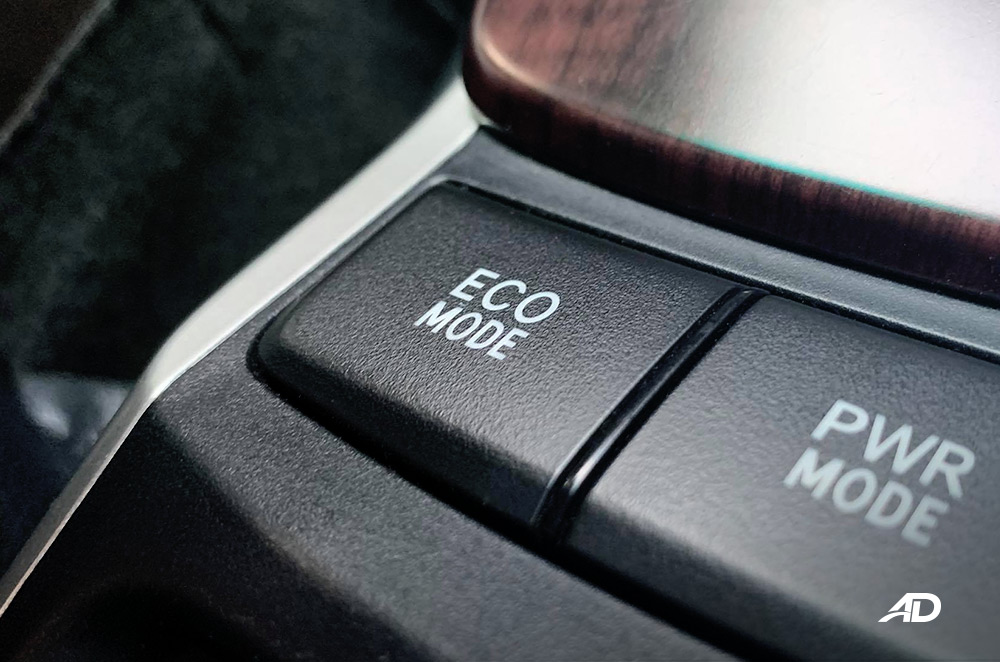 It's common to find sport, eco modes in cars. These features are found on many cars nowadays. It's basically like your smartphone's battery saving mode which extends its usage period, in this case, car manufacturers have installed this with consideration for drivers who want to maximize their car's fuel economy.
We shall go a bit more in-depth in order for you to better understand and see that switching to eco mode actually does affect your car in many ways, from its fuel economy, performance, and even other operational changes.
What is eco mode?
From the word economical, eco mode can be activated by drivers in order to boost the fuel consumption of a vehicle. In order to achieve this, the system then inhibits the performance of the transmission and engine, as well as the climate control system depending on the unit in question.
How does it affect your car's performance?
As mentioned, activating eco mode will help you achieve the best possible fuel economy rating throughout your driving. Behind its beneficial factor, your car's performance, however, will be inhibited. Consequently, the acceleration of the vehicle becomes less responsive, plus it lowers the shift points of transmission that will then lead to less fuel consumption.
There are even some instances when you will feel slower than usual, and that's normal as the system is trying to help minimize engine speed and load. Mechanically speaking, even when the driver pushes the accelerator pedal suddenly, it doesn't allow the throttle to open widely. Thus, by controlling the throttle opening, it restricts the entrance of fuel into the piston.
Other operational changes
Aside from toning down the performance aspect of your vehicle, its air conditioning system's load is also lessened when engaging in eco mode. It regulates the AC compressor by putting it on automatic cut-off mode, while in use, and it also tones down the fan speed to inhibit the load on the engine. On average, it will take a little longer for your car's cabin to cool down on a hot day.
How do you usually activate the Eco Mode?
There are actually three ways on how car manufacturers install the eco driving mode on their models. The majority often have a physical button that could be situated nearby the driver's door, on the center stack, or perhaps on the steering wheel, this is actually the most common integration of eco mode on most cars. While other cars have a rotary dial that can toggle through the different drive modes. Some even have a drive selector mode that is projected on the infotainment screen.
When should you engage in eco mode?
While using eco mode feels more at home in the city, as driving within urban roads won't usually require you that boosted performance, you still have the complete liberty of choosing to activate it anywhere. Using eco mode could either boost or retain your fuel-economy figures. Because it adjusts the performance of your car, you will have to get used to driving your car with slightly less sharpness, but if you're okay with that, then leave your eco mode on.
Which models in the market are available with an eco mode?
For the Philippine market, different car brands offer models with an eco driving mode. Even mainstream brands like Nissan, Geely, Honda, and Toyota offer this on some of their vehicles. To name a few, models available with an eco driving mode include the Nissan X-trail, Geely Coolray, Geely Okavango, the Honda City, Honda Civic, the Toyota Innova, and the Toyota Fortuner.
Latest Features
The Nissan LEAF presents the perfect price, technology, and practicality for your first EV purchase and experience.

Will GAC be able to unsettle Honda's ever-present Civic RS? Let's dare to compare!

The Suzuki Ertiga Hybrid presents advanced mild-hybrid technology as well as versatility at a very tempting price point.
View More Articles