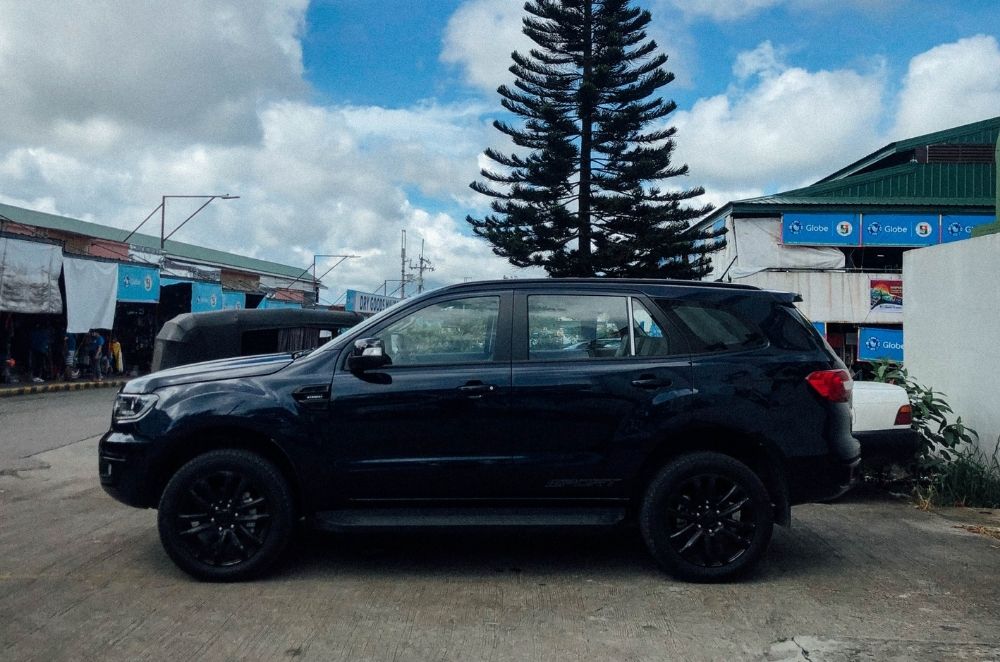 Nearly two years on, the pandemic has been tough for all of us, but perhaps none more so than for our parents. They've had to endure seeing their children robbed of precious time, all while keeping the lights on and putting food on the table.
I think we can all agree that our parents deserve a break from the mess of it all. In that light, Ford was kind enough to lend me the Everest Sport to make this a reality.
In our house, it's my dad who does most of the cooking. While he's not a trained cook, he makes his dishes with love and passion, and that's something we appreciate as a family.
He drives a hatchback, and it's capable enough for city driving, but it's not exactly what you'd call a road trip vehicle. The Ford Everest was perfect in that sense, as it let my dad and the rest of the family experience a roomier and more comfortable ride that's far from what we know.
With the ride set, there was only one thing to think about—where to go? Several places came to mind, but we ultimately settled on somewhere pretty close to us physically and sentimentally.
We had not been to Tagaytay in over two years. What had been a regular getaway for so long had become a distant memory. It made sense to finally revisit the city, especially as we had the Ford Everest Sport in tow.
As we headed off on our trip, we opted not to take the South Luzon Expressway (SLEX) in favor of the scenic route. We had never strayed from our regular route before, but navigating was a breeze thanks to Ford SYNC 3 and Apple CarPlay.
From Parañaque, Google Maps led us to San Pedro in Laguna to Carmona, Cavite. We then took Governor's Drive to Paliparan-Silang Road. That took us to Sabutan-Iba road and finally to Brgy. Ulat. The road there is parallel to Aguinaldo Highway and Sta. Rosa-Tagaytay Road, the two most common routes to Tagaytay.
The roads we traversed were bumpy, narrow, and admittedly unsettling. Despite all that, the Ford Everest carried on with quiet confidence, able to take anything we threw at it. Although it's not the 4x4 Biturbo, I found that the Everest Sport gets the job done in unpaved roads and uneven terrain. The single turbocharger made a difference on the steep ascent, always providing the power I needed to navigate the mountain-like climb.
Slowly but surely, we crept up through Tagaytay and ended up in Napa at Crosswinds, a charming café that offers stunning views and good food. Surviving a long wait, we stayed for brunch and had a sampling of the best items on the menu. We particularly enjoyed the brisket and fried cheese.
With brunch out of the way, we circled back to the city proper, where we visited one of our favorite destinations. Mahogany Market houses some of the best beef in the country. Everything is delivered fresh from top-notch ranches in Batangas. It's also the home of delicious Bulalo, which we sadly didn't have because we had just eaten. Instead, we took home large amounts of beef for the family to enjoy after the trip.
With much of the day still ahead of us, we weren't ready to go home. We still wanted to enjoy our time with Everest. So, we packed it up and went further south. The SUV stayed strong at that point, not showing any signs of weakness. After about an hour's drive, we found ourselves having late lunch at Cheza's restaurant in Laurel, Batangas. I finally got to order Bulalo while enjoying the incredible overlooking view of Taal Lake. The atmosphere was perfect, and I could feel everyone relax from the worries that had plagued us for so long.
After that, we returned to Tagaytay, where a short stopover at Ming's Garden was in order. We bought ourselves a few plants, hoping to bring with us some of the garden's beautiful greenery.
With everything over, it was time to go home. Even after a day's worth of driving, I didn't feel tired at all. Driving the Everest Sport was relaxing in itself. It kept its cool in traffic, on bad roads, and the highway. We took SLEX going back, and I used the cruise control feature to rest my feet while giving a bit of attention to my dad. I asked him if he enjoyed the Ford Everest. Yes, he said. It's worlds apart from his hatchback and fits our family well. He might just get one for himself.
With help from the Ford Everest, I gave my dad and our family a much-needed break from the pandemic woes. We relived memories and built new ones while finding ways to get closer to each other. Now, my dad is ready to get back to what he does best, only a bit happier and more relaxed than before.
Get the best deal - Choose multiple dealerships to compare offers!
You can compare quotations simultaneously from multiple Ford dealerships. Select your preferred dealers from the list below.

Compare quotations from multiple dealerships in minutes.
Check vehicle and color availability.
Find info on special offers and promotions.
100% Hassle-free with no obligation to purchase.
Latest Features
Want to insure your Lexus vehicle? Here are estimates for the yearly rates that you can expect.

The vehicles on this list are true SUVs in every sense of the word, and are at the top of their respective categories.

There are ways to help your passengers have an extra layer of protection in the event of a crash, this all depends on your policy and what it can do to help them.
View More Articles