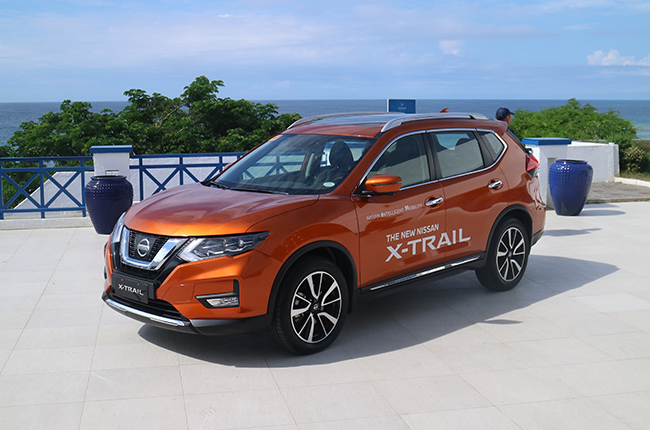 When a brand invites you out for a drive for a certain vehicle, we—the motoring media—expect units of that car available for use. Imagine my surprise when we got to Nissan Quezon Avenue and saw only Urvans waiting outside for what's supposed to be a drive for the 2018 Nissan X-Trail.
I'm not complaining, though. In fact, it's a welcome change to go out of the city, sponsored by a brand, in one of the most comfortable vans in the market. The destination was Thunderbird Resort in Poro Point, La Union. Waiting for us there were X-Trails and a series of activities that will emphasize just how badass its technological features are.
First up was the Blind Spot Monitoring. There were small lights on the side mirror part of the door that light up when there's a car in your, uhh, blind spot. Now, it's not a new feature in the market, but what's good about this was it's quiet. Nissan knows that first of all, you should look at your side mirror if you're going to switch lanes and if you do, you'll see that light, no annoying alarm necessary.
Next was Forward Collision Warning with Intelligent Emergency Braking — a proactive move to avoid another 'sudden' scandal in the Philippines. Nissan put radar sensors somewhere in front of the vehicle to detect objects that can cause collision. Once it senses danger, it will give the driver an audible warning in the cabin. If ignored and the car sensed that collision will occur, it will apply brakes immediately to stop itself.
After those, Nissan Philippines had two more activities that flaunted the accuracy of the new X-Trail's 4 cameras. Yes, it has 4 – 1 up front, 1 at the back above the plate, and 1 under each side mirror.
Most cars only have a camera at the back meant as a guide for backing up or getting off a parking spot. Nissan took this a step further with their Rear Cross Traffic Alert, which alerts you of oncoming vehicles you might not see. It's like the Front Collision Warning but at the back, and without the use of emergency braking. It can detect vehicles you can't even see yet, and give out a visual warning (yellow highlight box) on the screen. Again, I just love how there's no annoying sound that goes with it. It's like a subtle encouragement by Nissan that will force you to look at the back old-school style, or look at the screen and nowhere else.
To fully demonstrate just how awesome to have 4 cameras in your vehicle, Nissan put the new X-Trail in a blindfold test. They covered the windshield and two front windows and put the crossover in a makeshift course. The goal was to drive around it without hitting any cone, and rely only on the infotainment screen that displays the cameras' view.
Click the Display button near the screen to activate the camera views, which was divided into two. The left side was the front or rear camera, depending on what gear you're in; while the right side was either the satellite or curb view.
Satellite will show you an all around view of the vehicle, while curb will show the side camera on your opposing side, so you can see if how near you are before hitting something. Now, this will only work if you're running at 10 km/h or less. Go over that and the screen will revert back to normal.
Driving around the track by only looking at the screen felt normal for me, but that's because I'm used to arcade stuff and games. Some of the more experienced and senior media people with me said it's a bit disorienting because distance guesswork was different. However, it's just an extreme demonstration. In reality, you'll have your windshield and windows free from obstruction.
Are these enough to put the X-Trail above its competitors? It's hard to say right now given that (1) We haven't tried the features at night and (2) A good car is more than the tech it has. We'll have to wait until we fully review this car before we hand out a verdict if the new X-Trail is worth your precious money.
As for the features itself, I think they're a step towards the right direction. What better way to avoid accidents than to prevent them, right? The new X-Trail tries to do just that and it does so adequately.
Latest Features
The new Triton has shed its old name and donned a new face. It's no longer the Strada that we used to know.

Battery banks that can jump-start your car. Here are the top five best we've seen available online.

We list down the most fuel-efficient sedans for city drives in the Philippines, ranging from small to mid-size models.
View More Articles