The Land Transportation Office (LTO) has recently begun the release of licenses that come with a 10-year validity period. With it, the release comes a new set of rules that you will need to follow for you to keep the longer validity.
Demerit points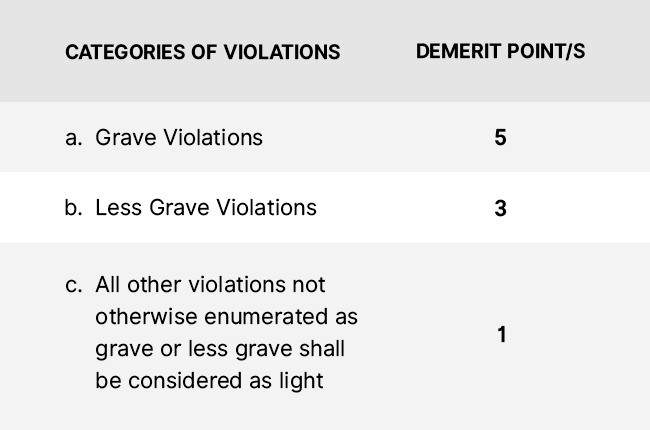 Demerit points are given to those who commit driving or traffic violations. These points are given to drivers based on three categories, the first is Grave violations, the second is less grave violations, and the third is light violations or all other violations not otherwise enumerated as grave or less grave. For grave violations, this comes with a hefty 5 point demerit. For less grave violations, this comes with a 3 point demerit, and light violations come with a 1 point demerit.
The number of demerit points you earn will also affect your license validity the next time you renew it. The points are only counted from the date of the issuance of your license. If you have 1 to 2 demerit points you have a period of prohibition of 6 months. If you have 3 to 4 demerit points you have a period of prohibition of 3 months. If you manage to get 5 or more demerit points your license will have a prohibition period of 1 year or more depending on the violations.
With that said, if you want to make sure that your license will be valid for 10 years you will need to make sure that you do not commit any violations and to have your required medical exams done regularly.
Checking for Demerits
The process for checking if you have any demerits or violations with your license is pretty straightforward. All you need to do is log onto the LTO LTMS portal and create an account. If you are an older 5-year license holder you may need to update your profile with other missing information but aside from that once you created your profile you are pretty much good to go.
Once you have logged into your profile, the LTO website will bring you to the home screen and ask you what you want to do. To check for your violations simply click on the "violations" icon and the website will take you to a different page.
Once loaded the new page will display your demerit points along with the corresponding violation that you committed. It will also show you the unsettled amounts you need to pay for that violation along with your violations history. With that said, it's a pretty simple process to remember and can easily be done in a couple of minutes.
Latest Features
Make sure to signal and do a quick shoulder check before merging to know where you are and where the traffic is around you before you transfer over into a different lane.

We get dealers to bid on your car, all you have to do is choose the best offer.

Unsure about the Number Coding scheme in the Philippines? Our complete guide provides comprehensive details on everything from coding days to window hours in all locations affected by the Nu...
View More Articles