To travel is to live, as the adage goes. The cabin fever we experienced inside our homes while waiting for the quarantine rules to ease up was more than how a claustrophobic would feel while trapped in an unmoving elevator. The pandemic pushed our wanderlust to the point where we wanted to drive down to anywhere but our homes. That is an exaggeration, but you get the drift.
Deep inside, we know that a quick getaway from the four corners of our houses would be enough to take out our anxieties. Because of the recent developments, we can start to think about traveling again. And thanks to promos like the SEAOIL Lifetime Free Gas, traveling would be totally worry-free. It gives us the chance to have a lifetime supply of free gas - and that means limitless road trips to anywhere in the Philippines! To date, Manila residents have the likes of Tagaytay, Cavite, and Batangas to drive around to, while Cebu and Davao residents can explore the many sites within their provinces.
A bonus, too, for the Cebu and Davao residents, as we remind you to explore your neighborhood. There are so many famous places you can wander in. You are lucky that these spots are just a drive away from your cities.
Road trip must-have, must-do
With or without the pandemic, we must be mindful and focused on our plans before hitting the road. In as much as we would like to tell you that being carefree is fun, we still recommend that you put things together to get the most out of your long drive.
Make an itinerary. Don't overthink where you want to go. You can always create minor iterations on the road, but it helps to know your destination, route and possible road conditions.
Plan the drive. Network connections outside the cities may not be as strong, so do not 100% rely on Waze's routes. Download your map or, better yet, go old school, print it out, or draw it.
Check the weather ahead of your schedule. Google your way to the weekly weather forecasts, and stay tuned in the news (if there are typhoon warnings).
Prep your car. Your car should be in good shape so read up and follow the checklist of the dos and don'ts in preparing your car before you go on a long drive.
Take note there's COVID-19. While you think of the road trip essentials to put inside your car, always include your pandemic-safe kit: masks, face shields, alcohol spray, thermometer, and first-aid medicines. And bring IDs and travel passes and medical certificates* (if available) - you don't know when these are asked and needed.
Gas up. Load your car with a full tank before you start the drive. For a more intelligent choice, we recommend gassing up at SEAOIL Philippines. Not only do they have quality fuel, but they have an ongoing Seaoil "Lifetime Free Gas Promo" which awards a lifetime supply of free Seaoil fuels to its winners. Imagine free gas for the rest of your life? Totally lit, right?
Drive, just drive. Your road trip won't start unless you start driving. You can opt to drive solo, but if you go with friends or family, remember that you have social distancing rules to follow within the car.
Oh, the places you'll go
Nature lures in Cebu and Davao, and who can say no to such breathtaking destinations in these provinces. From the mountain tops to the deep seas, Cebu and Davao have a lot to offer. Here, take a tour around Cebu and Davao's best places to go for a road trip.
Sibonga
Sibonga's bordering city, CarCar is your must-stop for a lechon fix. While the Simala Shrine, or the Monastery of the Holy Eucharist, is the usual stop for a quick soul fix. Aside from saying a little prayer, travelers marvel at its European-inspired architecture that looks fascinating when photographed.
Dalaguete
Trek the hills and go up the rugged roof of Cebu, the Osmena Peak, the highest mountain in Cebu, and get a 360-degree view of the luscious greens that abound the province. The town of Dalaguete offers similar sites like Casino Peak, Kandungaw Peak, Rock Formations, Kulabyaw Cave, Mercado's Peak - so you get to take your pick (pun intended).
Badian
This town comes next to Dalaguete, and it is home to the famous three-layered waterfall, Kawasan Falls. While Cebu nestles many falls, Kawasan Falls seems to be the most visited, prompting canyoning tours in the province.
Moalboal
Beach lovers, Moalboal is your stop. It is 'the' place for recreational diving and beaches in southern Cebu. Also known for the sardine run - the schools of fish are a stone's throw from Moalboal sandy shores
Oslob
Other than being the site-to-be with the whale sharks, Oslob also gives a stunning sight of dolphins swimming in the wild. If this is not enough to get you to drive to Oslob, then perhaps the mesmerizing Tumalog Falls can make you visit?
Alegria and Samboan
If you are up for some waterfall hopping in southern Cebu, Alegria's Cambais Falls, and Samboan's Dao Falls, Binalayan Falls and Aguinid Falls should be in your list. Don't miss taking a walk at the impressive bamboo suspension bridge in Dao Falls, while surrounded by coconut palms stretches across the river.
Samal
In Davao del Norte, you can go on a tour of Samal's beautiful white-sand beaches and underwater sights. Also known as the Island Garden City of Samal, it is blessed with pristine beaches and incredible snorkeling and diving sites, aside from luxury to budget resorts that make for the ultimate tropical getaway.
Mount Apo
When in Davao, the highest mountain in the country is a destination by itself. Recognized a national park and an ASEAN heritage site, Mount Apo is a protected area that boasts lush rainforests, geysers, hot springs, sulfur pillars, lakes, rivers, waterfalls, and other natural wonders. During your trek, if you're lucky, you may get the chance to spot a Philippine Eagle flying above.
Cateel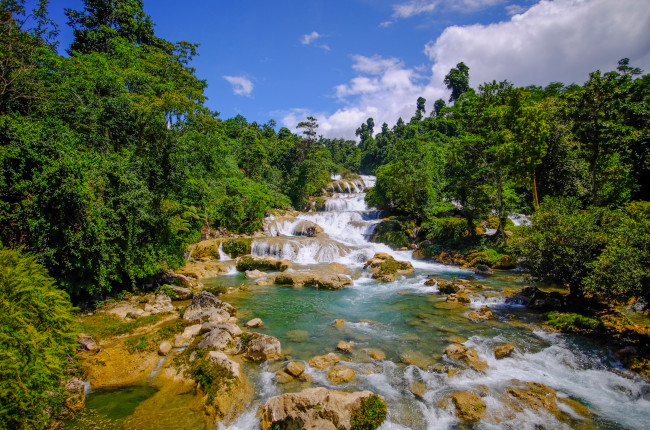 Cateel in Davao Oriental boasts Aliwagwag Falls which is arguably one of the most beautiful waterfalls and one of the highest waterfalls in the Philippines. Unlike the usual waterfall with one or a few tall drops, the Aliwagwag Falls comprises a series of 84 falls appearing like a stairway to heaven.
Balut Island
Balut Island in Davao Occidental offers travelers to trek to the forest-topped summit of Balut Volcano, see the Sabang Hot Spring or do an island hopping tour to see the pink sand beach in Olanivan Island.
Wherever you will end up traveling to, remember that the trip must leave you relaxed and stressed-free. And, if you decide to go for a road trip now, you have ways to leave your anxieties behind. Plan ahead, follow the travel rules related to Covid-19, and lessen your gas-tos and enjoy an opportunity to join SEAOIL's Lifetime Free Gas Promo.
Customers who purchase at least P500 worth of fuels or lubricants from November 9, 2020, to February 8, 2021 (single or accumulated receipts), or redeem 12 liters of Gas 91 or 15 liters of diesel fuel (available or accumulated transactions) using the PriceLOCQ app are eligible to join the promo. Qualified participants can register for free and submit promo codes via SEAOIL's Lifetime Free Gas official website, or text REGISTER to 225-66-99 (free of charge).
There will be three (3) lucky grand winners of Lifetime Free Gas: one from Luzon, Visayas, and Mindanao.
Major consolation prizes include three (3) winners of one-year Free Gas; minor consolation prizes include 120 winners of PHP3,000 worth of SEAOIL gift cards; and over two (2) million pesos worth of instant prizes.
The Lifetime Free Gas promo is SEAOIL's way of thanking loyal customers for continuous patronage, and part of its #FuelPHtoRecovery initiative, enabling customers to break free from gas-tos and allows them to move forward faster.
For more details, visit www.lifetimefreegas.com.
Important Notes: To date, Cebu and Davao have opened their tourism initiatives to local travelers. However, take note that the situation right now is fluid, and changes can happen at all times, without prior major announcements. So, check diligently before you travel.
_____________________________________________________________
Latest Features
Battery banks that can jump-start your car. Here are the top five best we've seen available online.

We list down the most fuel-efficient sedans for city drives in the Philippines, ranging from small to mid-size models.

When it comes to all-electric crossovers, BYD knows their stuff. They know what it takes to make electric great.
View More Articles