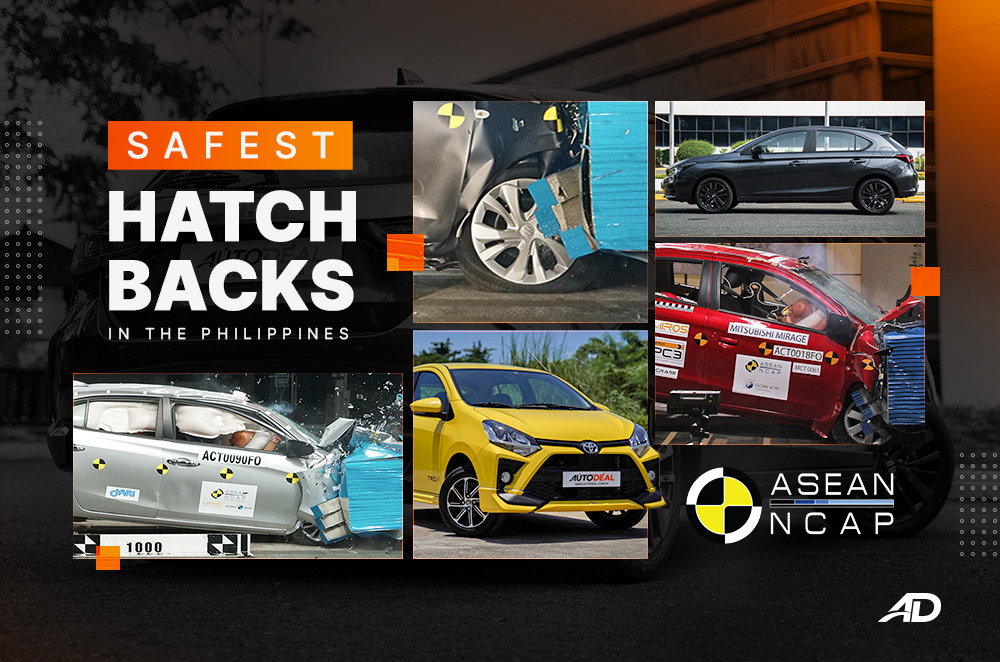 If you want yourself a very versatile car, but prefer a lower ride height, then you're in luck because hatchbacks exist. There are multiple models in the Philippines right now that offer a great number of features on top of practicality to boot and in the boot.
While it is easy to get blind-sided by features upon features, one cannot and should not forget that safety in cars is also quite important. You never know if you will get into an accident, so it pays to have a car that has been tested thoroughly. Here's a list of some of the safest hatchbacks in the market as tested by the ASEAN New Car Assessment Program (NCAP).
The list is edited and ranked by score, but more importantly, depending on the testing criteria that the cars underwent with the ASEAN NCAP.
Mitsubishi Mirage
Kicking off the list, the hatch version of the popular Mirage G4 gets a spot on this list for its 4-star adult occupancy rating. The vehicle only lags behind a bit when it comes to child occupant safety, scoring 43% out of a hundred.
It's pretty safe all things considered, however, the testing criteria date back to 2013, netting it a rather low spot on this list. The car came with two airbags when tested, and two even to this day, so expect a similar level of safety for even the newest models as they continue to use the same platform and chassis.
Toyota Wigo
Meanwhile, we have the Toyota Wigo. Dubbed the Ayga in other ASEAN nations, the Wigo managed to achieve a score of 4 out of 5 stars in the NCAP test. Child occupant safety was also rated a 4 out of 5, which gives the idea that it would do nicely to keep your family safe in the event of a crash.
However, do note that the test was conducted in 2015. The model we have in the Philippines is still running the same chassis from that year, however, the test criteria are not the most up to date so the Wigo gets knocked back a few places.
Suzuki Swift
Achieving an overall score of 71.05 under the ASEAN NCAP's new testing criteria, the Suzuki Swift makes it on the list getting a 4 out of 5-star rating. Its testing was conducted in 2018. The car also gets two airbags in its Philippine-spec model, similar to the spec that the ASEAN NCAP used for testing purposes.
The test that the Swift lost out the most points on was its safety assist features. As it stands in the Philippines, it's a rather basic safety package bundled in coming with ABS, EBD, and not much else. Still, however, its HEARTECT platform speaks volumes even if it's not equipped to the gills and priced affordably.
Toyota Yaris
Based on the Vios, which also achieved a 5-star rating from the NCAP, it's no surprise that the Toyota Yaris gets top marks for safety as well. The total weighted score of the Toyota Yaris comes in at 80.79, which gets it high in the ranks of this list.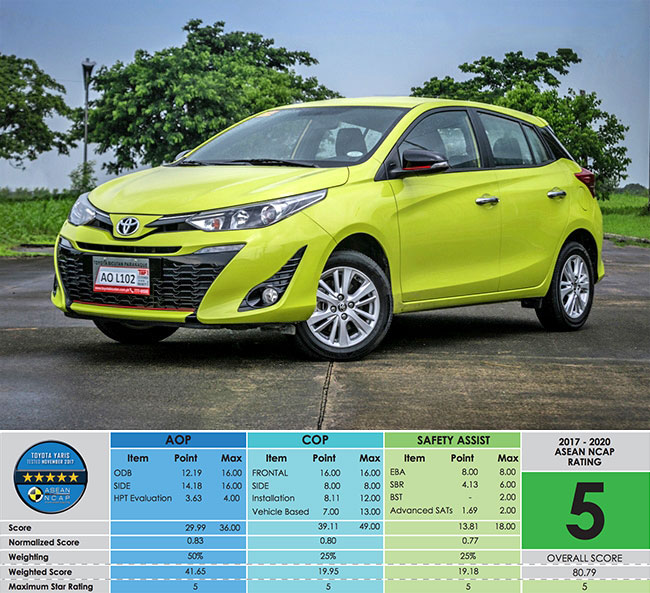 The car only fell behind a little in the child occupant safety and safety assist portions of the NCAP assessment. Otherwise, it managed top ratings in the adult occupant safety portion of the test. Toyota Philippines also bundle this car with a lot of safety features such as stability control and a full set of 7 airbags.
Honda City
Finally, the top dog in terms of safety is the newest platform of them all. The Honda City Hatchback is based on the ever-popular Honda City Sedan, so it's expected of this handsome hatch. With a score of 86.54 points, the vehicle gets a 5-star rating from ASEAN NCAP.
Its highest category was the child occupancy rating, but fret not as its adult occupancy rating is not far behind. Safety assist features are somewhat lacking for the Philippines, but other ASEAN territories get great features like a blind-spot monitoring system similar to the CR-V. It gets a complete set of airbags with 6 in total, making it one of the safer cars on this list. You also get vehicle stability assist and an emergency stop signal system that informs other drivers around you that you're quickly coming to a stop by flashing the hazard lights.
So, have any of these models piqued your interest? If so, head on over to our car guides. Some of these models are even available to be bought online with our aptly named 'Buy Online' feature. Otherwise, you may get a free quote and you're pretty much set.
Latest Features
A battle between two new MPVs that each bring their unique features to the table.

Is there something to look back at when it comes to steering, or is new truly better?

If you want to get insurance for your Toyota Rush, then heed this list of options before you go out a buy.
View More Articles