While bigger is better for many occasions, a more focused and compact package may be able to surprise you in more ways than one. We've tested many of these cars already, and some of them are quite good looking, feature-packed, and a good value for money. All of these models come at a price of under P750,000 for their top of the line models.
The small hatchback is a perfect city slicker, able to squeeze through tight streets and zip around with frugal gasoline engines. They're great whether you're in the market for a first car, or even as a spare car. Any of these vehicles will serve you well, so let's get to it in no particular order.
Chevrolet Spark (P694,888 – P734,888)
Chevrolet's smallest offering in its lineup, the aptly named Spark, is one of the more capable in its class. It stands as the car with the most power on this list rocking figures of 97 hp and 128 Nm of torque coming from a 1.4-liter gasoline engine. While it is not the most powerful motor in the world, it is spritely because of the car's light weight, and easy handling. It also comes with a 5-speed manual or a CVT, either of which will give you good service.
It also comes loaded with features. All models have the Chevrolet MyLink System which allows for seamless smartphone pairing through a USB connection which allows for Apple CarPlay and Android Auto functionality. It's a well-equipped hatchback that did surprise us in its review, and for less than P750,000, it a good deal.
Honda Brio (P598,000 – P735,000)
When you take the Mobilio RS, chop a third of it off and shorten the wheelbase you get the Brio; a small hatchback that excels in looks and refinement. The Brio is a good looking car, there is no doubt, but beauty is not just skin deep. In our testing, the Brio proved to be a very well behaved hatch. It resists feeling too light on the highway but remains light to drive within the city. It has a good loadout of features like speed sensing door locks to name one, and ample space for all passengers, which is surprising.
It's also quite powerful for what it is. With a 1.2-liter i-VTEC motor running the show, it produces 89 hp and 110 Nm of torque, which is more than enough to get it up to speed, but not too much that fuel economy starts to take a dip. You get the option of a 5-speed manual transmission or a CVT, and the top of the line RS trim is indeed something to needlessly gawk at on a daily basis thanks to the RS design elements tatted all over the car.
Kia Picanto (P590,000 – P745,000)
This feature-rich model from Kia doesn't just have an accessible price point, it also has engine options that are both available in 1.0-liter displacements or 1.2-liter displacements. You can take your pick between manual and automatic transmissions, with up to 5 gears in the manual box, and 4 in the automatic. The 1.0-liter motor produces 67 hp and 96 Nm of torque, and if you opt for the bigger engine, the Picanto gets a slight power and torque bump to 84 hp and 121 Nm of torque which puts it on par with other cars in its class.
For its features, however, it's more leading than following. It is one of the few small hatchbacks in the Philippines with Apple CarPlay and Android Auto for select variants. The space is ample, the dimensions are compact, and there is a quality feel to the cabin that is apparent regardless of which variant you choose.
Suzuki Celerio (P558,000 – P598,000)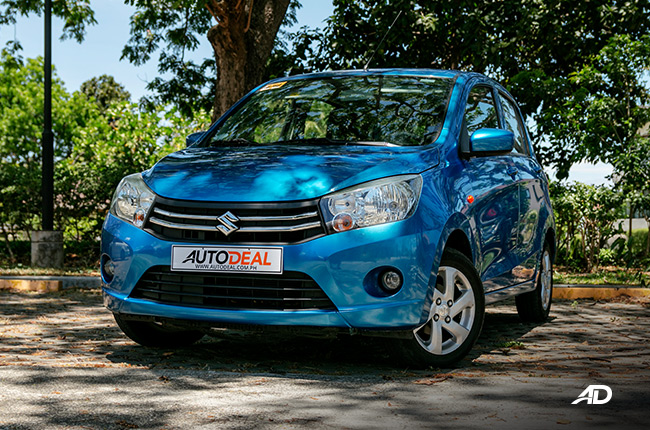 Suzuki's smallest model in the line up has got quite a few big things going for it. For one, it has a sub P600,000 price tag for the top of the line CVT model. Second, it's very fuel-efficient in the city and easily tops the others in this list. With the brand's 1.0-liter K10B engine, that produces 67 hp and 90 Nm of torque, the Celerio excels in the habitat that is built for, the urban jungle – paired with either a CVT or manual transmission.
It doesn't have the most features on this list, but for the price of its rivals' manual variants, you get clutchless operation.
Toyota Wigo (P557,000 – P696,000)
We can't have a list like this without mentioning the Wigo. The model one of the most popular on AutoDeal, and it has a lot of followers. Though the model is on the older side compared to others in this list, it still continues to ply the streets of Metro Manila. The Wigo has reasonable power thanks to a 1.0-liter engine that produces 66 hp and 89 Nm of torque, which, let's face it is the weakest engine on the list today. Though the engine won't win you any drag races, it is still quite fuel-efficient even with its traditional 4-speed automatic.
Don't let the exterior appearance fool you, however, because the Wigo has enough space inside. Though the little mill will have a hard time getting up to speed quickly, it's plenty good enough especially for drives within the city. The interior space is also not bad and practicality is good given the class that it sits in.
Latest Features
We had a few thoughts about the F-150 in the country, it's too big, but we still desire it.

Crossovers in the Philippines can be had for P1,500,000, and here is a top 5 list of some of our best picks so far.

The Honda Brio and the Kia Picanto are both on today for a Head to Head versus match. Will the Brio take it, or will the Picanto?
View More Articles