Peugeot Philippines slated the 301 as their subcompact sedan contender and their way of giving car buyers a taste of what they can offer as a French carmaker. It targets those who're looking for something a bit more stylish on the road while at the same time offering value-for-money features.
From the outside, the 301 exudes elegance. That's because Peugeot designed it to flaunt a curvy side silhouette, rounded-off corner panels, smooth character lines, and a sleek front end with sizable chrome-accented grille. Engineers also installed double seals as they pieced together the exterior panels and components to prevent damage cause by dust entering the car's inner workings. But aside from these, there are more things which this small family sedan can give.
Price
The 301 comes in 2 variants; the 1.6 HDi MT and the 1.6 EC5 AT. Selling prices are at P990,000 and P1,090,000, respectively. For a subcompact car of this price range, the 301 boasts features and capabilities for would-be car buyers on the lookout for a stylish European vehicle for daily use, and these will be explained in detail below.
Performance
Under the hood of the 301 is a choice between two 1.6L engines. The entry-level HDi variant runs on diesel and can produce 92 hp and 230 Nm of torque. The engine is connected to a 5-speed manual transmission. Meanwhile, the range-topping EC5 feeds on gasoline and makes 115 hp and 150 Nm. It is mated to a 4-speed automatic gearbox.
The 2 variants trade off performance advantages quite fairly. For those who want more torque and would prefer a more hands-on approach in driving, the HDi is what they're looking for. The EC5, on the other hand, entices buyers with added power and a more relaxed driving experience.
Dimensions
The tale of the tape reveals the Peugeot 301's length and width measurements at 4,442 mm and 1,715 mm, respectively. When placed side-by-side with the Volkswagen Polo Sedan, the 301 is longer by 58 mm and wider by 16 mm.
They do share the same height measurement at 1,466 mm, but the Polo Sedan has a 168 mm ground clearance which is a scant 2 mm higher than the 301's. As for the wheelbase, the 301 stretches further by 100 mm. This equates to a slightly bigger leg space for 5 people.
As for trunk space, the 301's 506 L trunk capacity can carry about 3 standard-size travel bags with extra space on the sides for smaller belongings. This luggage capacity can be increased to 1,332 L when the rear seats are folded down.
Interior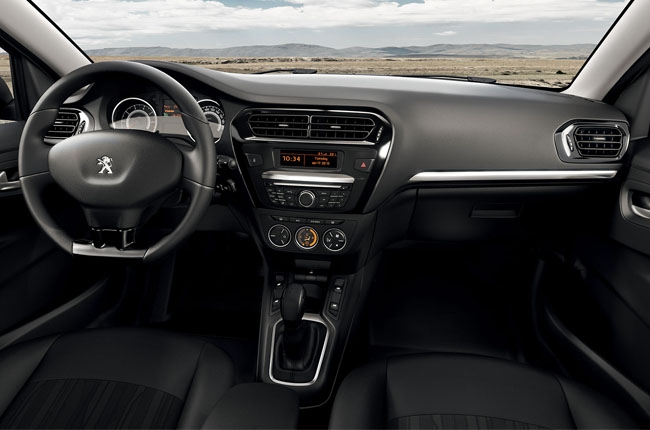 Peugeot upholstered the 301's seats with fabric. Both variants get this, along with amenities like an audio system with CD/MP3/AUX-in/USB support and hands-free Bluetooth connectivity. The EC5 ups the ante with an automatic A/C.
Moreover, there's also a heating element that's installed within the windshield. This serves 2 purposes; to keep the wiper blades from sticking and to provide a clearer view of the road, especially in cold weather conditions where condensation is a frequent occurrence.
Safety/Technology
The Peugeot 301 is at the ready with Speed Limiter, Cruise Control, and dual front airbags (the EC5 variant adds side airbags). The car also comes with Peugeot's Electronic Stability Program. This streamlines the functions of the ABS, EBD, Emergency Brake Assist (EBA), Anti-Slip Regulation (ASR), and Dynamic Stability Control (DSC) for all-around safety.
Also included in the 301's assortment of safety features is a front seatbelt pre-tensioning system. This triggers the seatbelts to increase their tightness to protect the occupants in an event of a frontal impact.
The Peugeot 301 presents itself as a value-packed family sedan with well-designed exterior and well-dressed interior. It also has noteworthy engine performance that's complemented by an array of occupant protection features. But here's the best part to top it off - AutoDeal currently has exciting limited-time all-in low downpayment promos available for the 301.
Latest Features
The price of insuring your car usually varies depending on the model of your choice.

It seems that hybrid cars are starting to normalize in the Philippines.

What do you consider when buying a family car?
View More Articles