As part of our thrust to give everyone as much information as possible about car buying, we've put up a review corner for certified owners so they can share their thoughts from the moment of purchase and beyond. The brand that we'll be covering today is Volkswagen and several of the marque's best-selling models in the market.
Nameplates like the Santana, T-Cross, and Lavida are all popular models with some notable owner reviews that range from the short term to the long-term. We'll take a look at a few of those reviews today. Remember, however, for a bigger picture we recommend that you take a look at our owner reviews section on our car guide.
One of the earlier reviews of the Volkswagen Santana comes from an anonymous buyer hailing from Rizal. The buyer completed the sale at Volkswagen Quezon Avenue. The customer was able to buy the SE variant of the Santana, which has most of what you need for a modern car. However, even with the SE variant, the customer was left wanting in terms of features. As such, he goes on to list several features that he would have liked to see in the unit, "Example: rear parking camera, a better head unit with Android or Apple Car Play. Overall, I loved the fuel economy and how smooth my driving is with the steering wheel. I am not sure if my experience on the road regarding how rough the road is - is affected by the default tires I am using right now." That being said, the customer was still satisfied with the fuel economy, and we can attest to the frugal nature of the Santana with its 1.5-liter naturally-aspirated engine that's able to reach rather impressive figures as per our testing a few years back.
Speaking of fuel economy, our next reviewer is yet another anonymous buyer. He made a quip about the fuel economy of the T-Cross stating that "fuel economy is great, 9 km/L in the city, and 18km/L on the highway." He then goes on to say that it is an overall very good purchase mentioning that he feels safe while driving it. Even with our testing, the T-Cross returned very stable highway performance, tracking a straight line with no noticeable shakes or wobbles. The car felt planted at high speeds, and that's great considering that it also has good performance in the city.
On the flip side, having a spartan interior isn't all that bad depending on the needs of the client. Another Volkswagen client who bought a Lavida stated that "If you're don't want a car equipped those current but distracting multi-media displays…but still gives you the safety tech, space, luxury, comfort, and refinement of a European brand (at a reasonable price), then this is worth including in your [shortlist!]" As such, this is another type of customer that can mesh well with the Lavida. We thoroughly enjoyed our time with the Lavida as a car that you just drive. There are no frills and nothing much in the cabin that can distract you on the road.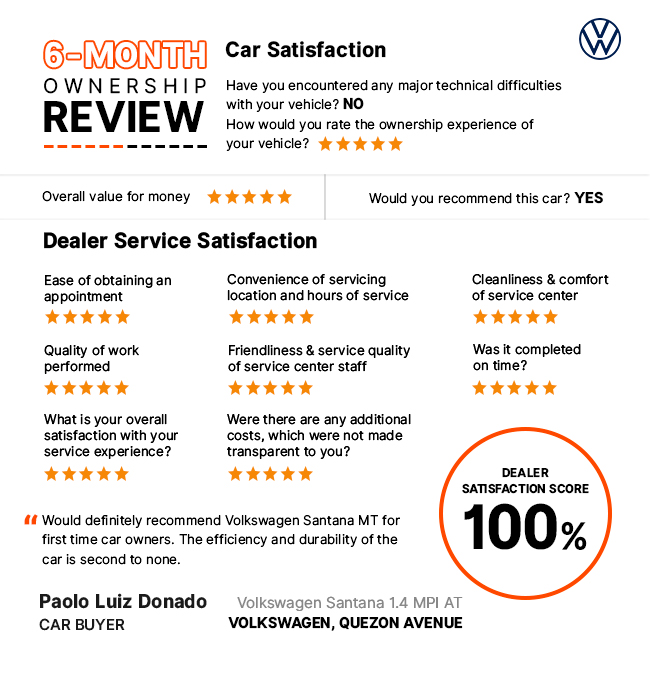 Though, let's take a look at a customer's long-term perspective about their Volkswagen this time around. For the Volkswagen 1.4 MPI Santana, Mr. Paolo Luis Donado had this to say about his Santana: "would definitely recommend the Volkswagen Santana MT for first-time car owners," to which he added that the efficiency and durability of the car is second to none. While that is a rather sweeping statement given that many other cars can offer similar levels of durability, his first point resonates with us since the Santana (especially in its manual transmission variant) is a great car for learners to discover the ins and outs of driving in the Philippines. With a low-powered engine, a forgiving chassis, and amazing fuel economy, the Santana is a perfect choice if you're looking for a practical car to use every day.
Finally, here's someone that did something that most drivers in the Philippines might not have the courage to do. If you think that driving a car from Manila to Tagaytay is a "long drive," then what does that make a drive from Cavite to Bukidnon and back? Mr. Rey Ronquillo is one such driver who took on the distance with his Volkswagen Santana. Cavite to Bukidnon and back is a 3,000 km drive, and he experienced no problems with the car throughout the entire journey. Volkswagen Philippines should take note, however, as one of his comments indicated that there is a lack of VW service centers nationwide in case he runs into trouble. While that's not a big worry for a brand new vehicle, down the line it could be another point of consideration. The thing is, VW Philippines is making a lot of moves to build up its network of dealers in the country, so it won't be long before more VW dealerships rise and expand their area of effect.
Latest Features
The price of insuring your car usually varies depending on the model of your choice.

It seems that hybrid cars are starting to normalize in the Philippines.

What do you consider when buying a family car?
View More Articles