The Ford Everest is one of the popular options available on the market today for those seeking to get a 7-seater diesel-powered SUV. As a popular choice, it has garnered the interest of many buyers thanks to the power that it has under its hood as well as the technological features that the Blue Oval has generously equipped it with for the local market. As its competitors have slowly upped their game with more standard features being added to them, the Everest still holds its own against the newer models. With that said, here are a few reasons why the Blue Oval's SUV stands out in the local market today and is still considered a popular choice in the market.
A tough and well-designed exterior
The second-generation Ford Everest originally made its debut back in 2015. Since then, the Blue Oval has been steadily upgrading its models to better suit the needs of the Filipino buyer and to keep it competitive against its rivals. As the old saying goes "if it ain't broke, don't fix it" the same can be said for the styling of the SUV. It still has the same tough exterior as before with only minor tweaks done. The SUV still possesses the same character lines that help give it a muscular look on the side. Thanks to its wide and tall fenders, it has an imposing stance. There aren't too many angles here as Ford has done well to blend tough lines with softer curves. Despite its design being a bit too familiar, it has done well to withstand the test of time and is still a great-looking SUV.
A powerful lineup of turbo diesel engines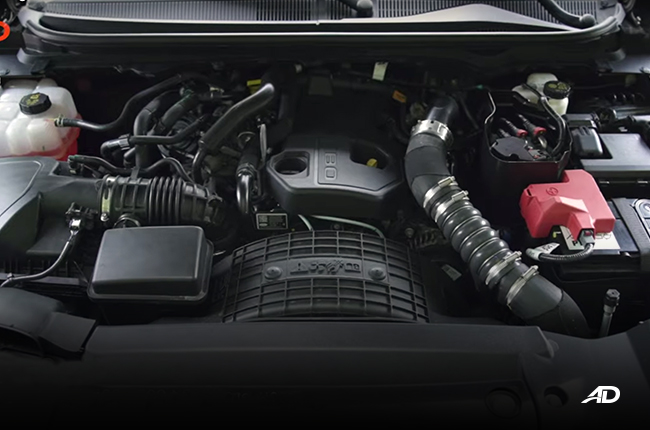 When you consider the buying habits of Filipinos with regards to SUVs, market trends have shown that they like their cars with powerful diesel engines under the hood. In this regard, the Ford Everest ticks all the right boxes as it has a lineup of diesel motors that are both powerful and fuel-efficient at the same time. For the entry-level model, there is a 2.2-liter engine that pushes out 158 hp and 385 Nm of torque. The higher-tier units, on the other hand, come with either a 2.0-liter single turbo motor or a 2.0-liter Biturbo diesel engine. The single turbo powerplant makes 178 hp and 420 Nm of torque, while the Biturbo motor makes 210 hp and 500 Nm of torque, making it one of the vehicles available on the market with some of the highest torque ratings. As far as gear shifting is concerned, the Ford Everest can be had with either a 6-speed or a 10-speed automatic transmission. With a great lineup of engines available, this makes the SUV more adaptable to a wide range of prospective customers who are either working on a budget or want the most power they can get out of an SUV on sale in the Philippines today.
8-inch infotainment system
One of the key factors that help the Ford Everest stand above the rest of its competition is the tech features that it offers. This starts with its 8-inch SYNC 3 infotainment system that has Apple CarPlay, Android Auto, and offline navigation. These are all great features to have that help make the vehicle easier to integrate with smartphones and to give you a helping hand. On top of this, the Everest also comes with two digital displays on the instrument cluster, a 9-speaker sound system, and many more features that add to the tech-packed nature of the SUV. Lest we forget, the SUV also comes with two USB ports at the front and a 230-V socket in the second row. Yes, it's a wall socket, so you can plug almost any household appliance or socket-reliant device at the back and it will be able to power it.
A great suite of safety features
As far as safety equipment is concerned, the Everest is well-equipped. The Ford SUV brings with it seven airbags, ABS with EBD, traction control, stability control, rollover mitigation, and brake assist just to name a few. It also has hill start assist, hill descent control, front and rear parking sensors, a reverse camera with cross-traffic alert, and even blind-spot monitors.
Given that it is a tech-packed vehicle, it is also equipped with adaptive cruise control, lane-keeping aids, forward collision alert, a tire pressure monitoring system, an active park assist system, and automatic braking. All things considered, the addition of these features to the SUV makes for a much safer vehicle compared to its lesser-equipped counterparts.
A comfortable and pliant ride
If ride comfort is one of the factors you are looking for when considering an SUV, the Ford Everest will happily meet that need. The SUV has a roomy cabin, plush seats, and a capable air-conditioning system, that all aid in giving the vehicle a comfortable ride. It also has a fairly soft suspension setup at least compared to its predecessor which does well to absorb bumps and imperfections on the road. While it still can be considered bouncy, it is more pliant and more stable than its pre-facelifted model, which gives it an advantage over its competition. NVH is also great inside the vehicle as it does well to keep out the noise from coming in at lower speeds.
All things considered, all of these features and more help make the Ford Everest stand out in a sea of options in the SUV segment. It brings with it, high-tech safety features that aren't yet present with some of its competitors, a strong line of turbo diesel motors, and a slew of safety features that make it an ideal choice for those looking for a safe SUV. It's no wonder that the Ford Everest, even today is still a top pick amongst those looking to get a 7-seater diesel SUV.
Get the best deal - Choose multiple dealerships to compare offers!
You can compare quotations simultaneously from multiple Ford dealerships. Select your preferred dealers from the list below.

Compare quotations from multiple dealerships in minutes.
Check vehicle and color availability.
Find info on special offers and promotions.
100% Hassle-free with no obligation to purchase.
Latest Features
There are multiple kinds of child seats available in the market, so we created a quick guide to help you understand how to install them properly and safely.

Remember to always keep safe when driving and to adopt a defensive driving style to keep you and others around you safe from any accidents that might occur.

The Nissan Livina is a spin-off of the Xpander, while the Veloz is a spin-off of the Avanza. These units have those two things in common, now which is better?
View More Articles