If you're looking to get your first car, you are probably looking for something that comes with an affordable price tag, has great features, and is easy to maintain. One such vehicle that fits that list is the Kia Soluto. A humble sedan from the South Korean automaker that comes feature-packed, can comfortably seat five people, and comes with an attractive price point that is below P760,000. With that here are a couple of things that make the Kia Soluto an ideal first car.
Great parts availability
As you can see in the photo attached above, Kia Philippines has warehouses fully loaded with parts ready to service customers. A common worry for first-time buyers is the reliability of their vehicle as well as the parts availability. As a car is a major purchase, you want the vehicle to be able to last more than 5 years. With that in mind, Kia Philippines has got you covered as it improved on its parts availability in the country. The automaker has beefed up its catalog of parts to not only better service newer models but also serve existing ones. The South Korean brand has also teamed up with a new logistics partner in the form of DHL. This means that if you need a part that isn't available in local warehouses, Kia can have it shipped from overseas and have it arrive in the country within 7-days. This lowers the downtime of the customer's vehicle and speeds up the process of repair. It is important to note that this logistic system applies for parts that are not currently on-hand at the dealership or warehouses, your mileage may vary depending on the specific part needed for your vehicle or if the part is big.
Affordable pricing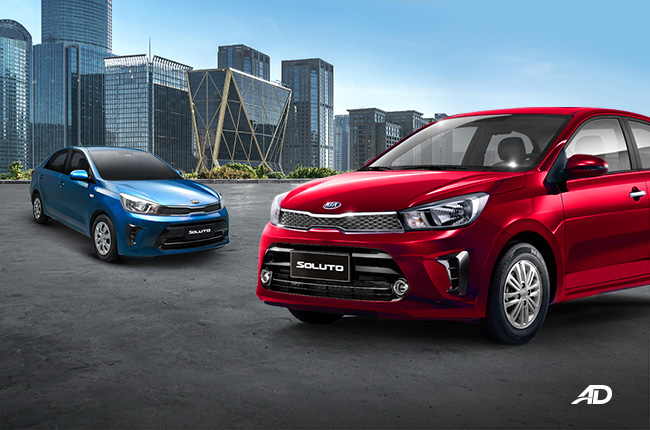 Pricing is another important factor to consider when buying your first vehicle. The vehicle has to be affordable both in its Suggested Retail Price (SRP) and in maintenance. This is where the Kia Soluto has those two categories covered. The South Korean sedan can be had for as low as P665,000 for the entry-level model, and at its most expensive can be had for P755,000. This puts the Soluto in a sweet spot of affordability and well under the P1,000,000 mark.
Fuel efficient engine
As a new vehicle owner, you will probably want a vehicle that is fuel-efficient, this will reduce the number of times you will visit a gas station and lessen the burden of refueling that all cars come with. If you want a vehicle that sips fuel, then this is another category where the Kia Soluto shines. Under the hood, the South Korean sedan comes powered by a 1.4-liter naturally aspirated gasoline engine that produces 94hp and 132 Nm of torque, which is mated to a 4-speed automatic transmission. On paper it may not seem like a lot, the combination of the two gives the vehicle impressive fuel efficiency figures both in the city and on the highway. During our testing with the South Korean sedan, we were able to get 12km/l in the city and about 20km/l on the highway.
Great infotainment system
When it comes to vehicles below the P1,000,000 mark you sort of expect a few compromises to be made to the interior and especially to the infotainment system. This isn't the case for the Kia Soluto, as the automaker has given the sedan a 7-inch touchscreen infotainment as standard for all variants. This means that even the entry-level Kia Soluto 1.4 LX MT, comes with a touchscreen system that has Apple CarPlay and Android Auto capabilities right off the bat. It lets the user utilize their favorite music stream apps as well as navigation applications and integrate them with their vehicle.
Excellent ride quality and NVH
If you like to go out of town or you pass a highway on your way to work, the Kia Soluto offers you a nice pliant and quiet ride. During our testing, the South Korean sedan did well to keep the road noise at a minimum. This shows that Kia put a lot of effort into designing their vehicle to become a refined car even with its affordable price point.
A great interior for its price
The cabin of the vehicle is where you will be spending most of your time in, as such Kia has gone through great strides to elevate the interior experience. While the interior comes with predominantly plastic panels, the execution and finish are nice and tight. The synthetic leather-wrapped steering wheel is nice to hold, and the driver's armrest is also a nice convenience in the vehicle. Overall the inside of the Kia Soluto presents itself as a robust interior that comes with hints of refinement, it showcases that an interior can be utilitarian while still having touches of comfort at an affordable price.
With all that said, the Kia Soluto ticks all the right boxes and then some. It comes with a great parts availability, a great warranty of 5 years or 160,000 km whichever comes first, and an affordable price range that resides between P665,000 all the way to P755,000. If you are looking for a feature-packed sedan as a first car that won't break the bank, then you might want to consider putting the Kia Soluto on your shortlist.
Get the best deal - Choose multiple dealerships to compare offers!
You can compare quotations simultaneously from multiple Kia dealerships. Select your preferred dealers from the list below.

Compare quotations from multiple dealerships in minutes.
Check vehicle and color availability.
Find info on special offers and promotions.
100% Hassle-free with no obligation to purchase.
Latest Features
Want to insure your Lexus vehicle? Here are estimates for the yearly rates that you can expect.

The vehicles on this list are true SUVs in every sense of the word, and are at the top of their respective categories.

There are ways to help your passengers have an extra layer of protection in the event of a crash, this all depends on your policy and what it can do to help them.
View More Articles