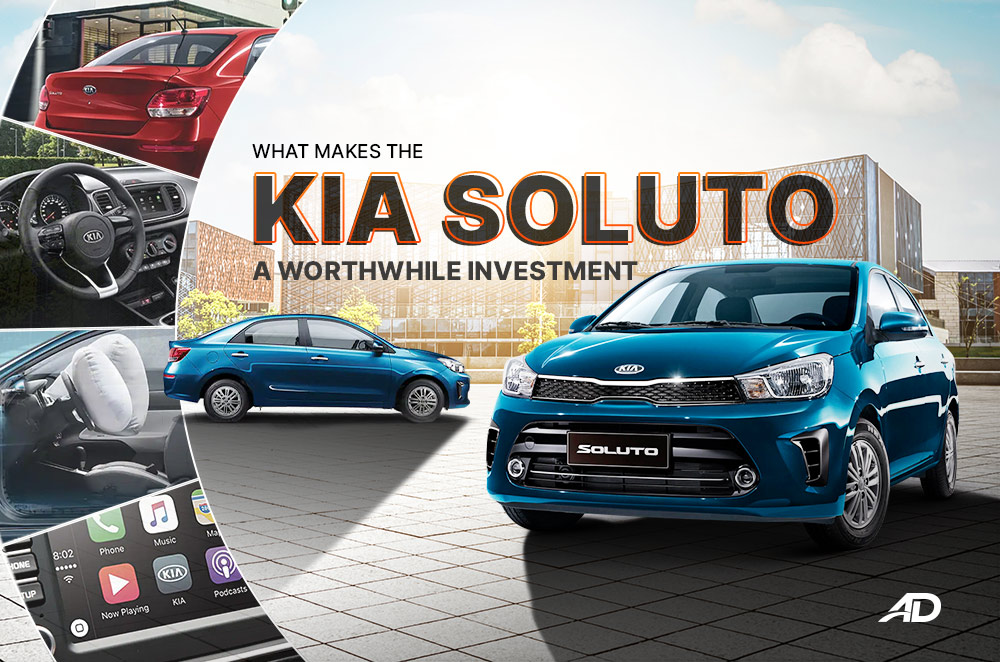 The Kia Soluto is the South Korean brand's entry-level sedan in the Philippines. It comes to the local market with a unique look as well as a price point that can fit almost any budget. Thanks to its affordability and the features that come with it, it has the ability to be the ideal sedan for those looking to get their first vehicle or for those looking to get a reliable second car. With that said, here are the reasons why the Kia Soluto comes with a unique value for money proposition in the Philippines.
Affordable personal transport
In a segment dominated by Japanese options, the Kia Soluto stands out by having a small yet affordable range of variants. This gives the customer less to worry about and a model to fit almost any budget. Thanks to its price point of P755,000, one would think that the Soluto only comes with the basic necessities. However, this isn't the case for the South Korean sedan as it comes with a 7-inch infotainment system and driver aids that would normally be seen in higher-tier vehicles.
Apple CarPlay and Android Auto as standard
Despite its sub P1,000,000 price point, the Kia Soluto brings with it key features that wouldn't be normally seen in its segment. For starters, it comes with a 7-inch infotainment system that comes with 6-speakers as standard for its entire model lineup, a feature that helps it stand out amongst its competitors. Not to mention, the head unit also comes with Apple CarPlay and Android Auto as standard for all variants.
This gives the sedan an edge especially when it comes to its more affordable LX models. In these technologically integrated times having this feature makes it easier for the driver or owner to connect their phones with their vehicle. This also gives them access to their favorite music streaming and navigation applications on their smartphones. A unique advantage and something to take note of when deciding to buy an affordable sedan.
Easy to drive
The Kia Soluto also comes with the advantage of being compact. This makes this sedan easier to maneuver and easier to park as well. On top of this, Kia Philippines has also given the vehicle a rear camera as standard that comes with static guidelines. The feature in turn makes it easier for the driver to maximize their parking as well as gives them a better view of what's behind the sedan when moving in reverse.
For its higher EX variants, Kia has also paired the reverse camera with rear sensors as well, again adding to the ease of maneuverability of the vehicle. For those looking to get an affordable sedan that is also easy to drive, then look no further than the Soluto as it already comes well equipped for its affordable price point.
Ride quality above its class
Kia has upped their game when it comes to the ride and driving comfort of their vehicles. For a vehicle priced well below the P1,000,000 it comes with excellent NVH. The sedan comes with quality sound deadening. On highway drives, where wind and tire noise are prevalent, the Soluto did a great job of keeping them at bay. This shows that even for their entry-level vehicles, Kia has put in effort to make a refined vehicle that fits within a tight budget.
Great after sales services
After being acquired by the Ayala Corporation, Kia Philippines sought to improve on itself and address the concerns raised by its customers. Through this, the South Korean automaker was able to improve its after-sales services by providing a better inventory of parts on hand as well as improving the way it diagnoses and fixes vehicles. Kia now comes with better off-site diagnostic technology in which it can connect directly with engineers from the main office to get a better understanding of what is going on with a customer's vehicle.
It also has partnered with DHL. Kia Philippines can now get parts straight from the brand's factory shipped to local dealerships within 7-days. This, however, only applies to parts that are not currently on hand at the brand's multiple warehouse locations, so your mileage may vary depending on the size of the part. This not only lowers the downtime of the customer's vehicle that needs a specific part but also improves its supply chain for a better inventory.
Kia is also committed to expanding its dealership network in the Philippines. This is part of the brand's goal to increase its market share in the country with more dealerships and service centers. With that said, and with the plan of expansion already in place, finding or servicing a Kia Soluto won't be a problem, as there are over 40 dealerships in almost every part of Metro Manila and other major city centers around the country that are ready to serve you.
Get the best deal - Choose multiple dealerships to compare offers!
You can compare quotations simultaneously from multiple Kia dealerships. Select your preferred dealers from the list below.

Compare quotations from multiple dealerships in minutes.
Check vehicle and color availability.
Find info on special offers and promotions.
100% Hassle-free with no obligation to purchase.
Latest Features
Equally long and impressive feature sets, but the quality and useability of these features are what separates the Creta from its Tiggo 5x rival.

In a shocking turn of events, Toyota is not number one this month.

A top 5 list of compact yet feature-packed crossovers that make driving less of a hassle.
View More Articles