Kia has always been known to deliver outstanding value when it comes to its cars. The Korean brand in the Philippines has a well-spaced lineup consisting of many cars that cover many different segments and price points in the market. For the buyer on a budget here are some of the most affordable and value-packed offerings from Kia. For this list, we've limited the price to under P1,000,000.
Kia Picanto
Starting off with the smallest Kia in the lineup, the Kia Picanto is the brand's entry-level offering out in the Philippine market. The small hatchback starts at just P590,000 and goes all the way up to just P745,000, which makes it a very viable budget offering considering the features that it comes with. You may also opt for the Picanto with either a 5-speed manual or a 4-speed automatic transmission, and if you're on a budget or if you want to splurge a bit more, the Picanto has two engine options, namely the 1.0-liter 3-cylinder or the 1.2-liter 4-cylinder engine. Even as an entry-level model, the Picanto can come equipped with a capable infotainment system which includes Apple CarPlay and Android Auto functionality.
Kia Soluto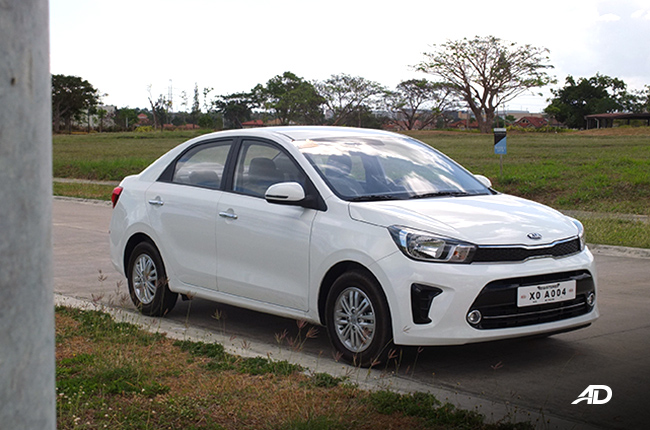 For buyers that are looking for a value-packed sedan, the Kia Soluto is a prime choice for shoppers on a budget. Equipped with Kia's 1.4-liter engine and mated to either a 5-speed manual or a 4-speed automatic, the Soluto still retains a rather roomy interior while retaining a lot of features for the price range that it occupies. Buyers will also admire the space and practicality that the Soluto brings to the table along with its price tag that starts at only P665,000 and tops out at P755,000 for the top of the line EX AT variant. On the tech side of things, the Soluto comes equipped with smartphone pairing software which includes Apple CarPlay and Android Auto.
Kia Stonic
Introduced in the year 2020, the Stonic made waves in the Philippine market with its affordable price tag starting at just P735,000 for the base LX MT. Two transmission options were made available to the Philippine market, which includes a 5-speed manual and a 6-speed automated. These gearboxes are mated to a 1.4-liter DCVVT engine that produces up to 99 hp in the top of the line variant. Even as an affordable model, the Stonic comes with several standout features for the entry-level buyer, which include up to a backup camera with rear parking sensors and even a capable 8-inch infotainment system with Apple CarPlay and Android Auto.
Kia K2500
For logistical concerns and business applications, the Kia K2500 answers the call for business owners by providing a reliable source of transportation while retaining good quality and robustness. Equipped with a very capable diesel engine, the K2500 has a bevy of variants for you to choose from. The most affordable of the bunch is the Cab and Chassis single cab that costs only P820,000. The most equipped variant for under P1,000,000 is the K2500 4x4 double cab dropside – and yes, this truck can come kitted with a 4x4 system to go with its 2.5-liter diesel engine.
Kia Rio Hatchback
Last and not least, the Kia Rio is a global model that graces the line up of Kia in the Philippines. Equipped with a 1.4-liter gasoline engine and only a 4-speed automatic transmission, the Rio is well equipped enough with some fancy features like adaptive headlights and that capable infotainment system with Apple CarPlay and Android Auto functionality. You also get a good chassis to go with it, and the car starts at only P920,000 and tops out at P985,000.
Latest Features
Should you even consider a driving school anymore? Yes, and here's why.

Regular exposure to the sun and varying weather conditions ruin your car paint. But, are car paint protection products worth it?

Turbochargers are becoming common in today's cars, and turbo lag is an inescapable part of it.
View More Articles