AutoDeal is driven to showcase the wide variety of vehicle promos from multiple car brands and dealers across the Philippines. We offer such promos in order to give car buyers that feeling of scoring "a good deal."
However, the jargon used in advertising, car promos can be confusing to the untrained eye or for first-time buyers. With that, we've created this quick guide to car promos in order to better understand what each kind of promo entails.
All-In Downpayment / Low Downpayment Promos
Of all car promos, the most common kind of deal you'll see advertised is the all-in downpayment promo. All-in downpayment deals simplify the initial cash-out computation by combining items like your downpayment, vehicle registration, insurance, and chattel mortgage fees. Typically, this program enables you to significantly reduce your initial cash-out below the usual 15 to 20% mandatory downpayment.
As for the low downpayment promos, you still get the usual 15 to 20% mandatory downpayment. A common instance though is that this kind of offer often deducts any of the following freebies you'd get on an all-in downpayment promo. That said, Low Downpayment promos could possibly miss out on the 3-year LTO registration, chattel mortgage fee, or free insurance.
Why these kinds of deals are good: All-in and low downpayment deals are great because they simplify and often discount the computation of the initial cash-out. These kinds of promos are ideal for families with good steady regular incomes.
What you need to watch out for: Pay attention to your monthly amortization amounts. More often than usual, all-in downpayment deals are packaged with financing plans for 3 to 5 years. Also remember that all financing schemes are subject to bank approval, decreasing the initial downpayment will often increase the risk assessment conducted by banks.
Low Monthly Promos
Low monthly promos are like the polar opposites of All-In Downpayment deals. Usually, they involve a higher downpayment amount (around 50%). After which, you can minimize your monthly commitments to almost nominal amounts. Don't fall into the trap of believing that a low monthly can be combined with a low downpayment; car loan terms are for a period of up to 5 years and banks are not in the business of giving away free money.
Why these kinds of deals are good: Low monthly programs are recommended if you've managed to save up an initial amount of cash needed for the downpayment. By paying a larger downpayment means that you will significantly reduce your monthly commitments which will then keep more cash in your pocket for more unforeseen items related to vehicle maintenance.
What you need to watch out for: Low monthly programs require higher downpayments. Pay attention to what the dealer or brand are advertising so that you don't receive any shocks when you receive your quotation.
Zero Interest Promos
This is one type of incredibly valuable promo that often gets overlooked by car buyers. Zero interest promos are usually applied over loan terms of up to 36 months and empower buyers by nullifying the interest you have to make on your monthly payments. This is favorable because through typical financing terms, you will often find yourself paying an extra 15-20% of your vehicle's suggested retail price just for the convenience of using a bank financing program.
Why these kinds of deals are good: Zero interest promos are good if you've got enough cash for a reasonable initial downpayment of a few hundred thousand. These kinds of promos are best for you if you can manage payments over a 36 month period (which will be higher than the typical rates of a 5-year loan plan).
What you need to watch out for: It is uncommon for zero interest promos to extend past 36 month loan periods and they're usually tied in at 30-50% downpayment rates.
Zero Downpayment Promos
Driving home a vehicle with no initial cash out has been a common financing trend around the globe over the last decade, but it has only recently been introduced in the Philippines. Zero downpayment promos allow a buyer to drive out of the showroom without paying a cent on the price of the vehicle.
Zero downpayment programs will require the customer to shell out for the required insurance, chattel mortgage, and LTO registration. These deals are subject to bank approval and considered higher risk than typically 15-20% downpayments. Therefore, loan approval will be dependent on a bank's assessment of your income.
Why these kinds of deals are good: Zero downpayment promos significantly remove the requirement for any real cash needed at the point of purchase. If you make good enough income and can handle the monthly amortizations with ease, chances are you'll get to maximize this certain promo.
What you need to watch out for: Since you're waiving the downpayment, the cost of the vehicle will be made up in your monthly payment, which means they will be significantly larger than those that you can avail of with other promo plans. Moreover, since this is a high-risk promo in the eyes of the bank, you'll need to ensure that you have sufficient monthly income in order to keep up with the monthly payments.
Cash Discount Promos
When it comes to the world of car promos, cash discounts are probably the easiest to understand. This involves a discount of some sort on the suggested retail price of a vehicle for either (or both) cash and financing transactions.
Why these kinds of deals are good: Pretty straightforward when it comes to the value proposition being offered by the dealer.
What you need to watch out for: Be sure to read the terms.
Clearance Sale Promos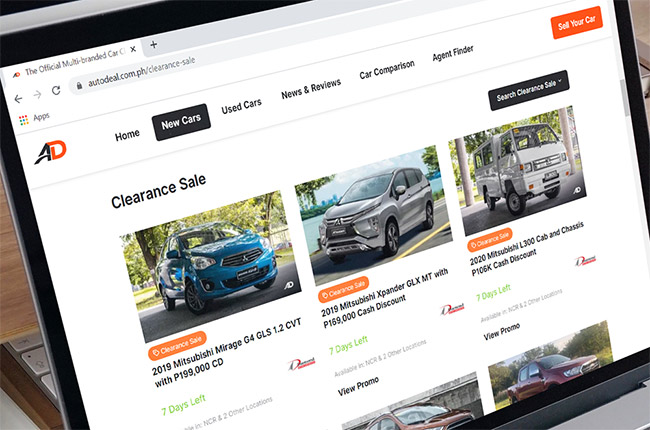 There are times when automakers try to clear up their vehicle inventory. In order to do so, brands are offering their remaining stocks of vehicles with more pocket-friendly deals through its clearance sale promos. The following models could either be offered with a downpayment scheme or with a hefty cash discount.
Why these kinds of deals are good: Its range of offers is expected to be more enticing than usual, given that the following units posted are remaining stocks.
What you need to watch out for: Likewise, just be sure to read and understand the terms and conditions.
Other things to take into consideration
Generally speaking, promos that are offered by vehicle manufacturers do not run at exactly the same rates for dealers in the provinces. The reason for this is due to the additional freight costs that encumber dealers outside of Metro Manila and Luzon. Moreover, requirements from banks in the province may also vary from those in Metro Manila, which can slightly adjust the financing rates. As a result, it's always best to ask the dealer what their local promo is.
Luckily, we now have a car promos search that will enable you to find the very best deals in your area.
Latest Features
Priced right, engineered to be driven, and polished premium, the Mazda3 makes for a great daily driver for enthusiasts.

Cars come with the latest and greatest tech now with adaptive, automatic, and advanced systems, but is it worth it?

We created a quick list of cars you can buy today that will give you the most amount of horsepower for the lowest price.
View More Articles