The Ford Ranger is one serious contender in the midsize pickup segment, its variant range has been recently expanded, therefore, giving buyers a flexible variety to choose from. Each trim is well-equipped and priced quite affordably. Apart from that ruggedness, the Ranger is also known for its easy handling as complemented by the light steering and immediate throttle response. Now, you might find yourselves quite confused and wondering if which of these trims fit your taste and needs? Perhaps, you'll understand its entire range once you go through this in-depth comparison guide. So, let us help you figure out which Ranger is the perfect one for you.
Base for basic?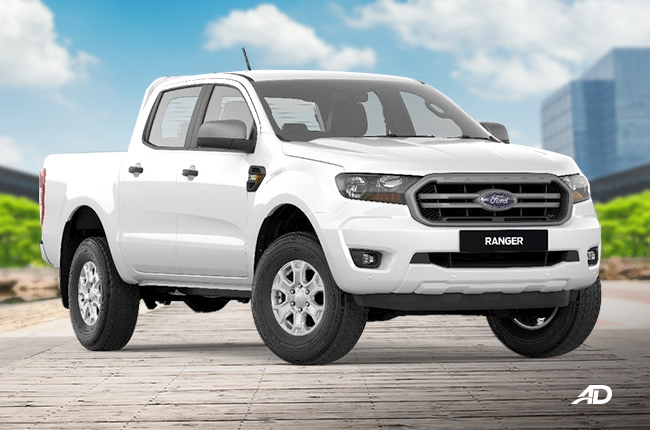 Being the entry-level doesn't mean it's bare as you'd thought. In fact, the Ranger XLS is well-equipped for its price, plus, you can even opt for a 4x4 drivetrain that's only available with a manual transmission. You get the familiar boxy look though there are some contrasting details among the other trims, including the black handles, black grille, the 16-inch alloys that are wrapped in 255/70 tires, and reflector type headlights. One important thing you do miss out on though is the step boards and bed liner which should be standard on pickup trucks.
Inside, it gets fabric seats along with a polyurethane steering wheel. Other convenience features include manual climate control, cruise control, and the standard 8-inch touchscreen that comes ready with Apple CarPlay and Android Auto. Apart from the state-of-the-art infotainment system is the 6-speaker sound system which is also standard across the range.
Under the hood is the proven and ever-reliable 2.2-liter diesel engine that puts out 158 hp and 385 Nm of torque. The XLS 4x2 can either be purchased with a 6-speed manual or 6-speed automatic transmission.
Safety and security features include ABS, EBD, dual-front airbags, and ISOFIX child seat anchors. As for the price, XLS trims range from P1,032,000 up to P1,181,000.
A little bit more
Next up is the XLS Sport grade which serves as the more upscale XLS. While still retaining the same 2.2-liter motor, the XLS Sport is also made available with a 4x4 drivetrain, though likewise, it's only available with the 6-speed manual transmission. The 6-speed automatic transmission, on the other hand, is solely exclusive on the 4x2.
As for the exterior, there are a few additions such as the much-needed step boards. The wheels are also different though, from 16-inches, the set now goes up to a larger black 17-inch alloy set that's wrapped in 265/65 tires.
Inside is still that familiar cabin, as the XLS Sport retains the aforementioned features on the standard XLS, the same case goes with the safety and security features. The XLS Sport is basically a dressed-up XLS, and the upgrades are quite worth the price. SRP for the XLS Sport range from P1,122,000 up to P1,211,000.
The middle man
This is by far the last step to standard Ranger boundary. Now, like the first two trims we've mentioned, the XLT trim is also available with either a 6-speed manual or 6-speed automatic gearbox, although there's no 4x4 option this time. As for its powerplant, the already-proven 2.2-liter diesel has been retained.
On the outside, this is where things seem cleaner than the aforementioned variants. The black trims applied on both the XLS and XLS Sport are then replaced with chrome accents. While the wheels still feature the same 17-inch look, the only difference is that it's silver this time instead of black. Now, one of the most significant upgrades would have to be the headlights as it now comes with a projector-type system, plus, it's also got a bed liner which is an essential feature on a pickup.
As for the interior, it still gets the same equipment mentioned on the previous subheadings, it does get substantial upgrades such as the electrochromic rearview mirrors, additional illumination on both vanity mirrors, and the polyurethane steering wheel has also been upgraded to leather to add a premium feel to it.
The same set of safety equipment was retained from the XLT, although it gets notable additions such as rear parking sensors and an alarm system. The Ranger XLT's pricing ranges from P1,176,000 up to P1,236,000.
A fashioned XLT with a 4x4 option
To simplify things up, the Ford Ranger FX4 is simply an upgraded XL, which means you get the same amount of convenience features. Although, unlike the middleman which is only limited with a 4x2 drivetrain, the FX4, on the other hand, can also be had with a 4x4 drivetrain. Plus, both the 4x2 and 4x4 can either be paired with an automatic or manual gearbox, therefore, making it a more flexible range than the XLT.
The looks are also notable on the FX4, if your budget can't step up to the Wildtrak, then this right here offers matchable looks with the higher trim level. Notably, it gives you a sports bar, different grey details, and a new set of black alloy wheels that measure in 18-inches and are then wrapped in 265/60. The Ford Ranger FX4's pricing ranges from P1,256,000 up to P1,416,000.
Enhanced looks and substance
The Ford Ranger Wildtrak is by far a crowd favorite in the segment, and we absolutely can't blame consumers as this pickup entails great looks and performance with attainable pricing.
For starters, the Wildtrak can either be had in a 4x4 that is run by a 2.0-liter Bi-Turbo diesel or a 4x2 that's motivated by a 2.0-liter single turbo motor. Respectively, the Bi-Turbo engine produces a mighty 210 hp and 500 Nm of torque while the single-turbo unit then churns out still a healthy 178 hp and 420 Nm of torque. Transmission options include a 10-speed automatic and a 6-speed manual which is exclusive on the 4x2.
Aesthetics-wise, it is without a doubt the Ranger Wildtrak is one of the most good looking contenders in its segment. The clean yet calm looks are then heightened with sporty and rugged appointments such as the generous amount of grey trims around the exterior, including on the grille, side mirrors, and even on the handles. You also get a different set of wheels, specifically 18-inch alloys that are wrapped in 265/60 tires.
Inside, there are also some notable details that only apply to the Wildtrak such as the leather seats with the Wildtrak embossed text on them. The manual climate control system was then replaced with a dual-zone automatic climate control system, also, the traditional turning of the key is now replaced with a push-start button along with a smart keyless entry.
Standard safety and security features include the aforementioned ones above, as well as the addition of side and curtain airbags. Additionally, it also comes with front and rear parking sensors, plus, a backup camera. The 4x4, on the other hand, benefit from other advanced driver-assist safety features such as Electronic Stability Control Including Roll-over Mitigation and adaptive cruise control with Forward Collision Alert. Prices range from P1,390,000 up to P1,695,000.
A different breed
While the Ford Ranger Raptor may be separated from the standard Ranger lineup given its exceptional equipment, it still shares that familiar powertrain from the Wildtrak 4x4. Moreover, it does get off-roading equipment such as the Fox Racing shocks and the larger tires which measure at 285/70. It also gets the same set of safety features from the Wildtrak 4x4, therefore, making it a smart and capable vehicle. This big boy is priced at P1,998,000.
Verdict
The Ford Ranger has quite an extensive range, but overall, we chose the Wildtrak as the value-packed option of its lineup. Given that even the 4x2 gives a generous amount of equipment, plus, having driven it ourselves, the 2.0-liter single turbo already does perform well, what more are we to say with the Bi-Turbo then.
While its lineup is flooded with other popular options, the Ford Ranger shall then stay true to its DNA of being that rugged pickup that is not scarce in creature comforts. It is probably the best embodiment of capability and advancement in its respective segment.
Want to buy this vehicle without leaving the comfort of your home? Try our 'Buy Online' feature and just fill-up the necessary details for your online transaction.
Get the best deal - Choose multiple dealerships to compare offers!
You can compare quotations simultaneously from multiple Ford dealerships. Select your preferred dealers from the list below.

Compare quotations from multiple dealerships in minutes.
Check vehicle and color availability.
Find info on special offers and promotions.
100% Hassle-free with no obligation to purchase.
Latest Features
If you want to make sure that you have bumper-to-bumper protection from accidents and expensive repairs for your Volkswagen T-Cross then this is much you will need to set aside.

Both the Veloz and Xpander are formidable seven-seaters in their segment and price point. Which one is better?

It has evolved to be something that can be both a workhorse and a lifestyle vehicle.
View More Articles