Ever since its introduction in 2016, the tenth-generation Honda Civic served as the brand's swansong when it came to turbocharging for the masses. Instead of going for naturally-aspirated motors with bigger displacement, the top-level variant features a downsized engine with a little snail attached.
Though, there are still some nuances when it comes to this compact sedan in the Philippines. A naturally-aspirated model is still on offer and is also more affordable than the top-spec. The question is, which variant do you go for? There are currently three on offer, so let's dig in.
Civic S
In an effort to make the Honda Civic even more affordable, a 1.8 S variant was introduced to the masses by Honda Cars Philippines. Coming in at just P1,115,000, the Civic S variant comes with just enough of the basic features to give this car some appeal. At this trim level, you do get a touch screen infotainment system with Bluetooth, USB, and AUX, but that's about it. The sound system comprises of 4 speakers, which sound fair, and you get Honda's Earth Dreams CVT transmission without paddle shifters.
It's an okay start for the Civic, but it doesn't have cruise control, and its gauge cluster is of the semi-digital variety. It also has the brand's tried and tested 1.8L motor in it, but it's been in the Civic since the 7th-generation, so it's a little outdated. Still, this motor is okay for the platform and produces 139 hp and 174 Nm of torque. The headlights are halogen projector lamps that get the job done.
Civic E
As the middle child in the variant lineup, the 1.8 E still has the same engine as the base model, but with a couple of additions that make this variant a very enticing buy. For P70,000 more, you get a load of features that can even be found on the top-of-the-line model on offer. Coming in at P1,185,000, the Civic 1.8 E comes with LED headlights, a touchscreen infotainment system with Apple CarPlay and Android Auto, a backup camera, cruise control, keyless entry with push-start, and a digital gauge cluster. For just a little more over the S variant's price, you get all of these features which are, without a doubt, better and quite high end for this nameplate.
You still get a cloth interior like the S, but the E variant now comes with a new set of 16-inch wheels that differentiate the variants even more, and instead of a solid unfoldable rear bench, the E variant's back seats feature a 60/40 split-fold design that allows you to extend the cargo area in case you need to fit longer items in.
Civic RS Turbo
For other Honda models, the RS badge is basically an appearance package that adds glossy black elements or even some new bumpers, but in the Honda CIvic's case, a subfix has been added to the RS badge. Instead of just having gloss-black for the grille, new rims, and a different body kit, the RS variant has the brand's L15B7 turbocharged motor under the hood. This engine produces 171 hp with 220 Nm of torque – a marked improvement over the 1.8-liter engine since it also returns slightly better fuel economy as per our reviews. Adding to the aggressive looks are paddle shifters mounted on the steering wheel.
To add to that, The Civic RS Turbo has a leather interior, 18-inch wheels, gloss black bumper, RS badging, and a 6-speaker sound system that is better than the 4-speaker set found in the E trim. Safety is also improved as you get 6 airbags instead of 2. As an added touch, the foglamps are LED, and not halogen. Possibly the only caveat that we can find is that it will set you back P423,000, which is a steep hill to climb knowing it brings the total cost to P1,608,000.
Verdict
There are three variants available in the country, but with some careful deliberation, we cannot give it to the 1.8 S variant simply because it seems a bit pricey for the anemic feature-set it has. This variant is good if you want the bare-minimum Civic, for the bare minimum price. Still, the cabin is very roomy, and the interior is definitely Honda quality.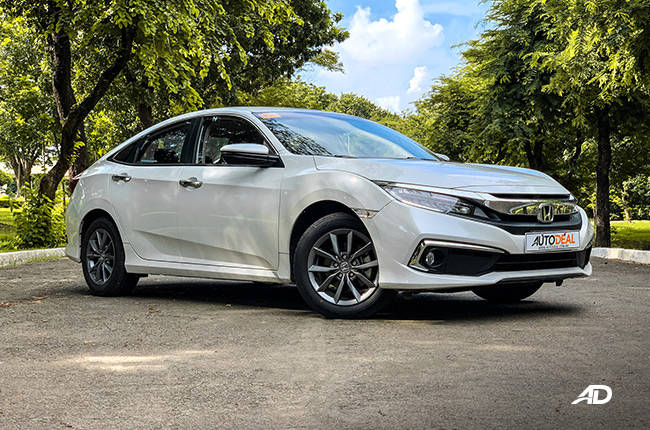 The honor of the most value-oriented pick will have to go to the 1.8 E. Not only does it have top-spec features, but it only costs P70,000 more than the base model, and it includes a bunch of worthwhile goodies too. It has many of the basics covered but lacks in that extra bit of excitement that only more power and torque can give.
We have a hard time recommending the RS turbo because of the rather steep price. Though, if you do appreciate a turbocharged Honda, this is a good bet. It's one of the better-performing cars in its class, and it outpaces most other cars on the road. If you can afford it, it is a car that will serve you well, with an engine that can surprise and excite. Even at P1,608,000, at least the facelifted model comes with bigger and wider tires than the pre-facelift RS. It has extra badges, and it now has red stitching compared to before. The price increase is somewhat justified in this regard if you're a stickler for minute details such as those.
Get the best deal - Choose multiple dealerships to compare offers!
You can compare quotations simultaneously from multiple Honda dealerships. Select your preferred dealers from the list below.

Compare quotations from multiple dealerships in minutes.
Check vehicle and color availability.
Find info on special offers and promotions.
100% Hassle-free with no obligation to purchase.
Latest Features
Want to insure your Lexus vehicle? Here are estimates for the yearly rates that you can expect.

The vehicles on this list are true SUVs in every sense of the word, and are at the top of their respective categories.

There are ways to help your passengers have an extra layer of protection in the event of a crash, this all depends on your policy and what it can do to help them.
View More Articles