When it comes to Honda Philippines, they offer a wide array of vehicles that will fit almost any need. Honda has been around for quite some time and has built a reputation itself for making quality vehicles that are fairly priced and are well equipped. While the automaker doesn't sell any pickup trucks or full-on SUVs in the country it does offer a good selection of sedans in the form of the popular Honda Civic, to its lineup of hatchbacks, and crossovers.
With that said, here is a quick guide that will help you find which Honda model will best suit your needs. It is important to note that not all models will be featured as some overlap.
Honda City P848,000 – P1,058,000
Starting with the Honda City, this is the entry-level sedan that buyers can get from the Japanese automaker. It packs a powerful yet frugal 1.5-liter naturally aspirated gasoline engine and comes with many of the modern features one might expect from a vehicle of its class. Aside from this it also comes with the sporty looks that many have come to expect from a Honda vehicle, especially in sedan form.
Honda Civic P1,115,000 – P1,615,000
The Honda Civic is the bigger brother of the City and caters to those who want a little more space and a little more power under the hood. While its entry-level variants come with a 1.8-liter engine powering the front wheels, the top-of-the-line RS variant packs a much smaller 1.5-liter engine that comes paired with a turbocharger. This gives the sedan in its top variant a lot of power on reserve.
Honda Accord
If you want a little more space and a more executive look and feel, then the Honda Accord is for you. It takes what the Civic has and cranks it up even more. As it is an executive sedan, it comes with all the bells and whistles one might expect and a little more especially since Honda has added its Honda Sense technology to the vehicle. This gives it more safety features than the Civic while still retaining the powerful 1.5-liter turbocharged engine that its smaller brother has.
Honda City Hatchback P1,115,000 – P1,135,000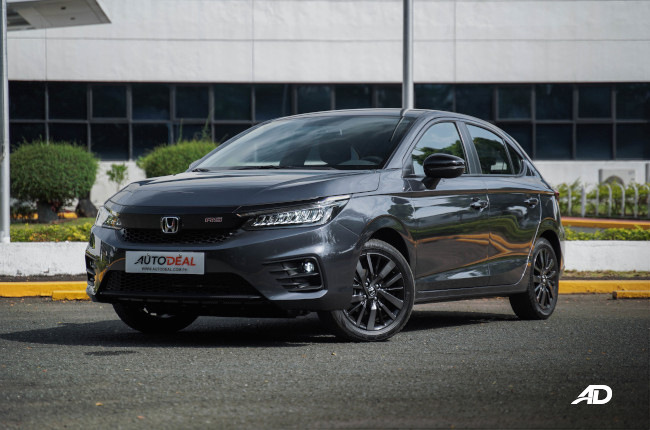 The unofficial replacement of the Jazz, the Honda City Hatchback fills the void that the old model once had. It essentially takes what the City sedan offers and just packages it in a hatchback body. You still get the same great styling but this time without a trunk and the same features as well since there is only one variant of the City hatchback currently available in the local market.
Honda Brio P601,000 – P735,000
If budget is a concern for you but you still want to get an affordable hatchback, the Japanese automaker also offers the Honda Brio. It is a peppy little hatchback that ticks all the right boxes and comes with all the essential features one might need from a vehicle and a little bit more. It is powered by a 1.2-liter naturally aspirated gasoline engine that can be had with a 5-peed manual or a CVT.
What it brings to the table is a well-priced, well-equipped, and agile little chassis that promises to give you a great daily vehicle and a great weekend warrior if you choose to go for a spirited drive over the weekend.
Honda CR-V P1,678,000 – P2,158,000
If you are looking to get a great crossover that can seat seven occupants then the Honda CR-V is the one for you. It comes with all the features you might want from a vehicle of its size and price point and even comes with two engine options. The CR-V can either be had with a 2.0-liter naturally aspirated gasoline engine or with a 1.9-liter turbo diesel motor.
Whichever version you choose, all of its variants come well equipped with the top-of-the-line getting access to Honda Sensing technology and an all-wheel-drive system as well.
Honda BR-V P1,038,000 – P1,158,000
Another but more affordable option you can get if you want a 7-seater crossover with SUV looks is the Honda BR-V. It comes with all the essentials you need from an MPV but is powered by a 1.5-liter naturally aspirated gasoline engine similar to the one found in the older generation of the City.
While its body is bigger than its sedan counterpart it still pairs well with the vehicle and is capable enough of carrying seven passengers without too much trouble. If an affordable 7-seater is what you are after then this might be the right choice for you.
Honda HR-V P1,296,000 – P1,515,000
The Honda HR-V is a 5-seater vehicle unlike the rest of its other crossover companions. It packs the same 1.8-liter found in the entry-level Civic that produces 140 hp and 172 Nm of torque. It still comes with the essential features that one might expect from a crossover of its price, such as a touchscreen infotainment system with Bluetooth.
However, it lacks other features found in its other much newer stablemates such as Apple CarPlay and Android Auto. It's still a good crossover to consider if you want a car that covers the essentials and just works.
Honda Odyssey P2,298,000 – P2,698,000
If you are in the market for a family car or minivan that comes with sliding doors, then the Honda Odyssey could be your next best choice. It comes with all the amenities one would expect from a vehicle of its price range while at the same time offering a great amount of space and comfort. While it is an older model, it is a tried and test formula that still holds to this day. It's powered by a 2.4-liter naturally aspirated gasoline engine that produces 172hp and 226 Nm of torque giving it more than enough power to accelerate to highway speeds even when fully loaded.
Honda Civic Type R P3,210,000
Honda Philippines also offers a performance car in its local lineup in the form of the Honda Civic Type R. The more powerful version of the Civic packs a 2.0-liter turbocharged engine that develops 306hp and 400 Nm of torque that sends power to the front wheels via a 6-speed manual transmission.
With great power comes great responsibility, as the suspension of the vehicle has been tuned to handle this much power under the hood. It also comes well equipped with all the necessities one might expect from a proper performance car with a hefty price tag. If you want a performance-oriented front-wheel drive hatchback then you might want to consider the Civic Type R as your next vehicle.
Latest Features
We answer which Nissan you should buy according to your budget, needs, and taste.

Here is what makes the Volkswagen Santana GTS special and unique in a sea of crossovers and SUVs.

If you want to make sure that you have bumper-to-bumper protection from accidents and expensive repairs for your Volkswagen T-Cross then this is much you will need to set aside.
View More Articles