The Crossover segment has recently hit a boom in the automotive market, with manufacturers scrambling to release new vehicles that fit within this category. Recent examples that have developed a following over time, thanks to their features and affordable pricing, are the MG ZS, Geely Coolray, Kia Stonic, Ford Territory, Chery Tiggo 7 Pro, and the Maxus D60. These vehicles have brought something different to the table and have managed to have price tags that fit within the sub P1,000,000 range all the way to the sub P1,500,000, with some change to spare.
However, with these new additions also come new 7-seater crossover options that have given the buying public more to choose from. This is where these vehicles slowly start to blur the line and encroach into Multi-Purpose Vehicle (MPV) territory. As another popular segment in the Philippines, manufacturers are still releasing new models to keep up with the growing demand for versatile vehicles that won't break the bank. That being said, we have created a quick guide to help you understand the difference between the two, and what they have to offer in terms of useability.
Crossover: Car-like comfort with great ground clearance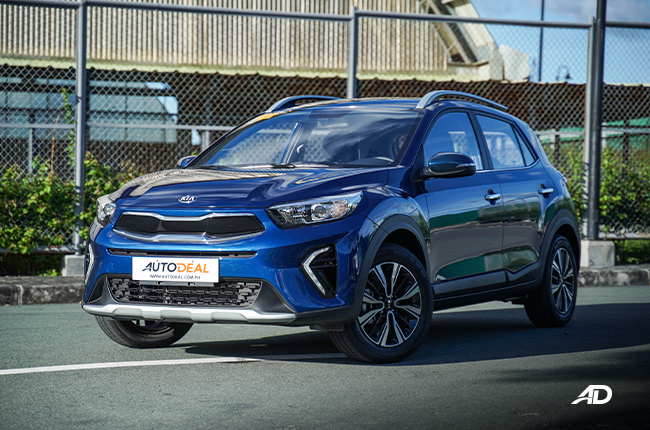 Crossovers are a popular choice for car buyers in the Philippines, as it offers car-like ride comfort, SUV-like looks, and high ground clearance. Altogether, these make for an ideal vehicle that can handle the uneven road conditions of the city and even take on light floods when needed. Not to mention the segment has also encountered an increase in options due to its popularity, with more and more models entering the market coming feature-packed and sporting new and innovative technologies. It also helps that crossovers have also become competitively priced, with some even tagged below P1,000,000 and some just below P1,400,000. Even new 7-seater models have also entered the market, also making them an ideal choice for the family-oriented Filipino car buyer. Further still, and with your budget permitting, you can also get mid-size crossovers that offer more space, more features, and more luxury, all while retaining car-like levels of comfort.
The dawn of the 7-seater crossover
As more and more crossover options have entered the market, so too have their 7-seater variants. A few good examples of these are the Honda CR-V and Maxus D60. These two vehicles both come with a 5-seater variant as well as a 7-seater model. This gives the prospective buyer the option of getting a vehicle that has more luggage space, or a model that has the option of seating more people when needed.
Pros:
For those eyeing to get a crossover, you will get the benefit of a comfortable and car-like drive. You can also choose the option of an All-Wheel-Drive (AWD) platform, if you feel like you need the extra traction or plan on bringing your vehicle out for light off-roading. You also gain the benefit of better visibility, as the driver is situated much higher in the vehicle compared to a sedan.
Crossovers are still very much flexible platforms themselves, as the seats in the vehicle can be folded down to create more storage space. 7-seater options are also available for those who want to be able to carry more people with them on trips.
Cons:
Where crossovers will struggle is when it comes to fuel consumption. This is especially true for models with all-wheel-drive systems. This means that the vehicle has to carry around more weight for this feature, thus reducing its ability to produce great fuel efficiency figures. That being said, there are two-wheel-drive models that are available on the market that help remedy this situation.
MPV: A versatile platform
While the Toyota Innova has been one of the go-to options for those getting an MPV, newer vehicles have released to rise up to the challenge. New additions to the segment include the Maxus G50, Geely Okavango, and other models that have been refreshed such as the Suzuki Ertiga. This gives interested buyers more options to choose from and more wiggle room for their budget, as the MPV segment now covers a much wider range in pricing.
Pros
Where MPVs shine is when it comes to seating. These vehicles were designed to fit up to 7 or more occupants. While the 3rd row may be tighter in other models, they can still seat an average-sized Filipino and keep them comfortable on short stints. Versatile seating is also another strong point of MPVs, as the second row can be folded down to create more room when the need arises. This gives the vehicle enough space to carry cargo within the confines of the cabin. As the name suggests, these vehicles really are designed to fulfill multiple roles. A jack of all trades but a master of none.
Cons
As a jack-of-all-trades-master-of-none, the MPV doesn't exactly specialize in one field. While seating capacity and space are a priority, luggage space has been compromised. This is especially true for those who want to bring their families on long trips or want to maximize the occupant capacity of their vehicle. When the third row is up, space for cargo diminishes, however, when not needed, the third row can be easily folded down for all models, creating more space.
Another downside is power options for MPVs. While there are a few exceptions in the market such as the Maxus G50 that brings to the table a turbocharged engine, and the Toyota Innova which brings in a large turbo diesel mill with it, the majority of the options available still come with a naturally aspirated 1.5-liter gasoline engine. While adequate for the vehicles on the market, it may not be enough especially for those who often travel around with a full load.
Verdict
Choosing between the two vehicle types will ultimately boil down to your needs and budget. However, make sure to consider the following when making your decision. See if the vehicle you want fits your budget. This will help narrow down your choices for the vehicle you want to get.
Also, take into consideration the vehicle's performance and what you will use it for. If you don't plan on utilizing the full people hauling capabilities of the vehicle, then you don't need to get a vehicle with a powerful engine. However, if you plan on carrying seven passengers or more, then you might want to get a vehicle with a more powerful motor under the hood. This also applies to crossovers, as some models come with a seating capacity of seven.
Make sure to consider the features that each one has and see if they will fit your requirements. Each vehicle has something unique to offer especially between these two segments, so see to it that you do your research on each vehicle on your shortlist, to see what they can offer you, or if another vehicle can offer you more for less.
If you plan on bringing your family members along, make sure to also do research on how safe the vehicle is. This applies to both Crossovers and MPVs, as each one has its own unique set of safety features it can offer depending on its price point. We highly recommend aiming for vehicles that come with a good amount of safety features and airbags to give the best amount of protection in the event of a crash. We also highly recommend looking at ASEAN New Car Assessment Program (NCAP) crash test scores of the vehicles you are looking to get. This will give you a better picture of how the vehicle will perform in the event of an accident.
With both vehicles offering great versatility and seating options, the choice between these two all boils down to your needs and preferences. If you need a 7-seater vehicle that can also be used to carry cargo, then the MPV is the one to get. However, if you don't need this ability and just want a vehicle that has the option of carrying 7 occupants, all while retaining a car-like drive, then the crossover is your ideal partner.
Get the best deal - Choose multiple dealerships to compare offers!
You can compare quotations simultaneously from multiple Maxus dealerships. Select your preferred dealers from the list below.

Compare quotations from multiple dealerships in minutes.
Check vehicle and color availability.
Find info on special offers and promotions.
100% Hassle-free with no obligation to purchase.
Latest Features
The Ford Bronco is the perfect blend of style and capability for the Philippines that warrants its entry locally.

The Ranger Raptor is the best it's ever been, so here's what makes the 2023 model so special.

Dapper and durable, the D-MAX is a truck of many talents, find out why it's a great buy in its segment.
View More Articles