The Kia Picanto serves as the brand's smallest offering in its lineup. It is by far one of the most underrated options in its class. Unlike most of its competitors, this one is a global model that's being sold in other parts of the globe like Europe. Despite its tiny dimensions, the pint-sized hatch does pack big surprises, from its practicality, features, and performance, the Picanto is worthy of being added to your shortlist. We love it so much that we were even able to come up with a list of reasons why the Kia Picanto is one of the best small cars you can buy today.
Its European exterior styling does please the eye
The Kia Picanto is well-dressed, its clean-cut outfit is complemented by well-planted lines and rounded edges. Aside from its grille, the brand's 'Tiger-nose' design can also be seen on the top portion of its windshield. The overall presentation doesn't appear to be flashy, yet it manages to please the eye in a subtle manner. The Picanto was even recognized for its outstanding looks, with the pint-sized hatch receiving the Red Dot Design Award when it was initially unveiled.
Other standard exterior equipment on the Kia Picanto include halogen bulbs for its front and rear lighting system and 14-inch alloy wheels for EX trims, while LX variants get 14-inch steel rims with hubcaps.
Easy drivability and fuel efficiency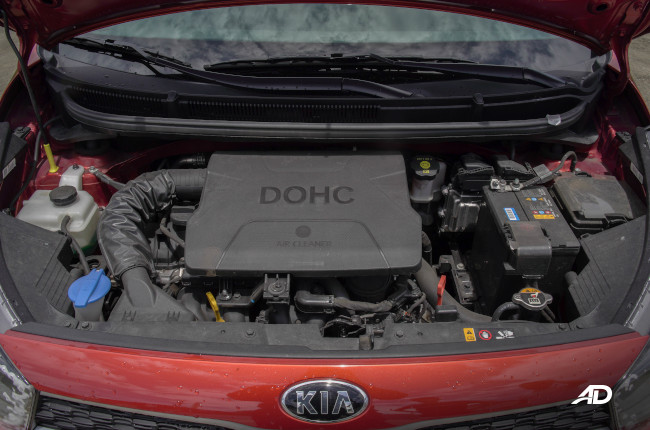 Locally, the Kia Picanto is made available with two engine options, namely, a 1.0-liter inline-3 gasoline engine that produces 66 hp and 95 Nm of torque, and a 1.2-liter inline-4 gasoline engine that churns out 83 and 122 Nm of torque. Both mills could either be paired with a 5-speed manual or 4-speed automatic transmission.
The 1.2 EX AT turned out to be such a delight. First of all, the adjustment period on the Picanto won't take that long as it is one easy car to drive. Like most of its competitors, it's easily manageable even in tight spaces. This is all thanks to compact dimensions coupled with its light and rather sharp steering which enables precise inputs even at high speeds. Plus, the chassis is well behaved as well.
The pint-sized hatch also stands strong in terms of fuel efficiency, with the Picanto EX AT registering 12 km/L at a speed of about 50 km/h in light city traffic. Meanwhile, on the highway, we got 25 km/L at 90 km/h.
Its infotainment system is surprisingly good
Opting for the EX trim level adds a 7-inch touchscreen that's well-integrated onto the dashboard. It comes with various multimedia functions including Apple CarPlay and Android Auto, which is quite a rare feature to be found in its class. Aside from your media-related settings, the screen also displays its reverse camera. As for audio quality, the Picanto's 6-speaker-set sounds fair, and well-adapted to the small sound stage that this small car has. Kia added convenience, it even comes with steering wheel-mounted controls in order to maintain the driver's focus on the road.
It's one of the refined options in its class
The Kia Picanto is a noticeably refined small hatch. Upon testing, we are able to affirm that the Picanto is a car that was built to a higher specification. That's actually no surprise, as this pint-sized hatch is to stay comfortable even when going down a stretch of European or American highway because it is a global model. As mentioned, its chassis is well behaved even when cruising at high speeds, plus, wind noise and road noise were kept to a very acceptable minimum.
It's affordable
Now, onto the price. The Kia Picanto currently starts at P590,000 for the 1.0 LX MT, while the 1.0 LX AT is priced at P635,000. The EX range, on the other hand, starts at P700,000 for the MT variant while opting for the range-topping 1.2 EX AT will require you to shell out P745,000.
If you're interested in getting a Kia Picanto, you can check its promo section on our site. Also, don't hesitate to click on the 'Get Quote' button—it's absolutely free. You could even request to test drive the car so you would know what you'll like about it, first hand.
Latest Features
Cars come with the latest and greatest tech now with adaptive, automatic, and advanced systems, but is it worth it?

We created a quick list of cars you can buy today that will give you the most amount of horsepower for the lowest price.

Both are within the same price range but are in many ways different from each other.
View More Articles