With the South East Asian (SEA) games kicking off from November 30 to December 11, the MMDA is conducting a dry run for the opening ceremony today, November 14, 2019. The venue for this event will be in the Philippine Arena, located in Bulacan. Participants will be expected to take major thoroughfares to the venue.
Busses are expected to start their routes from areas such as Pasay, Manila, Makati, Mandaluyong, Quezon City, Tagaytay, Subic, and Clark. The transport vehicles will start from their respective hotels and make their way to the Philippine Arena with escorts implementing a stop-and-go scheme, temporarily halting motorists to allow the convoy to pass through.
For areas in the city, the buses are scheduled to leave their respective venues from 2:15 p.m. to 3:15 p.m., while the convoy departing from Tagaytay will depart at 1:00 p.m.
Metro Manila to Philippine Arena
EDSA

Roxas Boulevard

North Luzon Expressway (NLEX)

España Boulevard

Quezon Avenue

Tagaytay to Philippine Arena
Tagaytay Road
Crisanto de los Reyes Avenue
Gov. Ferrer Drive
Ge. Antonio Road
Centennial Drive
Manila-Cavite Expressway
Coastal Road
Roxas Boulevard
EDSA
NLEX (Ciudad de Victoria Exit)

Subic to Philippine Arena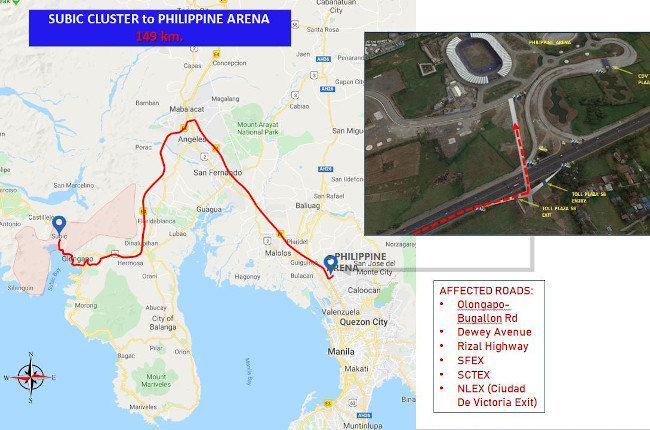 Olongapo-Bugallon Road
Dewey Avenue
Rizal Highway
Subic Freeport Expressway
Subic-Clark-Tarlac Expressway (SCTEX)
NLEX (Ciudad de Victoria Exit)
Clark to Philippine Arena
Prince Balagtas Avenue
SCTEX
NLEX (Ciudad de Victoria Exit)
Source: MMDA
Latest News
More reasons to buy a Ford Explorer.

A total of 7,320 units were recorded by AVID, with the LCV segment shining the brightest in October 2019.

Coventry Motors Corporation updates the Land Rover Discovery Sport, including a dolled-up R-Design variant that includes several interior and exterior refinements over the standard.