Chery Philippines is offering its customers a special item whenever they buy a Chery vehicle. This includes the brand's Chery Tiggo 2, Chery Tiggo 5X, Chery Tiggo 7, and its flagship model the Chery Tiggo 8. The automotive brand understands the importance of keeping your surroundings clean and germ-free especially for your car. This is why the automaker is giving away UV disinfecting lights for free for every purchase of a Chery model starting July 1 until August 31, 2020.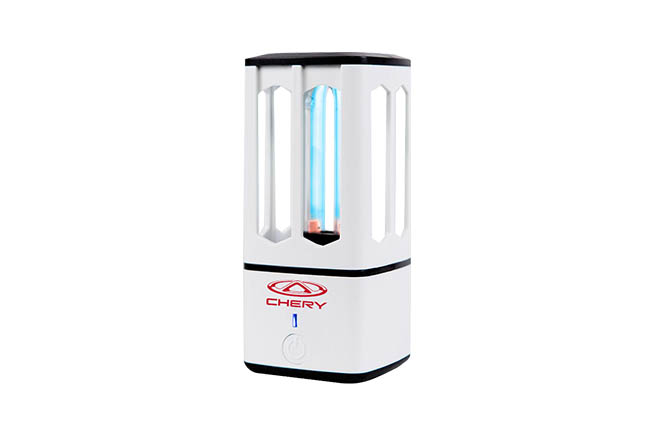 Chery states that the UV disinfecting light is a handy and useful tool to have for vehicle owners as it helps them sanitize their own vehicles. The brand further states that it will also supplement the ongoing practice of regular disinfection as a health and safety precaution. The automaker further states that the inclusion of the UV disinfecting lights is its way of helping out its customers adapt to the new normal by providing the best and safest products it can offer.
The light itself can also be used outside of the vehicle with the automaker pointing out that it can be used in high-traffic and high-touchpoint areas in homes and offices as well. The lamp has an expected 30,000-hour lifespan and utilizes a 3.8W power output. It also comes with a 1,000mAh battery that comes with a USB charging cable. In terms of size, the UV lamp is comparable to that of a smartphone box giving it a compact form factor that can be placed almost anywhere.
Chery Philippines warns its users that the UV light should not be used when people or animals are present to avoid damage caused by direct exposure of the eyes and skin to UV Rays. In a time where stringent cleanliness has become part of the new normal, it's nice to see automakers stepping up to the plate and offering more options to help customers easily adapt to a new way of living.
Latest News
Class 1 vehicles are expected to pay P35, class 2 vehicles are expected to pay P69, and class 3 vehicles are expected to pay P104.

Mitsubishi RALLIART claims first place at the 2022 Asia Cross Country Rally on the brand's first attempt.

All that is left now is for the president to sign this and we could see prices of select electric vehicles in the country go down soon.
View More Articles