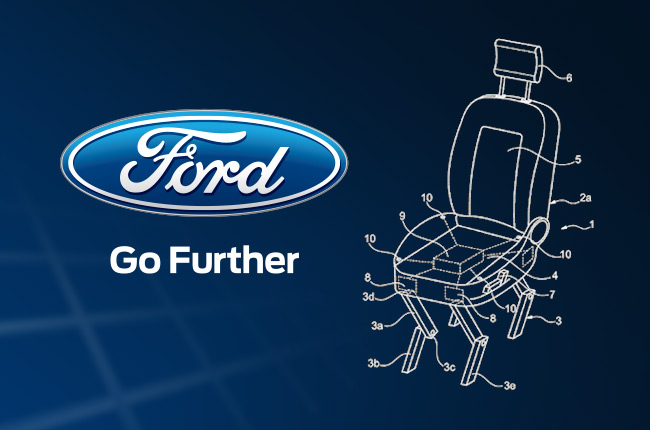 In technology, you'll never really know what happens next. In fact, it only took us less than a decade to switch from soap bar cellular units to high-tech smartphones that can call, send messages, send emails, take photos and videos, and even turn your face into a dog for a video. That holds true for vehicle technology as well. In fact, driverless cars are becoming a thing in the U.S. nowadays.
However, what if we told you that Ford is looking to make you walk while still sitting on your car seat?
That's right. Ford Global Technology applied for the patent of a "mobile transport device" to the U.S. Patent & Trademark Office. Basically, the Blue Oval brand's application is for a car seat design that has "legs," which can move the driver out of the vehicle without him lifting a toe. The device will have sensors and can be controlled by a remote control, making the design fully electronic.
Moreover, the design isn't limited to car seats only. In one of their drawings (image above), a flat platform can also be used, presumably for cargo loading. This can be handy if you're trying to load a refrigerator at the rear bed of your Ranger Wildtrak – or you know, if you want to move while standing.
It's obvious that convenience is Ford's main goal with the "walking chair." Our only concern is security – what if the chair walks out of the vehicle at night? What if it gains consciousness and decides to eliminate the human race? Will Gal Gadot (also known as Wonder Woman) and the rest of the DC superheroes be able to save us? Or Arnold Schwarzenegger, maybe?
Latest News
Nissan unveils the 20-23 concept along with a declaration that it is counting down to an all-electric lineup in Europe.

Nissan Australia in collaboration with Premcar, has recently unveiled the seriously hardcore 2023 Nissan Patrol Warrior.

The Mazda2 and CX-3 now get a revamped 8.8-inch infotainment display to replace its current aging displays.
View More Articles