Now that it will be a vital component in conducting business, Foton PH wants everyone to know about their Hurricane EST-M 4x2 Truck. It's a strong, powerful cargo carrier that can meet the needs of most businesses here in the Philippines.
Bigger than a closed van, it is capable of hauling the heavier loads that may be demanded by a particular company for its logistical needs. A strong double-layer chassis and frame make this truck a formidable pillar of strength for you to rely on according to Foton. With a transmission and synchronizer mated to a Cummins diesel engine, the truck is pegged to haul almost anything on the roads of the Metro and beyond. A wide stance and a set of large brakes keep this truck planted and on the road, while its axle capacity ensures that any load can be taken.
The engine in question is an inline-six diesel mill that is water-cooled, turbocharged, and direct injected for maximum efficiency. It is capable of generating 800 Nm of torque as well as 220 hp.
You can also have it in different lengths, as well, in either 22 footer or 25 footer configurations. The truck can also be outfitted with toys, which is the case with the 25 footer cargo with crane variant. A six-wheeler dump truck is also available with a nine cubic meter volume capacity. The all-important payload capacity is quite high as well. Owners can enjoy fitting a load that is up to 17,070 kg heavy for the EST-M 4x2 variant. The dump truck is slightly less a still hefty, 15,000 kg of payload capacity.
We're integrating more safety features commonly found on passenger cars into our vehicles, including an Anti-lock Braking System, Electronic Brake Distribution and Anti Slip Regulator (ABS+EBD+ASR) in our models, as well as systems found on heavy-duty trucks, such as the collision mitigation system.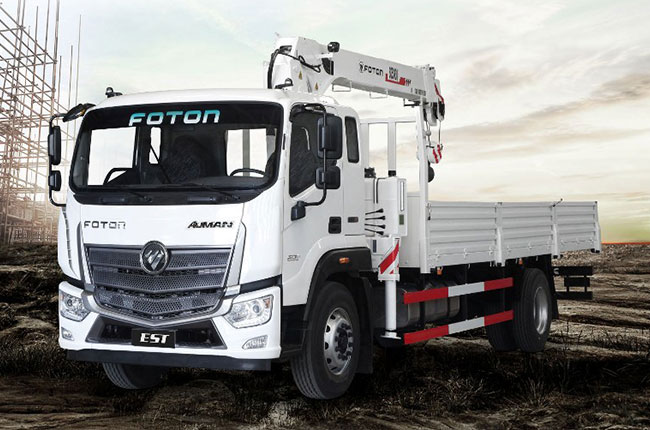 Foton also cares about the amenities inside the cabin for the driver. Power windows and door locks also are part of the package, as is the tilting and telescoping steering wheel. Driver friendly instrumentation and generous interior space for three-across seating, overhead storage, and additional storage in the standard cab behind the driver and passenger seats ensure that the crew is kept in high spirits whenever making a delivery.
The medium duty truck also has a few more surprises to boast. Doors can open a full 90 degrees. Couple these with the grab handles, making ingress and egress a cinch for the drivers and passengers. The cabin remains cool, since the ISOPOD turbocharger – built with an advanced structural design improves efficiency and heat transfer – keeps the engine bay temperatures lower and the engine more efficient. To aid in stopping, a WABCO air brake system and dual circuit pneumatic brakes are standard in the range.
With these trucks, we commit to provide the businesses truck models that best fit the Filipino business needs' requirements with full effectiveness, durability, quality, servicing, maintenance, and easy ownership costs.
Latest News
Bajaj Philippines launched the RE three-wheel motorcycle, pegged as a modern alternative to the tricycle.

Nissan Ph to add another dealership to its growing lineup

The Autohub Group is set to bring in a car and a bike brand into its lineup.