Hyundai Asia Resources Inc. (HARI), the official Philippine distributor of Hyundai vehicles, has announced the opening of its newest dealership in Silang Cavite. Hyundai Silang is the automaker's latest facility and is the sixth dealership that will be led by Dealer Principal, Mr. William Chiongbian II. The new facility also comes with a 6-car showroom as well as a wide service area that can easily accommodate 8 vehicles in its regular work bays and another two more in its specialized service areas. This makes it easier for the new dealership to achieve its goal of servicing the Silang area as well as other parts of Cavite.
Hyundai states that with its new dealership in Silang, it is set to revolutionize the automotive landscape in the area as well as in greater Cavite. The automaker also states that it will also help contribute to the overall revival of one of the country's major growth hubs. As one of the brand's latest facilities, the new dealership also follows Hyundai's Guidelines for Protection and Safety (GPS), which is the automaker's guidelines for safety and security. It is also HARI's pioneering program to COVID-proof its operations by establishing globally and locally prescribed safety protocols to safeguard the wellbeing of its customers and employees.
Hyundai Silang also comes pre-certified with GREEEN (Geared for Resiliency and Energy Efficiency for the Environment) by the Philippine Green Building Initiative (PGBI). The dealership was also able to receive a "Molave '' rating, which means that it is 75% compliant with the PGBI's GREEEN standards.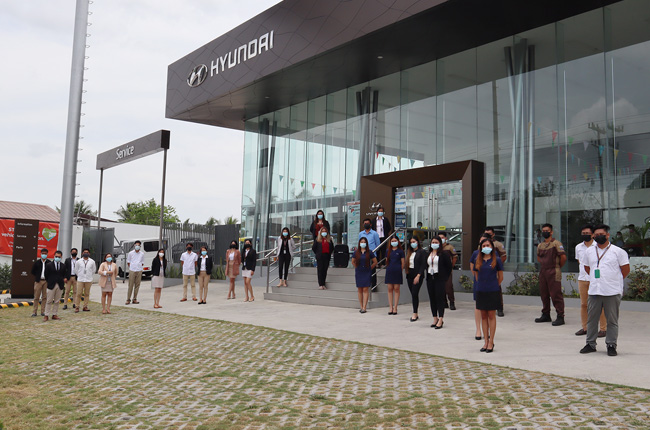 Aside from this, the Hyundai Silang facility is also well digitized, offering customers in the area a safe, contact-less way of making transactions via the Hyundai Online Market Experience (H.O.M.E), which is the automaker's web-based platform for online car buying and transactions. The facility also comes with the brand's 6 steps AMOR (Active Response, Management, Operations, and Resumption) Service Process. This reworks HARI's 'Right Here, Right Care' aftersales promise of a worry-free vehicle ownership experience during COVID times.
Latest News
Looks like Toyota Philippines is gearing up to launch the all-new GR86 soon as it releases more information about the upcoming sports car.

The new RS model will bring sportier styling into the Jazz/Fit lineup and it will replace the Ness variant as the new top-of-the-line trim level.

Nissan, EVAP, and MERALCO are presenting the EV Summit again, now in its 10th iteration.
View More Articles