Classic vehicles always bring out a lot of things for different people. To some, it takes them back to their younger years, or reminds them of a special time many years ago. To others, it's a project; a hobby meant to be enjoyed through driving and restoring. Whatever the reason for desiring or owning a classic vehicle, we can all agree that some compromises have to be made and creature comfort expectations must be managed. There is, however, some good news for older Jaguar and Land Rover owners, and it comes in the form of a new radio.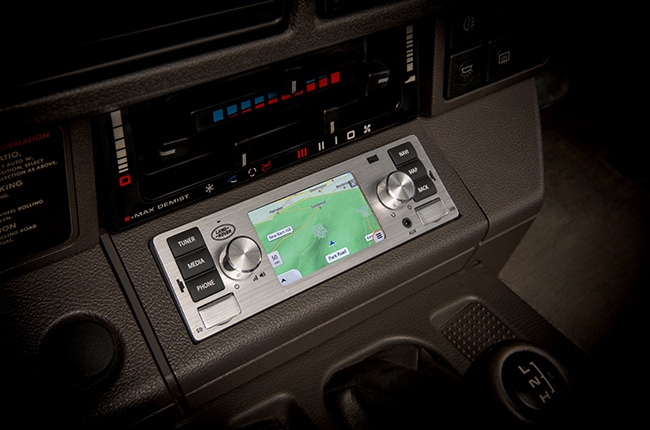 Called the Classic Infotainment System, Jaguar Land Rover has introduced a new product to its range of genuine parts and accessories, bringing modern functionality to classic vehicles. The best part is, the looks blends in to a classic vehicle's dashboard, and looks pretty darn good. Designed to run on classic vehicles with negative earth electrics (the negative terminal of the battery is connected to the vehicle's chassis), these single DIN-sized units have customizable navigation in up to 32 languages, have smartphone integration, bluetooth connectivity, DAB/DAB+ digital radio, and FM/AM reception.
The radio is controlled by a 3.5-inch high resolution touchscreen in between traditional rotary controls and buttons. The map can be displayed as 2D or 3D, with turn arrow instructions and traffic alerts. There will also be four distinct branded versions of the Classic Infotainment System, catering to Jaguar with a choice of black or chrome faceplate finishes, and brushed aluminum for Land Rovers.
All versions of the Jaguar Land Rover Classic Infotainment System are available for purchase from September 7, 2018 from www.jaguarclassicparts.com, and will start at P84,000. Europe does get to enjoy a fitting service to customers who drop by, but we're pretty sure the local distributor can help you get sorted. So those with Land Rover Defenders can enjoy high quality sound with modern conveniences while staying off the grid, proof that you can have your cake and eat it, too.
Latest News
The next-gen Outlander earns top marks overall but falls short in certain categories.

This will be the fourth model that the automaker will be bringing into the local market soon.

It may be a hybrid model but Toyota has put some spring in its step with handling upgrades and a new front look.
View More Articles