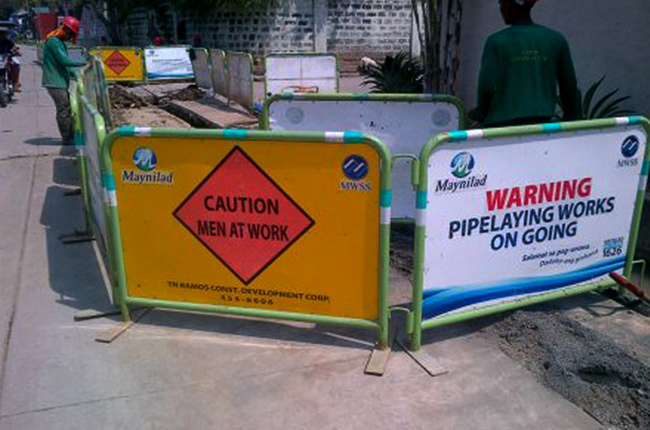 Accidents are only one of the many causes of everyday traffic congestions. As there are plenty more factors to consider before fully decongesting roads in the Philippines, one cause is being addressed by the local government – local road activities.
If you regularly drive around Metro Manila, you probably recognize road blockages from underground waterways repair and construction with signs by West Zone concessionaire Maynilad Water Services, Inc. (Maynilad). Most of the time, especially when you're not using a navigation app like Waze, these activities could cause a bit of a hassle, and in worse cases, an energy-draining and unnecessary traffic jam.
In an effort to help fix a fraction of the traffic problem currently being faced by the metro, Maynilad inked a partnership with Waze, a free real-time, crowd-sourced traffic and navigation app. Through Waze's "Connected Citizens Program" (CCP), drivers who use the app may now see real-time data regarding Maynilad's road-digging activities in the Waze Map.
"We strive to alleviate the effect of our roadworks activities on the motoring public. Through this partnership with Waze, we can empower drivers by providing real-time information about Maynilad roadworks that will allow them to better plan their daily routes."
Maynilad and Waze foresee this partnership as an effective tool to promote better road safety and smoother traffic flow in Metro Manila. And, now that Maynilad is working with Waze, the local private water concessionaire may now update the Waze Map with ongoing road activities and closures to alert Waze app-users beforehand. The bright side is that the app can recalculate affected routes to minimize travel time.
Maynilad is Metropolitan Waterworks and Sewage System's (MWSS) concessionaire for the west zone of the Greater Manila Area.
Latest News
The all-new Ford Ranger is almost upon us. Could it launch in the Philippines as soon as this September?

Changan Motor Philippines, Inc. (CMPI), held its groundbreaking ceremony for its new national headquarters last May 17.

The new building will be the local flagship of operations in excellence and training for the automaker in the country.
View More Articles