Waze is a community-based navigation app, and in collaboration with Thinking Machines, a data science consultancy, both entities have crunched through the data and numbers in order to give us the top 10 most accident and flood-prone areas in the Metro.
With the intent of encouraging road safety and awareness, the two companies have released a list so drivers may avoid or be more aware of certain cities while on their commute during this beloved season of torrential downpours.
It is indicated that heavier traffic and heavy rain equates to higher risks when it comes to vehicular accidents. Data gathered from accident and flood reports per square kilometer in the Philippines since the fourth quarter of 2018 show that these are the top ten most accident prone and flood prone cities.
Economic center, Makati city ranks number one on the list.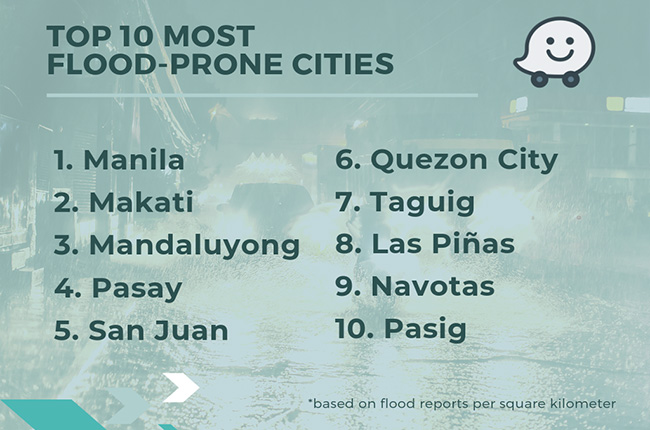 Meanwhile, flood is most prevalent in the city of Manila, and in its second place shadow is the top ranked Makati city once again.
The data garnered in collaboration with the Thinking Machines indicates that more can be done to encourage road safety and alleviate congestion, and we hope to continually leverage the cooperation of our 2.85 million active user base in the Philippines to help prevent accidents by providing crowdsourced updates on heavy traffic, floods and road closures in real-time.
With the rainy season in full effect, you may use the Waze to assist you in navigating heavy traffic while commuting. You may also help motorists around you by reporting instances of congestion, accidents, flooding, road closures, or any other traffic incidents on the application.
Waze data offers a wealth of insight about safety and traffic conditions on our roads. We hope this information can be used to design policies and programs that improve transportation for everyone.
Latest News
The all-new Ford Ranger is almost upon us. Could it launch in the Philippines as soon as this September?

Changan Motor Philippines, Inc. (CMPI), held its groundbreaking ceremony for its new national headquarters last May 17.

The new building will be the local flagship of operations in excellence and training for the automaker in the country.
View More Articles