With the rainy season in full swing with dark skies clouding out the sun, Ford wants to remind you about these items that you have to check before you head out for a drive. Just like our other tips and maintenance guides, the Blue Oval got a few pointers it would like to share with you. Best to save this checklist for a rainy day—literally.
Plus, if you read on, Ford has a little offer for you at the end.
Windshield Wiper Blades
It's a bit of a no-brainer for you to check your wiper blades during the rainy season. Visibility will already be low during a storm, so you need to have all the tools at your disposal. Make sure that you check your wiper blades for streaking and dry rot. Prior to setting off, make sure to wipe the blades with a clean cloth to remove any debris that could potentially scratch your windshield.
Tires
It's very important to check your tires and even more so in the wet. Tires have sipes and groves cut out to displace water and give you grip in wet conditions. Without these grooves, it would be like driving on ice while wet. Bald and worn tires can potentially cause an accident in the rain because of reduced grip. Change your tires if they're bald, or be sure to rotate them if needed. It's always good to do a visual inspection of your tires, and when you do take note of age, tread depth, and tire pressure, though your local Ford Service Center could help you out with that if you need professional advice.
Oil Pan Gaskets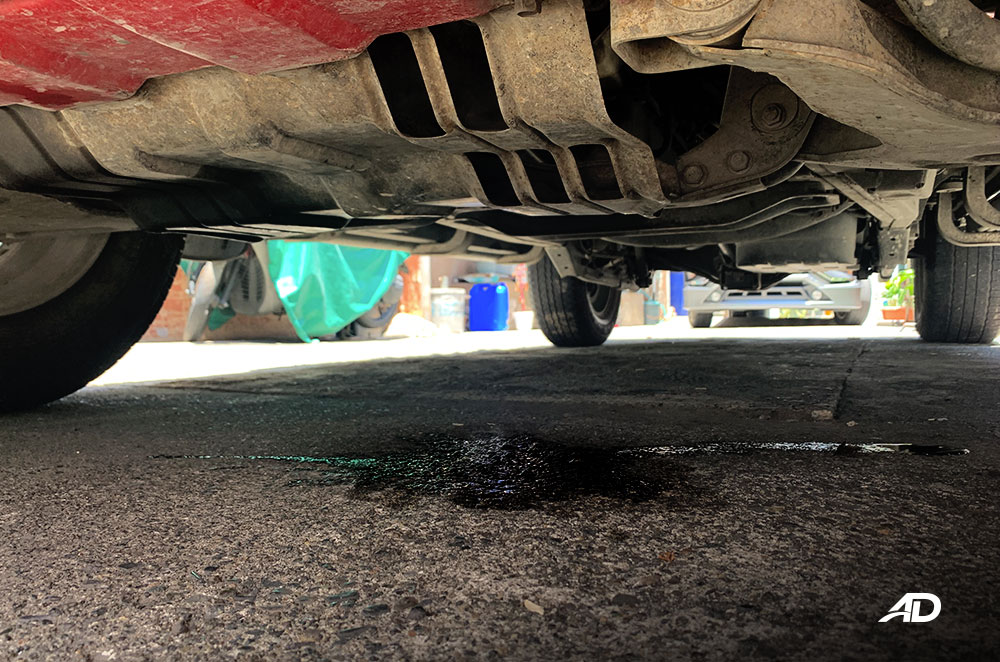 Now, this is not something that you would normally check, but it's worth checking since flooding is a common occurrence in the metro. You won't know that an oil pan gasket has gone bad until it's too late, and there are leaks, so be sure to check underneath your car for any oil seepage or drops. Having a fault gasket is also an invitation for water to contaminate your motor oil, and it could spell disaster for your engine if you do decide to wade through flood water. A quick visual inspection underneath your car is all you need to do. Just make sure that there are no oil leaks on the ground and you should be good to go. Otherwise, you need to take a trip to your local service center to get that sorted out right away.
Anti-lock Braking System (ABS)
Your braking distance increases in the rain, and even more so if you slam on the pedal and induce a lockup. Anti-lock braking systems (ABS) help you come to a stop sooner if you do end up in an emergency situation. On top of that, it also allows the driver to remain in control and steer the vehicle to safety. Ford makes note of the ABS system because it's an important safety net in wet driving conditions. Water will already make the road very slippery, so you need all the help that you can get. Be sure to get your ABS module checked at your dealer if there is an ABS warning light on the dashboard after the car has started moving.
Special offer
Ford's keen on keeping its vehicles in tip-top condition, and it's also dedicated to keeping drivers safe all year round. There is a special offer until September 30, 2022, and it goes as follows:
All-in battery package that starts at P6,300 (inclusive of parts and labor) for the Ford Focus, Ford Fiesta, Ford EcoSport, Ford Ranger, and Ford Everest.
"To ensure a worry-free experience on the road, we encourage all our customers to visit a Ford dealer for proper vehicle check-up and maintenance. Get access to genuine Ford parts, advanced service facilities, and our network of Ford-trained technicians at our dealerships nationwide. We also have special promotions for select parts which we know will provide more value for our customers."
Latest News
A few months from its first unveiling, the updated Land Cruiser 70 Series now has a three-door version in the UAE.

AC Motors, the official distributor of Kia vehicles has confirmed that the all-electric EV5 SUV will launch in 2024.

After a week of teasers, Kia Philippines has now officially unveiled the refreshed 2024 Seltos for the local market.
View More Articles