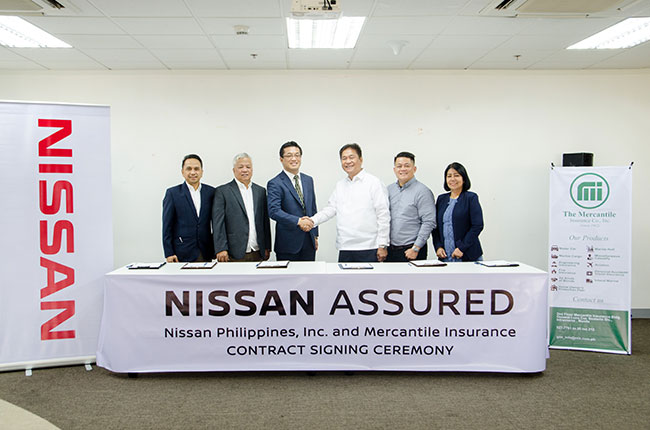 Nissan Philippines has partnered with Mercantile Insurance to bring to the public its new vehicle insurance program. For their customers, the Nissan Assured program provides quality coverage and reliable service response. Under the Nissan brand, customers are assured of competitive rates under the company.
By giving customers the Nissan guarantee to quickly respond to insurance claims with our award-winning services, we are affirming our commitment in sustaining and enhancing the overall customer ownership experience.
The contract signing ceremony was attended by Ericson Del Castillo; General Manager of Human resources, Rolando Navarro; General Affairs, IS/IT division, and Atsushi Najima; NIssan Philippines' President and Managing Director. These executives from the Nissan group were in attendance during the contract signing, while on the other end, Melecio Mallillin; President, Marlon Joakin Tablizo; Soliciting Officer, and Leticia Valenzuela; Senior Vice President, meanwhile, served as the representatives of Mercantile Insurance company.
It is imperative that any owner insure their vehicle. In order to avoid any headaches that may arise from any potential accidents that may occur on the congested roads of the Metro. Insurance plays a huge role in protecting your prized possession from any act of God or accident that may arise during the insurance coverage period. Whenever an accident happens, usually the first thing that is asked for is the insurance policy. This policy allows drivers to be protected from major financial losses that may arise from and accident because we all know that car parts do not come cheap.
With this partnership, customers can expect improved service when it comes to making a claim with insurance. Since Nissan is now partnered with Mercantile Insurance, processes can be streamlined, and as a direct partner to the third largest automaker in terms of sales, the consumer wins because he will be served and assured that his claim is made properly. Look forward to less hassle with the Nissan Assured partnership.
Latest News
Coventry Motors Corporation updates the Land Rover Discovery Sport, including a dolled-up R-Design variant that includes several interior and exterior refinements over the standard.

The Mazda CX-30, CX-8, and the rest of the Mazda Philippines' lineup are available for a test drive from December 6 to 8, 2019.

The new dealership, under the Autohub Group, is just the start of AutoAsia's plan to expand further into the country.