Germany's number one automotive car care detialing brand, Sonax, is reintroducing itself to the Philippine market. Highlighting its products to our local market will help more consumers ensure that having protection from the elements will help ensure the longevity of vehicle paint. Dubbed the 2019 Sonax Experience, the event was held at Escala Hotel in Tagaytay City. Werner Hoffman, Area Sales Manager for Asia-Pacific of Sonax, together with Jeremy Ong, Sonax Asia Regional Manager represented the German brand in the event, further showing the support to our market and our region.
Our goal for this event is to reintroduce the SONAX product line and to explain the DIY qualities of our product range.
A classroom session taught selected members of the motoring media about the Sonax brand and its product offerings. Several products were on full display for the media to see. The lineup included the Gloss Shampoo, Easy Shine, High-Speed Wax, Brilliant Shine Detailer, Xtreme Interior Cleaner, Leather Care Foam, Tire Gloss Gel, and Wheel Cleaner, all aimed at providing the regular consumer the best possible result, all with just a bit of elbow grease and time.
Braving the rain, members of the media also had an opportunity to go head-to-head, cleaning their vehicles in a cleaning contest. Four members were assigned to each vehicle, and we had all the tools of the DIY line at our disposal, allowing us to try and get the best possible result with just water and a bit of strategy. With Sonax products, we found ourselves using very little of each product, showing that, despite having premium pricing, the actual per usage cost is actually advantageous. The effectivity of their products, combined with a range that covers every bit of your car, inside and out, will greatly benefit car wash businesses and those who still rather wash their cars in the comfort of their own garage.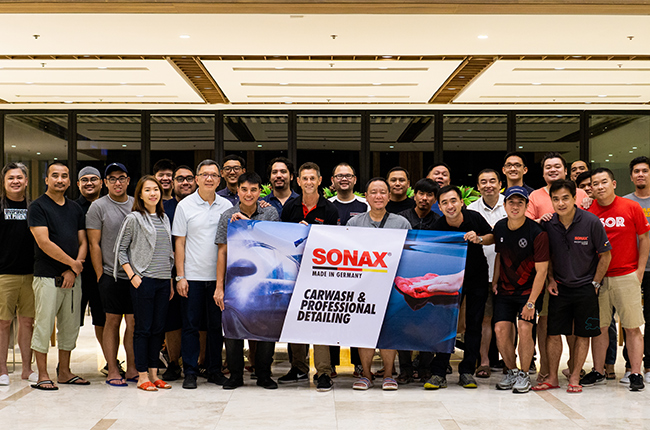 Despite the rain and muddy roads on our way down to Tagaytay, our cars stayed relatively clean, and a simple wipe down with clean water allowed the nice shine to come through once again. If you love to baby your cars and keep them in sparkling clean condition inside and out, you can't go wrong with Sonax. Your car might even thank you. The best part? Each product is carefully tested to be safe not just on our vehicles, but is dermatologically tested to be harmless to our skin, too.
Latest News
It may be a hybrid model but Toyota has put some spring in its step with handling upgrades and a new front look.

Things are looking great for Ford Philippines as it posts great sales figures for 2021 with the Ranger and the Territory cementing themselves as the brand's best sellers.

The new liftback now sports more modern styling and could be a perfect candidate for the Philippine market.
View More Articles