Motor Image Pilipinas, Inc. is offering a new comprehensive warranty coverage for new Subaru cars. The coverage period will be lengthened to five years or up to 100,000 KM (whichever comes first) from July 1, 2019.
The same terms and conditions apply for this new extension. This will allow drivers the same peace of mind when driving their Subaru vehicles over a five-year period because unlike other warranties, Motor Image won't reduce the coverage as time passes.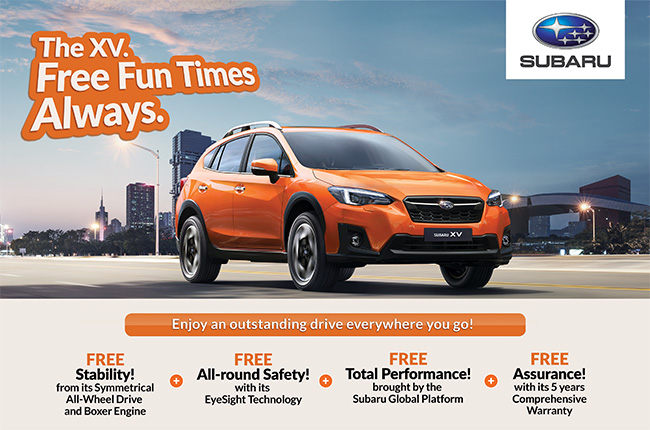 One of the conditions that the warranty requires is the strict adherence to scheduled service intervals conducted only at authorized Subaru service centers. Owners who use non-genuine parts or carry out technical alterations, that are not authorized or approved, will lead to the voiding of the terms and conditions. Subaru WRX STI models differ in their coverage, however, and is not part of this program since other terms and conditions apply to the performance-driven sedan.
This is a reason to celebrate for prospective buyers of new Subaru cars. Unexplained breakages and malfunctions can be rectified for no cost, or close to no cost, to the consumer, since the warranty guarantees a comprehensive coverage of every car that rolls off the lot of any Motor Image dealership.
Expect worry-free driving for a five year period, which is the equivalent lifespan of some to most cars with their first owners. It also helps that most payment terms are made within a tenure of five years also, so new owners may rest easy while continually paying their monthlies for the Subaru of their dreams.
Check out any of the dealerships of Motor Image Pilipinas to inquire and ask about their warranty coverage, as well as their newest models like the all-new Forester, which we tested earlier in the year. Check out Subaru news and reviews for the latest models, facelifts, and new related to the Japanese brand.
Latest News
A new feature to help with evacuation and navigation

A total of $3,000,000 was spent on the first-ever production Corvette C8.

If you're among those who were affected, you might want to send your car to Toyota dealerships ASAP.