While major automakers join forces in Europe to create ultra-fast charging stations at 350 kW, Tesla sees this as merely charging a toy.
This was hinted in a recent tweet by Tesla CEO Elon Musk, where he dropped hints that a faster Supercharger V3 and Powerpack V2 are underway – this time, integrated with solar power. When asked if it will measure up to the 350 kW charging stations in Europe, his response was golden.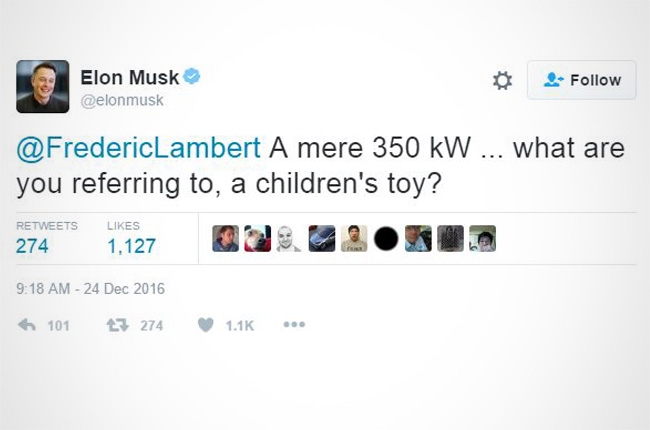 The current Supercharger of the American electric carmaker can deliver up to 145 kW. With this hint from Musk, we are looking at charging stations that can charge more than twice as fast as what it can today, which will make charging be more like filling up your gas tank.
Now, a problem arose with this development as seen from the exchange of tweets above – what will they name the new chargers? Autoblog dropped "flash-charge," and we think it works.
Latest News
Caltex's borescope test gets a 9.8 out of 10 rating for the cleanliness of engine intake valves in the Philippines.

The World Health Organization is not impressed on how road safety is currently being tackled, stressed that this is a problem with proven solution.

Quite a milestone for Nissan when its one-millionth unit rolled off the brand's Sunderland plant in the UK.