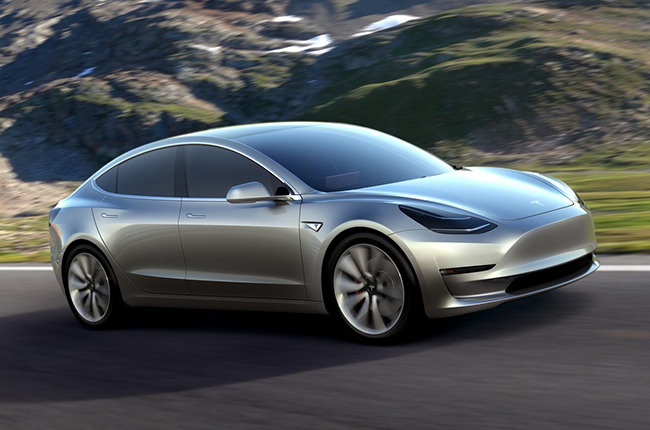 Tesla has made a name in the automotive market, especially in the green energy segment. They're like the Ferrari of electric cars, making beautiful machines and pushing breakthroughs left and right. However, the greatest setback in owning a Tesla is how you can actually buy one — like how and where can you get the money to pay for its hefty price.
Good thing Tesla officially launches the Model 3 electric sedan in California, USA. This will complete Tesla's model range of electric vehicles — the S, 3, and X. You've got to love the sexual innuendo in that nomenclature.
The Model 3 is Musk's most 'inexpensive' model as of date with a price tag that starts at $35,000 or roughly P1.75-million, which is about half the amount you need to pay for the bigger Model S (and a whole lot cheaper than the X electric crossover).
You know what that means? If Tesla decides to invest in the Philippines and bring their vehicles here, the Model 3 will likely hit the road first as it's relatively cheaper than the base variant of the Model S that retails at $70,000 (about P3.5-million).
These figures, of course, are of direct conversion and don't include taxes and other fees. But if you're into green energy and saving the environment (not to mention beautifully-designed cars), buying a Tesla isn't really a bad decision.
Besides, what's not to love about a Tesla Model 3? Its base model can go as fast as 209 km/h and has a vehicle range of 354 km. With a car that's slightly bigger than a Honda Civic, this range will allow you to reach the Dinadiawan Beach in Dipaculao, Aurora in 1 full charge. You just have to find an outlet there and charge your car for 8 hours so you know, you can go back home.
Aside from its outstanding design, the Tesla Model 3 also comes standard with a variety of tech features such as a massive 15-inch touchscreen display head unit that serves as the car's main control board, Wi-Fi and LTE internet connection, voice activated controls, and full LED lighting. It also comes with active safety capabilities like collision avoidance and automatic emergency braking via 8 cameras, forward radar, and 12 ultrasonic sensors.
Although, it's not enough that you have to add at least $1,000 (around P50,000) if you don't want your Model 3 to be black; if you want the premium package and the coveted autopilot features, you will need to add (a lot) more money to the price tag — like price-of-a-small-hatchback lot.
Nevertheless, we can't help but speculate how much will a Tesla Model 3 be in the Philippines after taxes and importation fees. If it's within the range of the current hybrid models here, they are in a run for their money.
But the million-peso question here is...when?
Latest News
The new dealership marks one of the first new Kia locations with the brand's new corporate identity.

The official Twitter account of the LRT2 posted an announcement that pets may soon be able to board trains at LRT2.

The 2023 Xpander Cross is finally out in the Philippines, adopting the fresh face of its standard brother.
View More Articles