Following the Snapchat teasers, Volvo has revealed a pair of concept cars which previews the brand's official launch of its global small car strategy. Dubbed as the 40 series concept cars, the Swedish automaker shows how its future small cars will look like.
The new concept cars will be built around the brand's Compact Modular Architecture (CMA), a scalable platform that has been specifically designed for Volvo's small cars. Of note, CMA was jointly developed by Volvo and Chinese automaker Geely which are both subsidiaries of Zhejiang Geely Holding Group Co.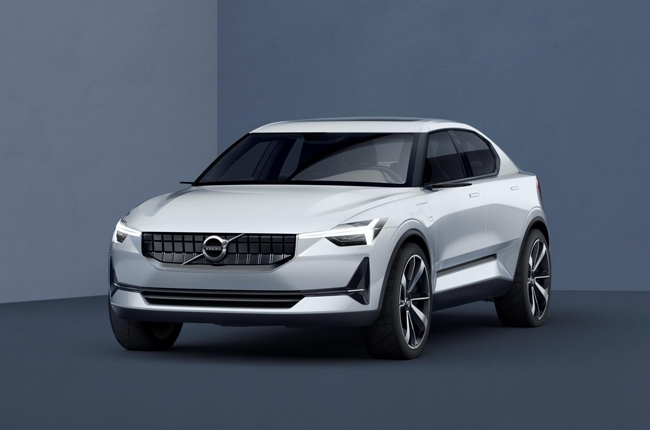 To put things in perspective, the 40.1 concept shows the future styling cues for the new XC40 while the 40.2 concept (photo with blue background) previews the upcoming S40 sedan.
When Volvo's small cars make its official public debut, the company said that it will include a pure electric vehicle as well as a 'Twin Engine' plug-in hybrid powertrain variants. This is in line with the brand's commitment to offer an electrified version of its entire vehicle lineup and plans to have sold a total of 1 million electric cars by 2025.
"By taking a modular approach to both vehicle architecture and powertrain development we have succeeded in leap-frogging many of the players in the premium segment. Our new battery electric powertrain variant opens yet another exciting chapter in the unfolding Volvo story," said Dr Peter Mertens, Senior Vice President Research & Development.
Volvo will also integrate its small cars lineup with a full range of innovative connectivity services and advanced safety features.
For more information about Volvo and its vehicles, visit the AutoDeal Car Guide.
Latest News
Volkswagen felt a little sick about having just five colors for the Golf R and decided to add 40 more.

Paul McCartney-commissioned Minis for Penny Lane's promotion is now tagged and can be yours.

The tour will happen on weekends of August and September.