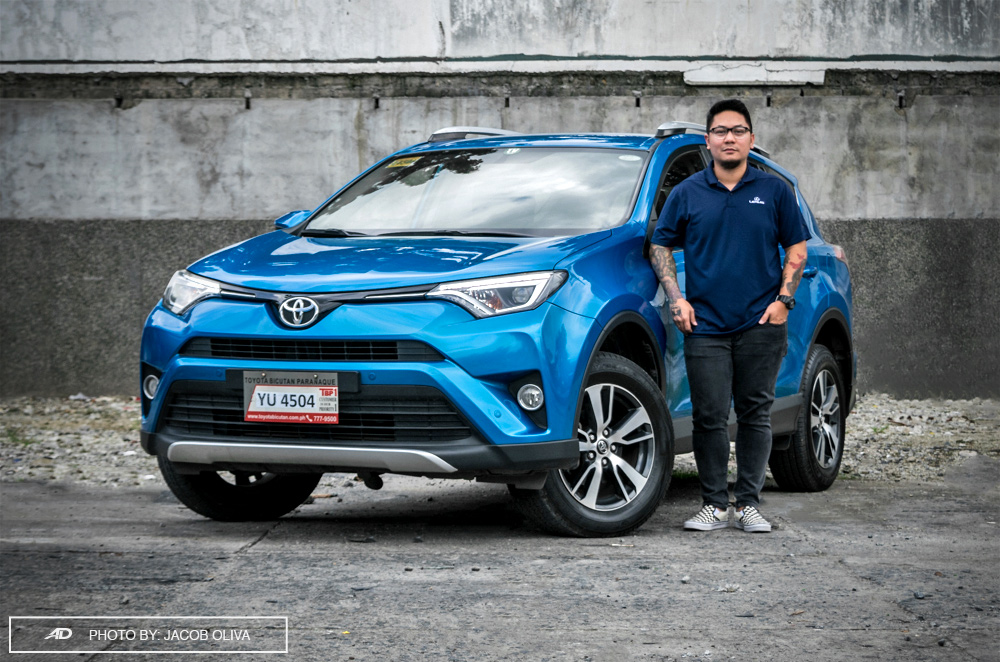 Let me share a secret – I've always wanted a Toyota Rav4. As someone who grew up in the '90s, I've been seeing this compact crossover SUV ever since I was a kid who apparently has a taste for quirky cars.
I remember telling my dad to buy one for the family, specifically the first-generation three-door model but unfortunately, he said no. I think I threw a hissy fit, not knowing that a small car with two passenger doors wasn't really fit for a family of five. But hey, I was a kid. I didn't know better.
2016 Toyota Rav4 2.5 Premium 4x4 AT Review
Performance
Engine Output (HP), Acceleration, Transmission, Handling 4.0/5
Design
Exterior & Interior Design, Quality, Fit and Finish, Ergonomics 4.0/5
Ride Comfort
Cabin Comfort, Suspension, NVH Insulation 4.0/5
Safety and Technology
Convenience Technologies, Active and Passive Safety Features 3.5/5
Value for Money
Amount of the vehicle you get for the price, Fuel Efficiency 3.5/5
What You Will Like
Exterior design aged gracefully.
Powerful and torquey 2.5L gasoline engine.
Abundant and flexible interior space.
What You Won't Like
Not-so-impressive fuel economy.
Suspension's a bit too stiff.
Touchscreen infotainment system is laggy and needs an update.
How We Do Our Reviews
Decades on, the Rav4 has grown not only in size but in aesthetic appeal as well. From the small crossover that somehow looked like a sneaker, it became bigger and bigger, while losing its odd appeal in the process in its second- and third-generation models. Thankfully, the fourth iteration that Toyota Motor Philippines (TMP) lent us for this review went back to its roots – it's less than plain, has a somehow emotional look, and it comes in Blue Metallic paint that I absolutely adore.
But the Rav4 is aging; it got its latest updates back in 2016, which were just small changes to its front fascia and additional tech features. However, with how this crossover stood out and occasionally turned heads when I drove it around, I can safely say that it aged gracefully.
The LED daytime running lights (DRLs) and headlights are its best trait up front, as well as the chiseled bumpers that bring character to the regular round fog lamps. The hood is carved, too, which makes the Rav4 kind of reminiscent of Japan's best-selling Toyota C-HR. The 17-inch alloys design may look plain for some, but I think it bears a balance between classy and sporty, complementing the under-cladding and bulging fenders.
At the rear, the LED taillights keeps the Rav4 up to speed with younger counterparts, while the skid plate and spoiler, along with the roof rails, are a nod to the crossover's off-road capability. Or the lack thereof.
Granted, the Rav4's 2.5L gasoline engine sends the power to all four wheels, and you have the option to engage the differential lock. However, it isn't fun for the driver and the passengers to go through rough roads and dilapidated pavements; the suspensions need to be dampened a bit for better ride comfort.
That stiff suspension setup has its upside – body roll is mitigated when going through long curves, so passengers aren't thrown around inside the vehicle while tackling winding roads. The car isn't eager to dive when braking as well, which is a good thing. With this, overall comfort is just in the middle, but can still be improved.
Inside the vehicle, the huge amount of wiggle room for five average-sized Filipinos is a great plus for the Rav4. After all, it's a five-seater compact crossover that's just 10 mm (0.4 inches) narrower and 190 mm (7.5 inches) shorter than the seven-seater Fortuner, so go figure.
To complement that space, air-conditioning is enough to cool down the entire car, considering that there are no rear A/C vents in this fairly-old media unit. Although, when left on a sunny parking lot, the A/C needs to work harder, especially for those who sit at the back. You can also blame that to the leather seats, but that's fine as that's part of the Rav4 Premium package. Besides, the seats look as good as they feel, so there's that.
The Rav4's age is apparent in its interior, too. The gauge clusters aren't the Optitron type yet, which the new-generation Fortuner has. The multi-information LCD display in between the gauges looks updated, and it displays sufficient information about fuel consumption, range, average speed, and the gear you're in.
A number of things could be better inside the Rav4 if they're updated, such as the digital clock on top of the dashboard, the laggy infotainment system, and the odd placement of the buttons for the downhill assist control (DAC) and differential lock. There are also some more oddities like the split cupholders up front, along with the Aux and USB ports that look like buttons.
Despite the need for such updates, the graceful aging on the outside is evident inside as well. The materials on the dashboard still have their luster in them, especially the brown accents by the door cushions, while the leather-wrapped steering wheel is still a joy to fiddle with. And oh, the driver seat is gifted with power-adjustable seats.
The second row is among the best places to be while inside the Rav4. Aside from the mentioned wiggle room, the seats are soft, comfortable, and not too bolstered. There's also an armrest with two cupholders by the center. It could use some charging ports, though, especially in this digital age.
If you'll use the Rav4 to haul cargo, then its trunk space is more than enough to carry the luggage of five people. Should you need to maximize, the second row folds flat to reveal a cargo space that's big enough to fit appliances. This top-of-the-line variant also comes with cover and net tray; just in case you're in for an adventure with the car.
The Rav4's torquey 2.5L gasoline power plant was nothing short to be desired with. It delivered enough pull even at low ends, while continuation at mid- and high-speeds was a welcome feat. The six-speed sequential automatic transmission also transferred the power with minimal delay. I even felt a surge in power during the drive, which meant fun but kind of hurt the car's fuel consumption: Highway (90 km/h average) – 14.1 km/L; Provincial roads (60 km/h average) – 9.8 km/L; and In-city traffic (15 km/h average) – 6.1 km/L.
The great engine performance was paired up with equally solid handling, which could be attributed to the Rav4's heavy steering feel. It wasn't like you're in a constant battle with the steering wheel, but it accounted for a precise steering input with negligible understeer and a stable highway cruise. I was also satisfied with how the disc brakes on all fours bite. It made me and my passengers feel safe.
Call it biased or something else, but the Rav4 is still a relatively good car, sans maybe its hefty P2,174,000 price tag. Several years may have passed but my adoration for the Rav4 remains intact, even with its features that need updates. Yes, it has its share of shortcomings, but those only make us get more excited about its fifth-generation model that TMP is yet to bring. The question now is when.
Latest Review
With Peugeot now under new leadership in the Philippines does its new lineup of models have what it takes to take on the established nameplates?

4.0

/

5

It presents itself as a great compact crossover choice for those who don't want to be overwhelmed by a great amount of tech.

3.9

/

5

Does the Changan CS95 have what it takes to challenge the more established players in its premium segment?

3.7

/

5
View More Articles