Few cars have reached legendary status in the eyes of car enthusiasts. These types of vehicles instill fear (or is it respect?) and awe when they pass by, with onlookers often amazed with how it looks or sounds. For the very few, driving a car that sits proudly alongside supercars and exotics from around the globe is an everyday occurance. For us mere mortals, we savor the few days we have behind the wheel. Enter Godzilla – enter the Nissan GT-R.
Three letters, from Japan, and made by Nissan – the GT-R nameplate has a long and rich history of motorsport and complete dominance of championships and racing leagues, and the street going versions are just as impressive. I was handed the keys to a Jet Black 2018 Nissan GT-R in all its glory for a few days. And boy, was it something else.
Performance
Engine Output (HP), Acceleration, Transmission, Handling 5.0/5
Design
Exterior & Interior Design, Quality, Fit and Finish, Ergonomics 4.5/5
Ride Comfort
Cabin Comfort, Suspension, NVH Insulation 4.0/5
Safety and Technology
Convenience Technologies, Active and Passive Safety Features 4.0/5
Value for Money
Amount of the vehicle you get for the price, Fuel Efficiency 5.0/5
What You Will Like
Performance value is fantastic
Instantly recognizable
Comfortable when you want it to be
What You Won't Like
Infotainment system is dated
How We Do Our Reviews
Exterior
Since its introduction in 2007, the Nissan GT-R really hasn't changed much. It's still the wide, flared, and a little bit squared-off supercar killer that's instantly recognizable. Oh, and it helps that the four taillights have been synonymous with what we always see when we try to keep up with one. The 2018 carries over the nip and tuck from previous years, with adjustments to LED headlights the bumper and diffusers, and slight bits of aero.
Its high beltline but tall windows allow for an imposing side profile, and the 20-inch lightweight RAYS wheels are gorgeous, even more so with the Brembo brake calipers peeking through. When viewed head on, the GT-R seems like it could swallow a small car whole, and all the vents and diffusers aren't just for show; it's all for maximizing downforce and cooling off integral parts of the car, such as the brakes, oil, and engine. The rear is accentuated by a nicely sized functional (of course) wing, and two pairs of twin titanium exhausts at each end of the bumper, carbon fiber diffuser combo.
Overall, it has aged well, but still retains a little of that "boy-racer" vibe that you really can't put it up there with other European exotics. It's handsome, but it's not gorgeous – it definitely is a headturner, though.
Interior
The GT-R has a very striking interior if you do get the Coral Red theme off the showroom floor, and the Jet Black exterior makes for a very nice contrast. This Gran Turismo Racer, yes, that's what GT-R means, has a cabin that has a good mix of comfort and functionality. There's a generous amount of hand-stitched leather all around, and what plastics there are are way out of touching range. There's a lack of suede or alcantara in the cabin, which is alright, but it would have been nice to see that thrown in for that extra special feeling. For the most part, this is an all supple leather affair, and some bits of carbon fiber designed plastic for the center console.
One of neatest party tricks that the GT-R has is that when you start adjusting the steering wheel, the whole instrument binnacle moves with it, providing optimum visibility to driving information at all times.
The seating in the GT-R is a two plus two, but the rear is reserved strictly for children or people you don't like, since legroom is almost nonexistent, especially with my driving position set in the front seat. The rear does get the same luxurious leather treatment as the front, so the whole cabin comes together nicely, indeed. It's a comfortable place to be in if you're gonna be stuck in traffic for hours or carving a scenic mountain pass for minutes.
Technology
Compared to previous generations, the 8-inch infotainment and multifunction display gets a more logical and less confusing layout of just 11 buttons compared to the previous 27, and an inclusion of a rotary knob to cycle the screen functions is neat. You can still touch the screen to get where you need to go, and frankly, the Bose sound system is fantastic, but the interface needs an update. Apple CarPlay and Android Auto aren't included in this model, and the whole user experience for your media and music feels a little dated. There's active noise cancellation for better cabin insulation, and even some exhaust note enhancement when in the more aggressive driving modes. The custom views for your gauges, however, are a fantastic piece of kit which I will explain further later.
You also have electric adjustment for the seats via a simple knob that you can move in all directions. Heated seats can be toggled on and off, and the automatic climate control is typical nissan coolness. There's no blindspot indicators, lane keep assist, or automatic braking in the GT-R, all it has is a reverse camera and parking sensors. There is cruise control, but it's also standard and non-adaptive. Nothing fancy, just focused features meant for driving performance and maximum concentration from the driver. The fancy tech comes in the form of adjustable modes for the drivetrain, suspension, and traction control. They all have switchable modes from normal, soft, and R. We'll explain the R modes in the driving portion of this review.
Now let's talk about those custom views that you can toggle. Designed in conjunction with Polyphony Digital, the guys behind the Gran Turismo video game series, the custom view allows you to switch between a selection of windows, varying in size and number. Each window can display certain information such as your boost from the turbo, your oil temperature, your steering input, percentage of brake and accelerator pedal used, and the list goes on. It's extremely comprehensive, and it's almost like having your own telemetry box running with you at all times.
Safety
The Nissan GT-R's best safety asset is its driver and how it is driven. With big brakes and an ABS system with electronic brakeforce distribution, coming to a stop is easy. You also have a good set of airbags; two at the front, and curtain airbags all around up to the rear passengers, making a total of six. ISOFIX mounts are also handy for mounting child seats in the rear, for when you wanna be practical.
Driving and Handling
The performance of the Nissan GT-R comes from its handbuilt 3.8L twin-turbocharged V6 engine that makes a neck breaking 565 horsepower and 637 Nm of torque. An awesome all-wheel drive system and a slick six-speed dual clutch automatic transmission. That means that the GT-R can reach from zero to 100 km/h in under three seconds. That's right, it's one of the fastest accelerating cars you'll ever drive in your life. For comparison's sake, superbikes I've ridden have numbers in the low three seconds or slightly under two if you're a good rider.
The GT-R looks wide and long, almost looking unwieldy, and the curb weight of 1,740 kg should translate to some weighty feel. But it doesn't, especially at higher speeds. The only thing that betrays its agile nature is that the electronic power steering can wildly differ in the parking lot compared to the highway. On the open road, the Nissan GT-R feels like a proper supercar, but still feels like a machine, making all sorts of mechanical noises in the form of whirs and fan noise. It's a connected feeling, hearing the car react to the road and your inputs, and the steering wheel feel suddenly becomes so right and so precise. The electronics at play in the GT-R make sure that you are planted on the road at any speed. There's a rush from the pure acceleration and speed that this car can give, but those who have driven it will know that there's a healthy respect between driver and machine; treat it nicely and it'll keep you smiling. You should treat it nicely, as reaching 270 km/h (top speed is 315 km/h) regularly is a piece of cake for the Nissan GT-R.
The sense of speed in the cabin is unusually sedate, even as the speedometer gets past halfway (which happens to be 160 km/h), and all you hear is the sound of the titanium exhaust and its distinctive, almost jet-fighter, sound. It's the kind of car that gives you confidence in any driving situation, and if you want to, you can always switch everything into R mode for maximum performance. R mode for the drivetrain, suspension, and traction control, allows you to push the GT-R to its limits while still having some nannies, just in case. Shifts are faster, auto blipping downshifts are crisper, and the while car stiffens and firms up for some serious driving. Oh, and launch control can now be used, but only for the track. Safety first.
Fuel Economy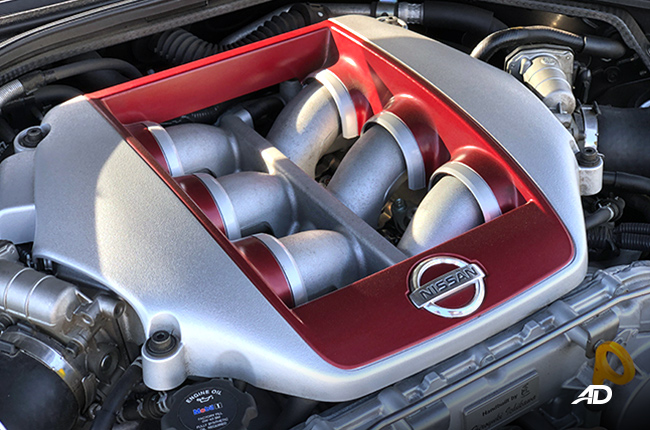 I'll be honest here, in my three days with the GT-R, I filled up only once, and it was an amount needed just to get me to Manila. I used it everyday, and for many hours per day, resulting in a highway figure of 9-10 km/l, and a city fuel consumption of 5-6 km/l. The 74 liter fuel tank capacity is great, though, and when filled up, you can drive for quite a while. Not as thirsty as you would expect, really.
Verdict
With each year, Nissan quietly does a few subtle changes to the GT-R, increasing horsepower by a tiny bit and refining the ride experience. It's amazing how the Nissan GT-R combines supercar worthy performance for a third of the cost of its competitors. This makes the Nissan GT-R the most performance per peso vehicle on the market today, making sure you can keep up with your buddies in their exotics on the weekends, and still be able to bring you to work and deal with traffic comfortably on the weekdays.
The hype is real with the Nissan GT-R, and for the price of P7,350,000, those who are lucky enough to afford one will be treated to a car that will forever live on in pop culture and car circles as a force to be reckoned with.
2018 Nissan GT-R Exterior Photo Gallery
2018 Nissan GT-R Interior Photo Gallery
---
Specifications
Performance
565 hp @ 6,800 rpm
---
Summary

| | |
| --- | --- |
| Name | Nissan GT-R 3.8 V6 AT |
| Body Type | Coupe |
| Price | ₱ 7,350,000 |
| Transmission Type | Automatic |

Engine

| | |
| --- | --- |
| Engine Size | 3.8 L |
| Displacement | 3,799 cc |
| Number of Cylinders | 6 |
| Number of Valves | 24 |
| Transmission Category | Dual clutch 6-speed transmission with 3 driver-selectable modes |

Performance

| | |
| --- | --- |
| Drivetrain | ATTESA E-TS® All-Wheel Drive |
| Max Output (HP) | 565 hp @ 6,800 rpm |
| Max Torque (nm) | 637 Nm @ 5,800 rpm |
| Acceleration Rate | n/a |
| Top Speed | n/a |

Economy & Environment

| | |
| --- | --- |
| Fuel Type | Gasoline |
| CO2 Emission | n/a |
| Fuel Capacity | 74 L |
| Fuel Consumption | n/a |
| Range | n/a |

Dimensions

| | |
| --- | --- |
| Length | 4,710 mm |
| Width | 1,895 mm |
| Height | 1,370 mm |
| Wheelbase | 2,780 mm |
| Turning Circle | n/a |
| Ground Clearance | 110 mm |
| Wading Depth | n/a |
| Trunk Capacity | 315 L |
| Max Cargo | 315 L |
| Number of Doors | 2 |
| Number of Seats | 4 |

Safety & Security

Driver's Airbag
Front Passenger's Airbag
Side Airbag
Curtain Airbag
Knee Airbag
Electronic Brake Distribution
ABS

with Brake Assist

Immobilizer
Security Alarm
Stability Control
Electronic Door Locks
Speed Sensing Door Locks
ISOFIX
Lane Departure Warning System
Blind-Spot Detection System

Features

| | |
| --- | --- |
| Cruise Control | |
| Front Parking Sensors | |
| Rear Parking Sensors | |
| Leather Upholstery | |
| Push Start Button | |
| Wheel Size | 20 in |
| Wheels Metal Type | RAYS® |
| Airconditioning System | Autoclimate Control with LCD Monitor and Anti-dust Filter |
| Entertainment System | Bose Audio System with 8.0" Touch Panel with CD/Tuner/MP3/AUX/USBx2/ Bluetooth Device Connectivity / Voice Recognition via 11 speakers |
| Connectivity | USB, AUX, and Bluetooth |
| Navigation Ready | |
| Warranty | 3 Years (100,000 km) |
| Keyless Entry | |
| Roof Rack | |
| Sunroof | |
| Electric Adjustable Seats | |
| Power Steering | |
| Power Windows | |
| Power Outlet | |
| Steering Wheel Audio Control | |

Technology

| | |
| --- | --- |
| Active Park Assist | |
| Hill Start Assist | |
| AWD Modes | ATTESA ET-S Four-Wheel Drive (4WD) with Patented Independent Rear-mounted Transaxle |
| Tire Pressure Monitoring | |
| Heads-up Display | |
| Power Liftgate | |
| Start-stop System | |
Just One More Step To Get Your Quote
Find out more info, request a brochure, or request a quote by sending an inquiry below
Latest Review
The Avanza gets a bit of an update for this year. Is it more attractive this time around?

3.4

/

5

A few updates to the most comfortable midsize pickup truck goes a long way.

4.2

/

5

The Santana AT could be your very first Volkswagen. But how does it perform as a daily driver?

3.9

/

5