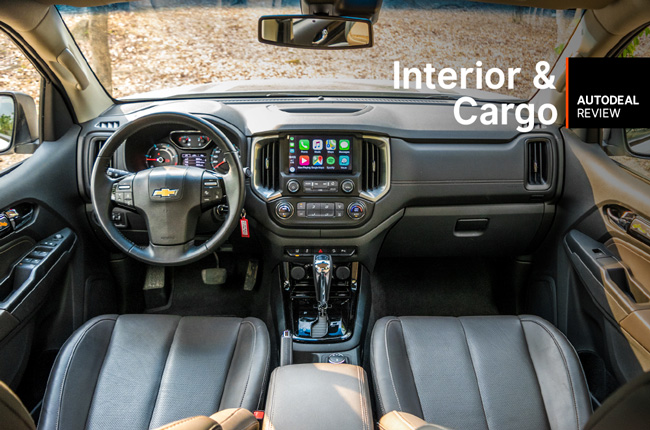 The Chevrolet Colorado High Country Storm may have been given extensive exterior updates, along with great technology and safety features, but it has a cabin to house all of these features while still being one of the best-looking interiors within the pickup truck realm.
To put that into perspective, here's a closer look at the 2019 Chevrolet Colorado High Country Storm's interior amenities and cargo area.
Interior: Tamed down pickup truck
When seated on the Colorado's driver's seat, it's pretty evident that it doesn't want to veer away from being a pickup truck. The seating position is tall, which would be better to stay that way since it's challenging to find the recommended driving position in this pickup if you prefer seated low. The lack of non-telescopic steering wheel adjustment and relatively flat seats prove to be a problem in three to four hours of driving.
The dashboard layout's straightforward, too, which is a good thing for faster familiarity with the vehicle. Leather populates most part of the cabin, along with a few bits of soft plastics and piano black accents. The latter is a bit of a downer since this material scratches easily and ages badly.
While the front cabin is gifted with a lot of cup holders and cubbyholes, the rear end isn't as fortunate, as the passengers at the back would need to settle with the door pockets for storage. The foldable armrest doesn't have cup holders, too.
Nevertheless, space is relatively sufficient for someone standing 5'10" and below but beyond that height, it would be a tight fit. The leaf suspension setup employs great ride comfort, better than most pickup trucks, while NVH insulation works like a charm, with only the engine noise creeping in but in a good way.
Cargo: Class leader
The Colorado's bed is one of the best in its class. In fact, it's even bigger than its American rival with 1,329-liters of cargo volume behind the double cab. It also has two tie anchors where you could strap your stuff on. Even better, the Colorado has a 1,003-kg payload capacity, so you have a ton of margin to move around when it comes to cargo hauling.
However, it could have been better if there's a 12V power socket at the bed area as it would be really useful.
2019 Chevrolet Colorado High Country Storm Interior Photo Gallery
Latest Review
Going for the middle variant is almost always a good choice. Does that hold true with the V variant of the BR-V?

3.9

/

5

The 2023 Ford Ranger Raptor, based on the T6.2 platform, is here in this first impressions review.

The OMODA 5 will headline the brand's launch in the country, check out what
View More Articles