The people mover segment of the car industry is filled with multiple options to choose from. You have options from mainstream manufacturers such as Nissan and Toyota which all have vans that easily address the need to shuttle people around, and you also have manufacturers such as Isuzu that have used their light-duty trucks to answer this call.
Then you have new entries into the segment with Maxus Philippines and the Maxus V80 which seeks to change our perception of what you can get from a people mover in terms of space and comfort. With that in mind, we will take a look at and review the V80 Comfort to see how it will stack up against the rest of its competitors and to see if it's worth getting.
2019 Maxus V80 Comfort Review
Performance
Engine Output (HP), Acceleration, Transmission, Handling 3.5/5
Design
Exterior & Interior Design, Quality, Fit and Finish, Ergonomics 3.5/5
Ride Comfort
Cabin Comfort, Suspension, NVH Insulation 4.0/5
Safety and Technology
Convenience Technologies, Active and Passive Safety Features 3.5/5
Value for Money
Amount of the vehicle you get for the price, Fuel Efficiency 4.0/5
What You Will Like
Spacious interior
Electric step board
Critical fluids are easy to check
What You Won't Like
The unit had an overheating issue
Plenty of blind spots
Hard to tell when the engine is about to stall
How We Do Our Reviews
Exterior
The Maxus V80 comes with typical van-like styling, it's a huge rectangle at the back paired with a short nose at the front. It comes with large halogen headlights at the front which are paired with LED daytime running lights. It also comes with large side mirrors which can be electrically adjusted from inside the vehicle. It also comes with blindspot mirrors which can aid you when parallel parking. Aside from this it also has a massive functional grille that helps cool the engine.
Moving on to the side of the V80 and you are greeted by a sliding door only on the right side, 16-inch alloy wheels, and an electric step board. At the back, you get two large doors that swing outward and a set of vertical bulb-type taillights. You also do get a rear foglight and a third brake light as well.
Interior
Keeping in mind that the V80 is a commercial vehicle, the interior works well to give you a robust interior that can handle the rigors of use. While it is predominantly gray and there are a few soft-touch materials here and there, you can tell at a glance that everything was meant to last and be operated with gloves on. The switches are large and chunky and everything is easily within reach of the driver and front passenger except for the hood release which is oddly placed on the right side of the vehicle.
Regardless, the interior meets the industry standard for a transporter-type vehicle as the cabin is spacious and there is room to move around thanks to the relatively high roof. This makes it easier for passengers to shuffle about inside and get comfortable thanks to the large windows on either side of the vehicle. One thing we do have to note is that the rubber on the shifter became sticky after the van was parked outside, while it aided with grip, it provided a rather odd experience each time you would need to shift a gear.
Comfort
The Maxus V80 Comfort lives up to its name as the passenger seats deliver a comfortable experience. The padding is nice and supportive and the seats can be reclined to give you a better experience. The air conditioning is also nice and cold and can easily keep the cabin cool without too much fuss. The suspension also keeps the bumps at bay but you can tell is geared towards a stiffer setting to handle the full weight of 13 people.
One thing we did notice was that it was a bit difficult to find the proper seating position for the driver especially if they were on the shorter side. The driver's seat does not have a high adjust feature but it does have a tilt feature that helps elevate your seating position just a little bit. It presents a trade-off as you will have to sacrifice height over fully being able to depress the pedals for shorter drivers. When it comes to taller drivers, however, the problem isn't as noticeable, we do wish that Maxus added a tilt and telescopic steering column to the vehicle to make it easier to drive.
Safety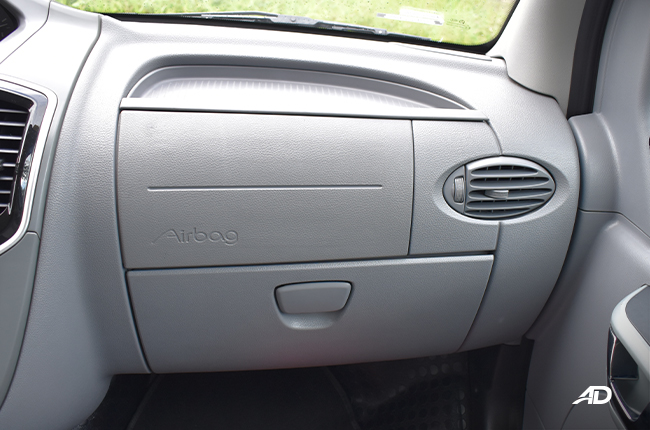 As the Maxus V80 is technically a commercial vehicle, it doesn't come with much in terms of safety features. It comes standard with ABS with EBD, rear parking sensors, 3-point seatbelts for the front passengers, and 2-point seatbelts for the rear seats. It also comes with driver and front passenger airbags and an immobilizer as well. We wish that it did come with a bit more safety features, but as the vehicle was meant to be a shuttle, we really can't complain and understand why Maxus went with this configuration.
Tech
There isn't much in the way of technology for the Maxus V80 as it only comes with a proprietary radio that comes with USB, Bluetooth, and Aux-In connectivity. The Bluetooth feature is something we appreciate about the vehicle as it lets you play your music or lets you stream Waze or Google Maps directions from the four-speaker sound system. Aside from this the V80 also comes with an electric doorstep which makes it easier to get in and out of the van.
Driving and handling
If you know how to drive a manual vehicle, then driving the Maxus V80 is a piece of cake, you get used to the size of the vehicle fairly quickly and the large mirrors on either side aid you well with maneuvering the rather large van.
Power delivery is smooth and you can feel the van wanting to pull even further once you reach the higher portion of the rev range. One thing we did notice is that the van likes to stay within the lower part of the rev range where it is most fuel-efficient and right under boost. This lets you confidently short shift without too much hassle as torque is plentiful.
We did notice that the car had cooling issues. The temperature gauge went over half when we took the V80 to Tagaytay after it came off the highway. While we don't know the exact causes of this, we theorize that it was due to an oil cooling issue with the unit. To remedy this we turned off the air conditioning for a bit and stayed under boost so that the engine could cool down.
One downside with the V80 is that the van doesn't give you too much of a warning when it is about to stall. Typically a vehicle will shudder when the engine is about to stall out, in the case of the V80, it just dies immediately. There are times when you think you will be able to crawl in second gear and find yourself with a dead engine instead. To remedy this, you will need to adjust your mindset a bit with the vehicle and note that even at 10km/h it's better to shift it into first gear rather than stay in second and hope it pulls. Conversely, you can also try to play around with the clutch and feather it so you can maintain second gear.
As previously mentioned, getting into the right driving position can be hard, especially for shorter people and the placement of the horn buttons can also make you accidentally honk at people without intending to do so. This can be remedied by shifting to a shuffling style of steering instead of the typical hand-over-hand style.
Fuel Economy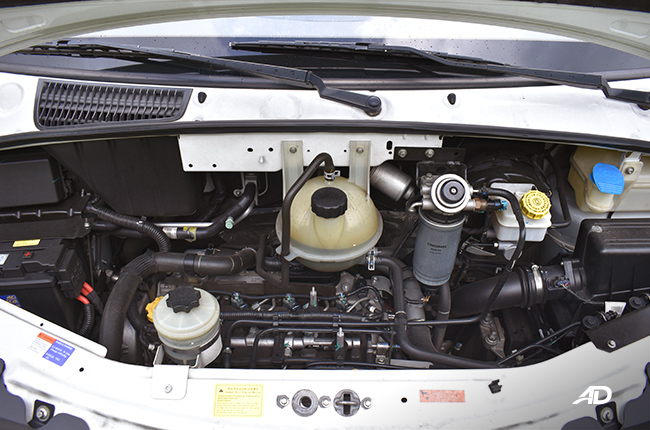 Under the hood, the Maxus V80 comes powered by a 2.5-liter turbo diesel engine. It pushes out 134hp and 330 Nm of torque which is sent to the front wheels via a 6-speed manual transmission. With this combination and the sheer size of the van we were able to eke out 7km/L in the city while staying under boost, and 14km/L on the highway at an average speed of 80km/h. Take note that these are estimated numbers as the V80 doesn't with a fuel economy meter as standard.
Overall these are decent figures considering that the van is tall and wide and has a less than favorable aerodynamic shape. We were able to get around 550 kilometers worth of range from the 80-liter fuel tank with mixed-use.
Verdict and Price
The Maxus V80 Comfort is priced at P1,670,000 which is a tall ask especially as it puts it in contention against the likes of the Nissan NV350 AT and the Toyota Hiace. Since it's only available with a manual transmission, it can be a bit of a big ask from a person looking to use it as their family vehicle. However, if you shift your view to that of a person or company looking for a good shuttle-type vehicle, then this is where the V80 shines.
For quick trips and the occasional long-distance haul, the V80 is great. It may be rough around the edges for someone looking at it as a family vehicle, but as a shuttle, there is nothing to complain about with the van. It works well provided that the oil is changed out regularly and maintenance is easy as everything is within reach once you pop the hood. Overall it's a well-balanced van for those looking for a comfortable van to move people around.
Exterior Photo Gallery
Interior
---
Specifications
Performance
134 hp @ 3,800 rpm
---
Summary

| | |
| --- | --- |
| Name | Maxus V80 2.5 Comfort CRDi MT (13-Seater) |
| Body Type | Van |
| Price | ₱1,670,000 |
| Transmission Category | Manual |

Engine

| | |
| --- | --- |
| Engine Size | 2.5 L |
| Displacement | 2,499 cc |
| Number of Cylinders | 4 |
| Number of Valves | 16 |
| Transmission Type | 6-Speed Manual Transmission |

Performance

Drivetrain
Rear-Wheel Drive
Max Output (HP)
134 hp @ 3,800 rpm
Max Torque (nm)
330 Nm @ 1,800 rpm
*Acceleration Rate (0-100 km/h)
n/a
Top Speed
n/a
*estimated

Economy & Environment

Fuel Type
Diesel
CO2 Emission
n/a
Fuel Capacity
80 L
*Fuel Consumption
n/a
*Range
n/a
*estimated

Dimensions

| | |
| --- | --- |
| Length | 4,950 mm |
| Width | 1,998 mm |
| Height | 2,132 mm |
| Wheelbase | 3,100 mm |
| Turning Circle | n/a |
| Ground Clearance | n/a |
| Wading Depth | n/a |
| Trunk Capacity | n/a |
| Max Cargo | n/a |
| Number of Doors | 5 |
| Number of Seats | 13 |

Safety & Security

Driver's Airbag
Front Passenger's Airbag
Side Airbags
Curtain Airbags
Knee Airbag
Auto Brake System
Electronic Brake Distribution
Anti-lock Brake System (ABS)

With Electronic Brake Force Distribution

Immobilizer
Security Alarm
Stability Control
Electronic Door Locks
Speed Sensing Door Locks
ISOFIX
Lane Departure Warning System
Blind-Spot Detection System

Features

| | |
| --- | --- |
| Cruise Control | |
| Front Parking Sensors | |
| Rear Parking Sensors | |
| Leather Upholstery | |
| Push Start Button | |
| Wheel Size | 16 in |
| Wheels Metal Type | Alloy |
| Airconditioning System | Front & Rear Manual Air Conditioning |
| Entertainment System | Radio Tuner with USB, Aux-in, and Bluetooth via 4 Speakers |
| Connectivity | Aux-in, USB, Bluetooth |
| Navigation Ready | |
| Warranty | 3 Years (100,000 km) |
| Keyless Entry | |
| Roof Rack | |
| Sunroof | |
| Electric Adjustable Seats | |
| Power Steering | |
| Power Windows | |
| Power Outlet | |
| Steering Wheel Audio Control | |

Technology

| | |
| --- | --- |
| Active Park Assist | |
| Hill Start Assist | |
| AWD Modes | n/a |
| Tire Pressure Monitoring | |
| Heads-up Display | |
| Power Liftgate | |
| Start-stop System | |
---
Get the best deal - Choose multiple dealerships to compare offers!
Select up to 5 dealerships and compare their offers
Over 70% of dealers reply within 1 hour
100% hassle-free with no obligation to purchase
Latest Review
With such an iconic model, we couldn't help but enjoy every moment we had with this: The MINI Cooper S 3-Door.

4.1

/

5

First impressions are good of the Mazda CX-90, and Mazda's newest and biggest crossover is also its most expensive.

What's in a base model? Ford has redefined the base trim in its lineup.
View More Articles