It's funny how successful the Alphard has gotten in recent years. With the waiting list filled to the brim with orders, and the unit commanding such a high premium it only seems appropriate that a larger, more affordable, and better-equipped model is the only other way to further cement Toyota's dominance when it comes to mini- and full-size vans.
The Hiace Super Grandia Elite has come a long way and is now worthy of being compared to Aling Dionisia's ride.
2020 Toyota Hiace Super Grandia Review
Performance
Engine Output (HP), Acceleration, Transmission, Handling 3.5/5
Design
Exterior & Interior Design, Quality, Fit and Finish, Ergonomics 4.5/5
Ride Comfort
Cabin Comfort, Suspension, NVH Insulation 4.0/5
Safety and Technology
Convenience Technologies, Active and Passive Safety Features 4.0/5
Value for Money
Amount of the vehicle you get for the price, Fuel Efficiency 4.5/5
What You Will Like
4 captains' chairs
Immense space for passengers
Toyota Safety Sense 2
NVH insulation is superb
What You Won't Like
Infotainment system is dated
No power tailgate
No blindspot monitoring or 360-degree camera
Piano black plastics everywhere
How We Do Our Reviews
First, to preface this review, I went on a trip that spanned about 1,000 km from Manila to Vigan to Paoay and back. Over 24 hours' worth of driving was clocked in the city, on the highway, and on provincial roads. I also discovered that the Hiace, in its many trim levels, is a staple for Filipino families, and I had brought the best one that Toyota could offer. It's good, but just how good?
Exterior
Whenever I review vans and minibuses, I don't normally swoon with excitement. It's a box, it looks like a loaf of bread rolling on a road, and with the two-tone color scheme going on, it's hard not to associate the gold with the crust and the white with – well – the bread white.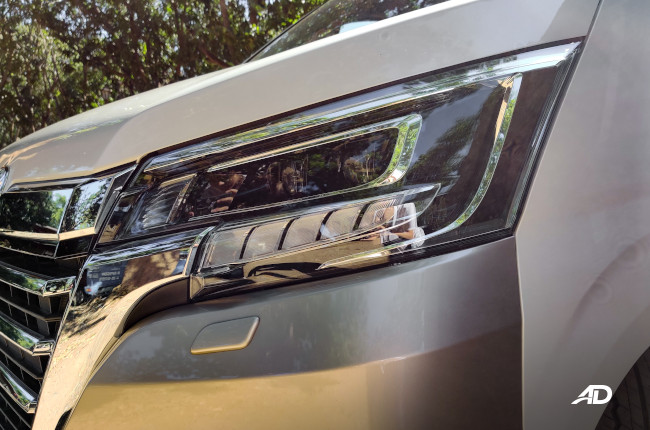 Associations aside, this is the first time I've fallen for a van. The front looks gorgeous and well-adorned. I thought that the normal Commuter and Grandia vans are both normal-looking, but with the Super Grandia, it's a night and day difference. Speaking of which, the lights are equally as superb in form as they are in function simply because the output is on another level of luminous. The intensity and cut-off are fitting for a high-end vehicle of this caliber.
Other vans try and mask their boxiness, but the Hiace Super Grandia just embraces it. Every angle is sharp and unapologetically square. Meanwhile, the rear is reminiscent of the old Hiace, with the light array bleeding through to the tailgate. I'm honestly smitten by the Super Grandia, or maybe I'm just getting old.
Interior
The interior has come a long way since the previous-generation Super Grandia. The large cabin can fit 10 people who all seat in a 2-2-2-4 configuration. You get two captain's chairs that are lifted straight off the Alphard, while the third-row pair of captain's chairs are manual recline without leg rests, and a bench that is wide enough to accommodate four average-size Filipinos is at the last row.
Interior feel is par for the course, if not a little better. There are a bunch of glossy black plastics and wood accents that cheapen the look after a few smudges and dirt particles. Personally, I like the black and brown scheme, but I would have preferred matte instead of the gloss surfaces. Overall, it's well-built for the major components, and no creaks and rattles surfaced during my testing period.
Cargo space is a bit of an issue if you're hauling 10 individuals each with their own luggage. That being said, we were only eight in the van, allowing us to stow away half of the rear bench for more bags. If you're carrying 6 individuals, cargo space is no issue, however, the third pair of seats can't recline as much with the fourth row off to the side, which is an issue as you'd have to sacrifice legroom for recline in the second pair of captains' chairs.
Comfort
Since this van is still based on a ladder-frame chassis, it rides similar to other vehicles in its class. Toyota claims that the Super Grandia rides better thanks to a coil-spring rear suspension. It does ride better than its more affordable counterparts, but it still retains the familiar sway and bounce that vans are known for.
The bounciness is offset by all the space and the headroom. The seats are pretty comfortable, as well, and offer great support, save for the rear flat bench – understandable. Though, no matter where you are in the cabin, the engine is essentially inaudible and NVH insulation is choice. You really can kick back and relax in the back seat of one of these.
Technology
I'm still not a fan of Toyota's head units. The same 7-inch infotainment system with Bluetooth, USB, and AUX connectivity is still standard even in the top of the line Hiace Super Grandia Elite variant. If you were the driver, you'd be appalled at the unit, but since the owner of the car is likely seated at the back, then it's reasonable, somewhat given that the sound system is good enough for everyone in the cabin. The 6-speaker audio system is adequate, but an extra pair could have added to the audio experience.
This may be a passenger-centric car, but the Elite variant does have Toyota's Safety Sense 2 on board, which is for the driver's use. I can't justify why this feature was included, but having driven this car for kilometers on-end, the system allows the driver to relax a little bit because the active braking system is quite good at following other cars' speeds. This, in turn, allows the driver to go on longer distances. Other pieces of technology that aid in driving are the backup camera, which outputs to the rear-view mirror (an uncommon location), and front and rear parking sensors. Locking, unlocking, and even opening the doors can be done through the key fob, which is part of the keyless push-start system.
Other than that, every row gets its own set of air vents, as well as 2.1 amp USB ports to charge devices and mood lights. One other thing that I do appreciate is the inclusion of high-quality reading lights that can swivel. Oh, and another neat party trick that the model borrowed from the Alphard is the automatic doors. How ballin' is that? What's not so ballin' is the fact that Toyota has omitted a power tailgate. A real bummer since opening and closing the rear door is a hassle to say the least.
Safety
As mentioned in the technology segment, Toyota's Safety Sense 2 isn't just a party trick. The system includes a pre-collision system, lane-departure alert, adaptive cruise control, and automatic high beam. I was able to test all of these systems and they were very easy to use.
Other equipment includes ABS with brake assist, and electronic brakeforce distribution, stability and traction control, ISOFIX tethers and a total of nine airbags, two in front, one for the driver's knee and the rest on the sides. I would have liked a blind-spot monitoring system, or even a 360-degree camera because this vehicle is so long and wide.
Driving and Handling
Piloting the Toyota Hiace Super Grandia is a challenge for the inexperienced driver. Because of its size and width, driving around the Metro proves to be a chore unless you're skilled or no stranger to big cars. Handling around town is fine with steering leaning towards the heavier end of the spectrum. At speed, the chassis handles well and the brakes bite reasonably. When the adaptive cruise is active, the brakes are reasonably smooth, but since it is an autonomous system, the activation is a little abrupt.
Acceleration and power are good enough. granted, it only has 4 cylinders and 2.8L of displacement capable of producing 174 hp and 450 Nm of torque outputting to the rear wheels through a 6-speed automatic. This is the same exact engine that can be found in the Toyota Fortuner and Hilux, which means that if needed, the motor can deliver instantaneous torque even at low RPMs because it runs on diesel. The engine's capability offsets the weight penalty, though it struggles quite a bit when it comes to gaining on the highway. Even at speed though, and even if it is shaped like the broadside of a barn, no wind noise crept in, which is a shock for me to say the least.
Fuel Economy
Because this vehicle is powered by diesel, the Hiace Super Grandia even with all its weight was able to average about 6 km/L in medium to heavy city traffic. When the roads freed up in the metro the average shot up to 8 km/L. On the highway, fuel economy is rated at a respectable 12 - 14 km/L fully loaded with oldies sleeping in the back and eight pieces of luggage.
Here's a bonus: the whole trip to Vigan and Paoay netted me an average of about 10 km/L. That includes everything from city, highway, and provincial driving.
Verdict
Toyota has a winner on its hands against all other competing full-size vans in the market. I think that this is the best Hiace Super Grandia to date. Priced at exactly P2,998,000, it does juxtapose me a bit in terms of if it is worth it because of its ride and its product positioning, since it is pretty much a van with fancier bits. When compared to the Alphard, which is priced at over P3,700,000, the Hiace is a deal that is hard to beat. You get more space and more or less the same experience. You also get more toys to play with since it is a newer model, and in that regard, the Hiace Super Grandia Elite is a great buy. Cons seem to fade away once you sit in the captain's seat, and nap all its shortcomings away.
On the flip side, you do have to consider that the Toyota Safety Sense 2 doesn't make sense if you're being chauffeured around town anyway since the price to acquire a system like this is a bit steep. Perhaps other variants are worth a look if you're on a budget. The ride could also be smoother, and the head unit could be better. For this price, a 360-degree camera should be included, and the backup camera should output to the center screen.
Judging by how many people have already bought the new Hiace Super Grandia, and how there is a line for the unit, it means that all my negative points mean scat, and test drives should be test rides when purchasing this model. It's worth it for the back seats alone. This rolling loaf of bread is the equivalent to a product that revolutionized an industry – sliced bread.
Exterior Photo Gallery
Interior Photo Gallery
---
Specifications
Performance
174 hp @ 3,400 rpm
---
Summary

| | |
| --- | --- |
| Name | Toyota Hiace Super Grandia Elite Luxury Pearl Toning |
| Body Type | Van |
| Price | ₱3,173,000 |
| Transmission Category | Automatic |

Engine

| | |
| --- | --- |
| Engine Size | 2.8 L |
| Displacement | 2,755 cc |
| Number of Cylinders | 4 |
| Number of Valves | 16 |
| Transmission Type | 6-speed Automatic |

Performance

Drivetrain
Rear-Wheel-Drive
Max Output (HP)
174 hp @ 3,400 rpm
Max Torque (nm)
450 Nm @ 1,600 rpm
*Acceleration Rate (0-100 km/h)
n/a
Top Speed
n/a
*estimated

Economy & Environment

Fuel Type
Diesel
CO2 Emission
n/a
Fuel Capacity
70 L
*Fuel Consumption
10.3 L/100 km
*Range
722 km
*estimated

Dimensions

| | |
| --- | --- |
| Length | 5,300 mm |
| Width | 1,970 mm |
| Height | 1,990 mm |
| Wheelbase | 3,210 mm |
| Turning Circle | 5.5 m |
| Ground Clearance | 175 mm |
| Wading Depth | n/a |
| Trunk Capacity | n/a |
| Max Cargo | n/a |
| Number of Doors | 5 |
| Number of Seats | 10 |

Safety & Security

Driver's Airbag
Front Passenger's Airbag
Side Airbags
Curtain Airbags
Knee Airbag
Auto Brake System
Electronic Brake Distribution
Anti-lock Brake System (ABS)

With Brake Assist

Immobilizer
Security Alarm
Stability Control
Electronic Door Locks
Speed Sensing Door Locks
ISOFIX
Lane Departure Warning System
Blind-Spot Detection System

Features

| | |
| --- | --- |
| Cruise Control | |
| Front Parking Sensors | |
| Rear Parking Sensors | |
| Leather Upholstery | |
| Push Start Button | |
| Wheel Size | 17 in |
| Wheels Metal Type | Alloy |
| Airconditioning System | Automatic Climate Control |
| Entertainment System | Display Audio with CD/DVD/MP3/FLAC with AUX, USB, Bluetooth, T-Link (for Apple & Android) and K2 Technology and 6 Speakers |
| Connectivity | AUX, Bluetooth, USB, T-Link (for Apple & Android) |
| Navigation Ready | |
| Warranty | 3-year (100,000 km) |
| Keyless Entry | |
| Roof Rack | |
| Sunroof | |
| Electric Adjustable Seats | |
| Power Steering | |
| Power Windows | |
| Power Outlet | |
| Steering Wheel Audio Control | |

Technology

| | |
| --- | --- |
| Active Park Assist | |
| Hill Start Assist | |
| AWD Modes | n/a |
| Tire Pressure Monitoring | |
| Heads-up Display | |
| Power Liftgate | |
| Start-stop System | |
---
Get the best deal - Choose multiple dealerships to compare offers!
You can compare quotations simultaneously from multiple Toyota dealerships. Select your preferred dealers from the list below.

Compare quotations from multiple dealerships in minutes.
Check vehicle and color availability.
Find info on special offers and promotions.
100% Hassle-free with no obligation to purchase.
Latest Review
Volkswagen Philippines launched the Tharu into a new price bracket leading to more expectations with this model.

The GAC GS8 in both 2WD and 4WD variants is a spacious and luxurious SUV that commands everybody's attention.

Competence can only do so much so does the Creta have an X-factor that can help it compete?

3.9

/

5
View More Articles