Changan Philippines is a fairly new brand in the country, however, it entered the local market with a bang as it brought in a stellar lineup of vehicles for you to choose from. While the majority of its vehicle offerings reside in the more affordable part of the market segment it does have a flagship model that comes with a price tag of over P2,000,000. This vehicle in question takes the form of the Changan CS95, the brand's more premium offering that brings a lot to the table in terms of features and power.
That being said, we take a quick look at the CS95 to see where it resides in the Philippine market and if this vehicle is the right one for you with our in-depth and honest review.
Performance
Engine Output (HP), Acceleration, Transmission, Handling 3.5/5
Design
Exterior & Interior Design, Quality, Fit and Finish, Ergonomics 4.0/5
Ride Comfort
Cabin Comfort, Suspension, NVH Insulation 4.0/5
Safety and Technology
Convenience Technologies, Active and Passive Safety Features 3.5/5
Value for Money
Amount of the vehicle you get for the price, Fuel Efficiency 3.5/5
What You Will Like
Plentiful soft-touch materials
Rear air vents and cooled front seats
360-degree camera
What You Won't Like
Low fuel efficiency figures
No Apple CarPlay and Android Auto
Piano black plastics
How We Do Our Reviews
Exterior
The Changan CS95 comes with typical SUV-like styling. It has a long hood and a relatively flat front fascia. It comes with a massive grille that is flanked on either side by sleek-looking LED headlights with height adjustment. While its styling front cues may resemble a few other vehicles in the market, it all comes together to give you a great premium package.
On the side of the vehicle, you are met with strong character lines and color-matched body cladding. It also has a strong beltline that extends from the headlights and goes all the way to the taillights at the back. There are a few creases on the door that add a little more depth to the CS95. Notably, the vehicle gets blacked-out A-pillars and a blacked-out roof as well which further adds to its premium styling. There are cameras also found on the sides of the vehicle to help you aid in maneuvering its rather large size.
At the rear, you get masculine lines along with strong cuts and creases that emulate a robust look at the back. You also get LED taillights along with rear fog lights. While the center garnish may look like it's only there for display, you will be happy to know that it is functional. This gives the CS95 great visibility at night and gives it a unique look as well. Something notable to mention is that the CS95 also comes with a power tailgate for ease of use.
Interior
Entering the cabin of the Changan C95, you are greeted with a premium look and feel that denotes the vehicle's price tag. It comes with a wide and long dashboard that has a good amount of soft-touch materials that are strategically placed in high-touch areas. These materials continue onto the center console of the vehicle and the second row. You are also greeted by power-adjustable seats that come with black leather material for great driving comfort.
One thing that we did notice is that the entire area near the gear shifter does come with piano black plastics which isn't a good thing in our book as this kind of material can easily be scratched. However, aside from that everything else in the vehicle is premium, down to the climate controls that are easy to use, the drive mode selector, and the gear shifter.
We also liked the fact that the CS95 has heated and cooled seats for the front row. The cooling function we found particularly great as it helped cool down the seats if the vehicle was parked outside and the leather material was hot to the touch.
Another thing we noticed is that the plastic door sidings would creak over certain bumps, while we understand that the model we had was a well-worn-in test unit, as a prospective owner this is something that you might want to take note of as the vehicle ages. Nevertheless, the Changan CS95 exceeded our expectations when it comes to its interior details.
Comfort
Ride comfort in the Changan CS95 is about average for its price point and segment. There isn't much to complain about as the vehicle easily soaks up the imperfections of the road without any muss or fuss. The bolstering of the seats is also great and aids the suspension in soaking up the bumps.
The second row of the CS95 is where you will want to be as there are air vents found at the back along with a great amount of legroom as well. Just like the front the seating material and soft and supportive which gave us nothing to complain about. However, we do wish they added a cooling function to the back similar to what they did with the driver and front passenger seats.
Third-row comfort is on par with the rest of the competition with legroom best suited for children or smaller adults. Space is still good, however, it can be taxing on longer drives. Overall comfort is good in the Changan CS95 with little to complain about since the vehicle gives you a smooth and pleasant ride.
Tech
The first thing you will notice about the Changan CS95 when you first step into its cabin is its massive 12.3-inch touchscreen. It does come with a bit of a learning curve but once you get used to it, it becomes second nature. One thing to note is that it does not come with Apple CarPlay and Android Auto, but it does come with its navigation system. However, we weren't able to get the system to work as it was tuned for the Chinese market. This is one downside that owners will have to face when it comes to the crossover as while the technology is already there it hasn't been well adapted to the local market.
Another feature that we enjoyed about the Changan CS95 is its 360-degree camera. Since the vehicle itself is pretty large, it came in handy while maneuvering through tight spaces and parking. Just like other automakers with this feature, there is a 3D function that helps you better understand where your vehicle is compared to other objects around you.
Overall, the feature set that the Changan CS95 is great with just a couple of downsides here and there when it comes to the infotainment system.
Safety
The Changan CS95 comes with a standard range of safety features. It carries with it dual front airbags along with curtain airbags as well. ABS with EBD is also standard with the vehicle and is a very much welcomed feature as it is rather heavy. Aside from this it also comes with ISOFIX tethers, front and rear parking sensors, and a tire pressure monitoring system.
Overall a great feature set, however, we wished Changan added more passive and active safety features to the vehicle such as adaptive cruise control instead of just regular cruise control. Ultimately its safety feature set is on par with the competition.
Driving and handling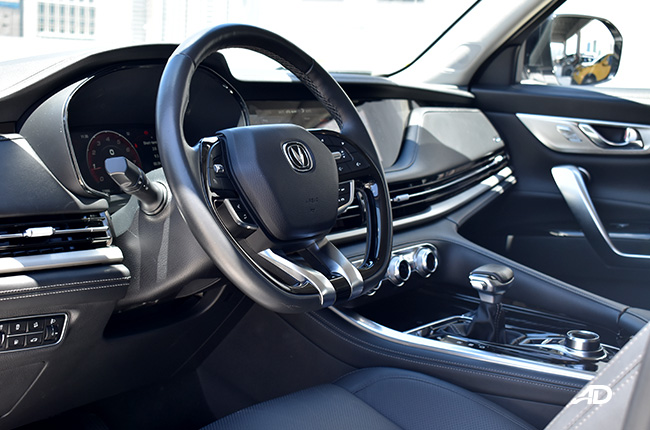 One of the first few things you will notice when driving the Changan CS95 is the weight of the vehicle. While the 2.0-liter turbocharged engine does come with enough power and torque to get you moving quickly, the weight is still very much evident. Body roll is also noticeable in the vehicle, especially at higher speeds. At lower speeds the ride feel is great and cabin comfort is also great as well.
One thing we did notice is that at least for this particular unit, the brakes were slightly on the weaker side which made it harder for us to stop the car. However, your results may vary as the braking feel and action may be different with a newer unit.
Fuel economy
Under the hood, the Changan CS95 packs a 2.0-liter turbocharged engine that produces 228hp and 360 Nm of torque. Power is sent to the front wheels via a 6-speed automatic transmission. While these power figures may seem great on paper, it's the weight of the vehicle that slows it down. This is also why during our fuel economy testing the CS95 was only able to manage 5.3km/L in the city. On the highway, the fuel economy figures were a bit better as the vehicle was able to push out 11km/L at a cruising speed of around 80km/h.
Verdict and Price
The Changan CS95 presents itself as an alternative to the already well-established vehicles in its segment. It gets the basics right of being a premium vehicle as it comes with a great feature set and a smothering of soft-touch materials all around the cabin. The panoramic sunroof brings more light into the interior and the power-adjustable seats for both the driver and front passenger make it easier to get into a comfortable driving and riding position. The cooled seats are also a big help as they can elevate the drawbacks of having leather seats in a tropical country.
However, the CS95 does face stiff competition despite its P2,178,000. It has to go up against established players such as the Ford Explorer and the Mazda CX8 and CX9, both of which do come with similar features and more importantly Apple CarPlay and Android Auto. At this price bracket, there are customers out there who are willing to pay more to get these features. Aside from this, the Changan also faces an uphill battle when it comes to its fuel economy as its competitors have better figures.
Despite these things, the Changan CS95 is still a great option for those who want something different. It has SUV-like styling that helps it stand out in a sea of traffic. Its design is a head-turner as not many people will end up doing a doubletake to get a closer look at the car. It also comes with a VIP appeal as the second row is spacious and comes with rear air vents as well. Overall the Changan CS95 checks most of the right boxes for what you would want in a premium vehicle, it just has a few quirks that could be ironed out in its next iteration for the Philippine market.
Exterior Photo Gallery
Interior Photo Gallery
Latest Review
We drive the Suzuki S-Presso through the ups and downs of Baguio, to find out how it is with the new AGS transmission.

Here's an exclusive look at the JAECOO 7, a compact crossover with a tough but elegant exterior, and a capable powertrain.

Going for the middle variant is almost always a good choice. Does that hold true with the V variant of the BR-V?

3.9

/

5
View More Articles