When it comes to small cars, Suzuki knows how to build quite a few good ones. Affordable, compact, and quirky are among the few adjectives that we would use to describe the brand's more entry-level cars. However, this time around, the Suzuki S-Presso may just be the most fascinating one of the bunch and not because it is new, but because it seems very suited to the Philippine roads.
Coming into the review of the S-Presso, we kept an open mind and kept the price of it, which is just P518,000 in the back of our heads the entire time. Considering its price point and the reputation that Suzuki Philippines has in the market, the S-Presso ticks a lot of the right boxes, and should be enough for your daily tasks as long as you set your expectations just right, let's dive in.
2020 Suzuki S-Presso Review
Performance
Engine Output (HP), Acceleration, Transmission, Handling 3.0/5
Design
Exterior & Interior Design, Quality, Fit and Finish, Ergonomics 4.0/5
Ride Comfort
Cabin Comfort, Suspension, NVH Insulation 4.0/5
Safety and Technology
Convenience Technologies, Active and Passive Safety Features 3.5/5
Value for Money
Amount of the vehicle you get for the price, Fuel Efficiency 4.5/5
What You Will Like
Surprising amount of space
Frugal 1.0-liter engine
Ground clearance
What You Won't Like
NVH insulation is not the best
Interior is just okay compared to the exterior
No automatic transmission option
How We Do Our Reviews
Exterior
Looking at the S-Presso is easy. There is an abundance of personality. We admit, however, that it is not the sexiest-looking car given that its proportions are a bit on the stubby side, but that's what makes it a rather cute-looking car. The proportions of it are very compact, it has wide eyes and a grille that's not actually a grille, and a bottom end that is only partially open. Black cladding can be found all over, but we're more neutral about this design since it is lifted, and the black plastics will take dirt and grime a bit better than paint.
On its side, you do see just how short and stubby this little car can get. The antenna is long and can make it seem like an RC car. You also get a 14-inch steel set of wheels with hubcaps, which is fine for the price, though it would have been a sweeter deal if it was an alloy set.
There are a lot of cost-cutting measures here, we're not going to lie. You only get one windshield spray nozzle, one reverse light, and no fender liners. We can forgive the single windshield washer or the single reverse light, but admittedly, a set of fender liners would have made the tall wheel wells a lot less of a standout. That's the thing though, aside from the nitpicks, it has a personality about it, a sort of charm that just makes you look at it. It's a novelty to see this thing in person because it is so quirky.
Interior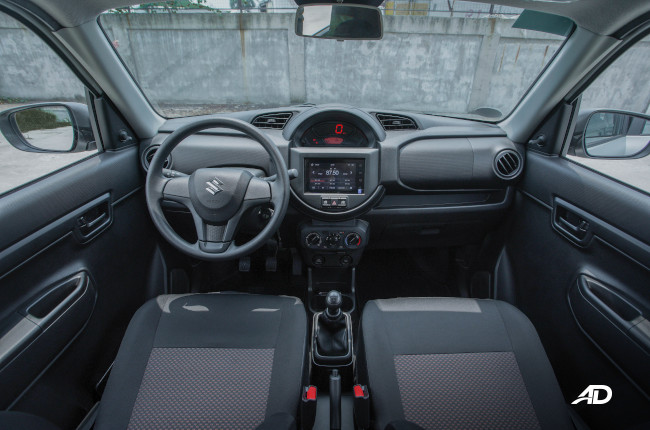 We're not the biggest fans of the interior design of the S-Presso. It is different from many other cars, but we would have liked to see some of that personality from the exterior make its way to the interior. Though somewhat lackluster, it makes sense from a durability standpoint. There's not a lot of soft-touch material, granted, but that means that the interior panels can take a beating and should last quite some time.
However, space is one of the most surprising things about this cabin. The S-Presso somehow manages to fit individuals nearly 6-feet tall with little to no trouble. The seating position in the S-Presso is taller than usual, and the headroom is good. The front seats are also elevated allowing for rear passengers more space to situate their legs and feet. Though, side to side, it's not that wide in the first place so fitting 3 people in the back will be a tight squeeze.
Another great thing about the S-Presso is its storage space. At 239 liters of cargo volume with the rear seats up, which is par for this cars' class. The rear seats can also fold down to allow even more cargo space to be freed up which is expected since it has a two-box design.
Comfort
In the city, the S-Presso was reasonably comfortable. You do get quite a bit of space for such a small car, which allows you to stretch provided only 4 occupants are inside. Although, it does feel light over bumps, but nothing too alarming thanks to the ground clearance of 180 mm. The suspension is also standard for its class, with MacPherson struts in the front and a torsion beam in the rear. On well-worn roads, expect a few bumps to penetrate the cabin.
On the highway, we have to note, however, that the engine does tend to get a little loud. Tire noise also creeps as does wind noise at higher speeds. The lack of sound dampening and the boxy profile of the body is mostly to blame here, which means that the S-Presso is a city slicker through and through – to us at least.
Technology
While the interior is rather basic, the infotainment is a step up from that. It's passably good considering the price and considering that it at least has Bluetooth connectivity, a feature that we deem a must-have, especially in today's age. Apart from that, you get two 12-volt sockets, one in the front, and one in the rear. You even get a USB socket in the front which is a nice addition to have.
Apart from that, there isn't much tech that goes on inside the cabin, which is understandable given the price point. You also get an LCD digital speedometer, with no tachometer, which is odd given that it is a manual transmission model only, and power windows for the front only. The switches for said windows are in the center console, meanwhile, the rear gets classic windy windows. It's a cost-cutting measure for sure, and call it being spoiled by technology, but aren't electronic windows supposed to be standard nowadays? However, we would give it a bit of a pass because if that meant that we would have to trade power windows all around for rear parking sensors, we'd rather take the rear parking sensors if we're being honest.
Driving and handling
All those qualms disappear once you get behind the wheel of this tiny car. Equipped with a 1.0-liter engine that produces 67 hp and 90 Nm of torque mated to a 5-speed manual transmission. This engine, even if it is small, is enough for the weight of the car and a few passengers. Once loaded up, the small 3-cylinder engine will struggle a bit, and you will find that you have to give it a bit more gas than usual. It's not a deal-breaker, even when loaded up the car still performed well enough within the city. On the highway, however, it will take a while for the S-Presso to get up to highway speed. If you want to merge quickly or overtake, you do have to shift to the appropriate gear and put the engine at an optimal RPM to get as much power out of the 1.0-liter mill as possible. We do wish that this model did at least come with an automatic or a CVT.
In the city, though, the S-Presso is a joy to use. Its tall stature means that you won't have to worry about potholes scraping your undercarriage. The lightness also allows it to have extremely nimble steering and handling characteristics, which make it a great city car to take through tight city streets, parking lots, or through rush hour EDSA. The clutch is also light, and not that bothersome to use. Shifting through the manual transmission is a breeze and is reasonably notchy. We do have to give it some flack, however, about its handling at speed. While it is a light car, the higher center of gravity makes it a little unsettling in corners, but the manual transmission and the lightness really make you want to drive it and engage with the car, so proceed with caution.
Fuel Economy
Apart from that, you're looking at fuel economy figures that are quite astronomical considering that the S-Presso's engine should be overworked. The truth is, however, that with two people inside the car, you can get up to 11 km/L in the city, 19km/L once things clear up, and up to 25 km/L going on the highway when you eventually get to 90 km/h, which is great. Suzuki cars are known for being very frugal a lot of the time, so the S-Presso's performance is no shocker.
Safety
The theme of you get what you pay for, subsists in the S-Presso's list of safety features, but you do get a standard kit, which includes dual front airbags, ABS, Child Proof door locks, an engine immobilizer, and ISOFIX Tethers.
Verdict
For P518,000, you have to know what you are getting. The main selling point of the Suzuki S-Presso is that it offers a crossover-like ride and drive at a price that is way more affordable than almost anything in the market. When shopping at that price point, the S-Presso starts to make sense. Other rivals would also come with manual transmissions, basic infotainment, and not nearly enough ground clearance.
So if you are looking for a car with a manual transmission, everything you need, quite a bit of space, and a load of personality to boot, then the Suzuki S-Presso definitely should be one of your top picks. If this will be your first car, consider that you will be driving stick with the S-Presso, and to us, it's a good learning experience, unless you want to go straight into an automatic. That being said, however, it makes a great secondary vehicle.
Exterior Photo Gallery
Interior Photo Gallery
---
Specifications
Performance
67 hp @ 6,000 rpm
---
Summary

| | |
| --- | --- |
| Name | Suzuki S-Presso GL MT |
| Body Type | Hatchback |
| Price | ₱563,000 |
| Transmission Category | Manual |

Engine

| | |
| --- | --- |
| Engine Size | 1.0 L |
| Displacement | 998 cc |
| Number of Cylinders | 3 |
| Number of Valves | 12 |
| Transmission Type | 5-speed manual |

Performance

Drivetrain
Front-Wheel Drive
Max Output (HP)
67 hp @ 6,000 rpm
Max Torque (nm)
90 Nm @ 3,500 rpm
*Acceleration Rate (0-100 km/h)
n/a
Top Speed
n/a
*estimated

Economy & Environment

Fuel Type
Gasoline
CO2 Emission
n/a
Fuel Capacity
27 L
*Fuel Consumption
5.1 L/100 km
*Range
n/a
*estimated

Dimensions

| | |
| --- | --- |
| Length | 3,565 mm |
| Width | 1,520 mm |
| Height | 1,565 mm |
| Wheelbase | 2,380 mm |
| Turning Circle | 9.0 m |
| Ground Clearance | 180 mm |
| Wading Depth | n/a |
| Trunk Capacity | 239 L |
| Max Cargo | n/a |
| Number of Doors | 5 |
| Number of Seats | 5 |

Safety & Security

Driver's Airbag
Front Passenger's Airbag
Side Airbags
Curtain Airbags
Knee Airbag
Auto Brake System
Electronic Brake Distribution
Anti-lock Brake System (ABS)

Electronic Brake-force Distribution (EBD)

Immobilizer
Security Alarm
Stability Control
Electronic Door Locks
Speed Sensing Door Locks
ISOFIX
Lane Departure Warning System
Blind-Spot Detection System

Features

| | |
| --- | --- |
| Cruise Control | |
| Front Parking Sensors | |
| Rear Parking Sensors | |
| Leather Upholstery | |
| Push Start Button | |
| Wheel Size | 14 in |
| Wheels Metal Type | Steel |
| Airconditioning System | Manual Cooler, Dial Type Control |
| Entertainment System | 7-inch AM/FM Radio infotainment system with two speakers |
| Connectivity | Bluetooth and USB |
| Navigation Ready | |
| Warranty | 5 Years (100,000 km); FREE 1-Year Periodic Maintenance Service |
| Keyless Entry | |
| Roof Rack | |
| Sunroof | |
| Electric Adjustable Seats | |
| Power Steering | |
| Power Windows | |
| Power Outlet | |
| Steering Wheel Audio Control | |

Technology

| | |
| --- | --- |
| Active Park Assist | |
| Hill Start Assist | |
| AWD Modes | n/a |
| Tire Pressure Monitoring | |
| Heads-up Display | |
| Power Liftgate | |
| Start-stop System | |
---
Get the best deal - Choose multiple dealerships to compare offers!
Select up to 5 dealerships and compare their offers
Over 70% of dealers reply within 1 hour
100% hassle-free with no obligation to purchase
Latest Review
First impressions are good of the Mazda CX-90, and Mazda's newest and biggest crossover is also its most expensive.

What's in a base model? Ford has redefined the base trim in its lineup.

As the Subaru XV bids farewell, the Crosstrek steps onto the scene. Let's see if it can set itself apart in the competitive crossover segment.

3.9

/

5
View More Articles