What we have here is a Suzuki Vitara with a lot more capability. The specifications look largely the same as the outgoing two-wheel-drive model, but there's a little something there that just jumps out at you, and that is ALLGRIP.
Suzuki likes renamed its four-wheel-drive system into something that's less of a mouthful to say, the remaining question is does that make the Vitara less of a handful to drive when the going gets rough? Let's tell you a bit more in this review of the 2021 Suzuki Vitara ALLGRIP.
2021 Suzuki Vitara ALLGRIP Review
Performance
Engine Output (HP), Acceleration, Transmission, Handling 4.0/5
Design
Exterior & Interior Design, Quality, Fit and Finish, Ergonomics 3.5/5
Ride Comfort
Cabin Comfort, Suspension, NVH Insulation 4.0/5
Safety and Technology
Convenience Technologies, Active and Passive Safety Features 4.0/5
Value for Money
Amount of the vehicle you get for the price, Fuel Efficiency 3.5/5
What You Will Like
ALLGRIP All-Wheel-Drive System
Sharp Steering
Fuel Efficient Performance
Large and Capable Infotainment System
What You Won't Like
Slightly Limited Space
No Rear Passenger Tech Features
A Bit Pricey For Its Size
How We Do Our Reviews
Exterior
It's a Vitara. Relatively unchanged except for a few badges, the nameplate got a bit of a facelift in the years prior to this model's release. However, it's still the same design that many fans have come to love over the years.
Although, what you see is what you get, and good news because you will be able to see well at night thanks to the projector LEDs with DRLs that are present on the unit, just note that you'll be getting halogen high beams and fog lamps to ride in tandem with the main beam. The rear LED taillights still look good to this day, and make a nice contrast on the grey and white colorways. The new wheels look slick as well and come in a 17-inch size. A total of 185mm separates you from the ground on this crossover, which should be enough to tackle less than stellar terrain, though it may struggle if you're trying to climb really nasty trails.
That being said, nothing's really changed. The model will have its share of fans in the market already, but you're not getting something totally new. If you're a long-time fan of the Vitara, then you'll feel right at home here. Buying this model will only improve upon the capabilities of the crossover.
Interior
Again, just like the old Vitara, the styling is largely the same here. However, there are a few subtle differences between this and the outgoing model namely with the dashboard trim, the infotainment system, and finally, the ALLGRIP badge found on the passenger's side. Though, we will give it good marks for the seats and the material that it comes with. The center of the seats has a suede-like material that helps keep you in place while you drive. The leather allows for more durability in high traffic areas on the seats as well, so that's a nice added bonus.
Like we've touched upon in the past, the front space is not an issue for passengers. The rear space is where it gets a bit tight if you're trying to fit in a bigger passenger. The roof is a little low, so taller folks might have to duck a bit unless they want their head to come into contact with the headliner. The legroom is not enormous, but it is serviceable given the size of the vehicle. The saving grace for the headroom issue is the panoramic sunroof, which is perhaps one of the must-have features in this segment. We're glad that Suzuki was able to still equip the Vitara with this standout feature. It allows the cabin to open up and gives the passengers a larger sense of space inside the cabin.
With 375-liters worth of space and up to 700 liters with the seats folded down, you can carry a lot of stuff in this Suzuki. The rear doesn't have a lot of features though, no cup holders or rear armrest in this vehicle at all. That's a bit of a bummer. You might be able to charge your phones at the back thanks to a 12-volt socket for the trunk, but you need a long cable to for that to be comfortably used.
Comfort
Given that it is a smaller crossover compared to others, it'll do you nicely on a trip around town or while you're headed to your office somewhere in the Metro. Bumps and potholes are handled with a decent amount of tact, and the Vitara can take humps at an angle without severely rocking you back and forth. Mind you, the car is running a torsion beam in the rear, so it won't feel like floating on a cloud.
NVH is a little bit thin on this particular model. Taking it up to highway speeds we did need to crank up the tunes a little bit to combat the noise of the tires and the noise of the wind permeating the cabin. However, slow down a little bit and you can expect that it'll quiet down as your fuel economy meter thanks you.
Technology
With 10-inches of diagonal screen real estate, this infotainment screen is pretty great. It's likely the same unit that we're fond of in the Suzuki XL7, but this gets a clinometer as well as other off-road instrumentation that you may need on your adventure. Now, the unit also has Apple CarPlay and Android Auto, and that already makes it top-tier in our books. In addition to that, the model also features a fair set of speakers that won't really knock your socks off and make your audiophile friends gush, but it'll get the job done. It's not too tinny, it gets decent quality, just don't overblow it too much with the bass notes.
Other features include power-folding side mirrors, a push-start button, smart keyless entry, steering wheel mounted audio controls, cruise control, and automatic climate control. All of these things work seamlessly and as expected. We're glad that Suzuki also uses that large 10-inch display as the monitor for the reverse camera, then on top of that you also get a set of front and rear parking sensors to boot.
When you do get into the car and start it, you're greeted with a familiar gauge cluster with an ample amount of features which include a power and torque graph that shows you the output of the engine, trip information, as well as your fuel economy. The layout is a little dated with two gauges flanking a digital screen, and the typography is slightly tacky. We won't beat on it too much though, but it gets the job done and is clear and easy to read.
Safety
When you step inside the cabin, dual front, side, and curtain airbags greet you. On top of this, Suzuki also bundles in an electronic stability program, hill hold control, and a pedal release system that'll decouple connection from the throttle to the engine in the event of a crash. This is all in addition to ABS with EBD. The ASEAN NCAP also gave the Vitara a 4-star rating, so we feel very safe in Suzuki's Heartect platform.
Overall, not bad. You could say that it is missing a few more safety features like adaptive cruise control and perhaps automatic braking, but the main takeaway is that Suzuki covered all the basic necessities to keep you out of harm's way should a crash occur.
Driving and Handling
So does all-wheel-drive make for a better drive? Not in the city, no. The car drives the same way as before, and Suzuki took their tried and tested formula of adding a steering column that does well to communicate what's happening on the road to the driver. That being said, the steering feels quite direct when going at speed, and there is a good amount of weight for feedback. Body roll is noticeable being a crossover and all, but it doesn't feel like it'll tip over if you decide to jerk the wheel substantially. The chassis carries itself well and the suspension soaks up road imperfections well enough for daily driving.
Getting up to speed with the Vitara's 1.6-liter naturally-aspirated four-cylinder engine takes a little long. It is, however, one of the more powerful Suzukis available in the market, and we can chalk it up to the fact that it does send its power to all four wheels. It's got good amounts of torque, though, and Suzuki claims a 156 Nm figure, which should be enough to get you going. Just not too fast is what we're trying to get at.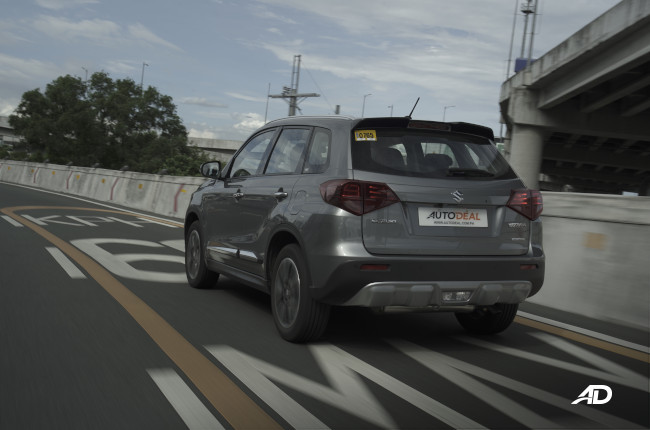 Now the transmission is a traditional automatic with 6 speeds, but of course, we cannot gloss over the ALLGRIP system. First things first, however, it's not the same as the Jimny. You may select drive modes for the system to be ready like Snow mode, Auto mode, and Sport mode. If you're going off-road, use snow, but if you're just cruising along leave it in auto. Sport mode is surprisingly responsive in the Vitara, as your throttle input will get sharper and the transmission will hold a lower gear. You do get paddle shifters as well and they're a joy given that the Vitara has a decent amount of transmission response. Changing gears quite athletically and not like a traditional slushbox.
Fuel economy
When all is said and done, it's still a Suzuki, and it gets great fuel economy figures. It's still going to get a similar figure to the 4x2 variant, with up to 8 km/L in the city, and highway runs will net you close to 20 km/L with no passengers, and closer to 17 km/L if you're hauling a little more.
Verdict and Price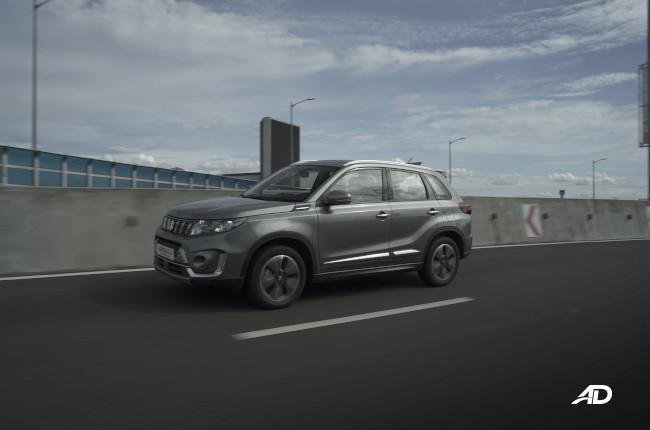 While the Vitara is good, we feel that it is still a little pricey for the average consumer that just wants a crossover to get things done. Four-wheel-drive is awesome, and all sorts of cool if you have the use for it, but for the average Juan, it's just not something that you absolutely have to have.
Though if you find yourself crossing floods often and traversing through dirt roads, then consider that the Vitara will cost you P1,458,000 for the monotone variants, and P1,468,000 for the two-tone. You'll still get the same features and vehicle, just in a different color.
Overall, it's well-rounded and has enough fun in its drive. Just note that there are other cars that may come close and give you better things in other areas like the Geely Coolray with its upstart interior, or the Mazda CX-30. If you want more affordable, you can definitely take a look at the Chery Tiggo 5X, or perhaps bump up a segment with the Toyota Corolla Cross' gasoline variant. Any way you look at it, you're definitely not going to get an all-wheel-drive system in those cars, and ALLGRIP is all sorts of alright in our books.
Exterior Photo Gallery
Interior Photo Gallery
Latest Review
Volkswagen Philippines launched the Tharu into a new price bracket leading to more expectations with this model.

The GAC GS8 in both 2WD and 4WD variants is a spacious and luxurious SUV that commands everybody's attention.

Competence can only do so much so does the Creta have an X-factor that can help it compete?

3.9

/

5
View More Articles